When the bus reached the destintaion Kajal wake up and looked Neil.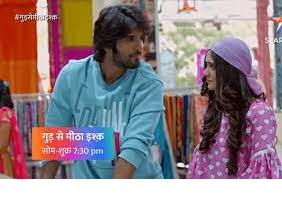 Kajal : Neil , till these three hours I was asleep at your shoulder only ?
Neil : Yes Kajal
Kajal : Mmmhh….Sorry , you should have called me
Neil : Never. Seeing your tiredness I understood that you hadn't slept well yesterday night . And you was looking cute while you was sleeping , so I wouldn't took the trouble to wake you up .
Kajal smiled simply and looked him.
Neil : Wait wait, keep that smile. I need to capture it's beauty
Kajal : Neil, please
Neil : Let me click photo of your smile , only one
Kajal : Okay
Neil clicked Kajal's smiling photos in his camera
They both goes to Kedarnath temple .
Kajal : Mahadev Ji please take care off my Maa . At least this year please bring back Paapa to us .
Neil : Kajal !!! Your Paapa is not living with you and your mother .
Kajal ; Yeah Neil. Everytime I used to pray bhagwan ji to bring back my Paapa to us .
Neil : What happened to him ?
Kajal : My Maa was a tourist guide in these mountains , Neil. Actually like you my Paapa also came from city and like usual My Maa made him also to roam all the tourist place and at that beautiful vallies they both fell in love and got married before this temple. My Maa was an orphan and Paapa had a big family in city. Paapa and Maa kept marriage as a secret because Paapa's family doesn't wanted a poor girl as the family's bahu. Paapa and Maa started living here only and after an year when Maa was pregnant Paapa receieved an urgent phone call from city stating that his brother has been hospitalized . Since Maa was not able to travel at that state Paapa alone went to city telling that he will be back soon. But he hasn't returned yet now.
Neil : What ? Did your Mom didn't contacted him ?
Kajal : Maa tried all ways to contact him. There was no address regarding where is his house in city. When Paapa was not picking calls Maa herself went to city in search of Paapa . But how long a lady can alone search Paapa ? Even after my birth also My Maa tried all possible ways , we informed police , send photographs too. But till now we didn't get any information regarding him.
Neil : It's so sad Kajal. Don't worry , This time I am also rendering prayers with you. You may see this year definitely your Paapa will arrive.
Kajal : I hope so.
Neil : Just pray from heart . Every thing will be alright. Mata Parvati also didn't get Shivji so easily. These tough phases will go soon.
Kajal : After sharing my pain with you , I feels delighted .Thank you.
Neil ; No need to thank me . Today onwards we are Pahadi friends as we meet in this Pahad only. And if you face any diificulty I will be with you always. This is your friend's promise.
Kajal looked him surprisingly. Neil : Don't look at me this way , May be I will feel some thing as you are damncute. I said true thing yaar. Pray well .
Kajal nodded her head and they both rendered prayers before Mahadev Ji.
Pandit : Have this garland . It's made of jasmine flowers . If we wear this garland on any of our beloved person's neck that person's sorrows will be erased and life will be filled with prosperity and happiness. It's a belief of the village people.
Neil : Is it ? Then I definitely need it .
Neil buys the garland and looked Kajal.
Neil : I can't see your sad face as it won't suits you . I trust whatever that Pandit said as he said it before Shivlinga and for now you are my beloved friend who bought me here. I want to make my friend always happy. So I am putting this garland at my friend Kajal's neck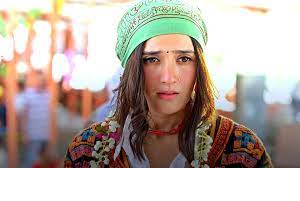 Kajal looked Neil when he put the jasmine flower garland at her neck . Neil too looked her
Kajal : Why you did it, Neil ? You are a guy and I am a girl .
Neil : I did it as your friend and I felt there is nothing wrong in it .
Kajal : I know. But this garland reminded me my Maa only. My Paapa ….
Neil : Kajal !!! Trust me , I didn't have any wrong intention . Still if you feels it's wrong, you can remove it.
Kajal : No. It's done before MahadevJi. And as long as we are in temple I will wear it. And I trust you , Neil
Neil and Kajal looked each other happily
Neeche ishq hein
Upar rab hein
Inn donon ke beech mein sab hein
Itni see bhi baatein kar lo
Inn baaton mein sau matlab hein
Rab sabse sona Ishq…Ishq 
Rab se bhi sona Ishq 
Oh…Oh……Oh…..plays 
.
Neil and Kajal continued their journey and meanwhile the weather gets worst and due to heavy rain they both weren't able to go further . The slope which they were standing was flooded with water and both of them slipped and  while felling they titghty held each other and managed to strandle at a side.  They looked each other keenly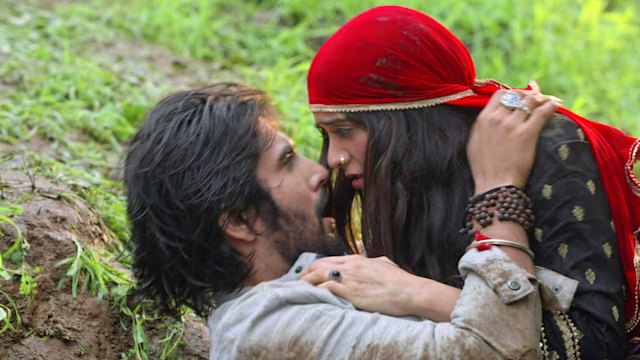 Ishq bina kya jeena yaaron
Ishq bina kya marna yaaron [2]
Gud se meetha ishq ishq
Imlie se khatta ishq ishq
Vaada yeh pakka ishq ishq
Dhaaga yeh kaccha ishq ishq  plays….
Neil and Kajal helped each other to stand properly.
Kajal : We can't go to bus stand while this rain is bursting.
Neil : Yeah Kajal. We have to stay here .
They both walked forward and saw an old mandap which was entangled with some plants .
Neil  : It's amazing to see mandaps in forest areas.
Kajal : It's built by kings only . But it's half part is destroyed.
Neil : Any ways we have to be here only.
As the rain was going on Kajal started enjoying rain by singing and dancing
Dil Yeh Bechain Ve, Raste Pe Nain Ve
Dil Yeh Bechain Ve, Raste Pe Nain Ve
Zindadi Behaal Hai, Sur Hai Na Taal Hai
Aaja Sanwariya Aa Aa Aa Aa…..
Taal Se Taal Mila
Ho Taal Se Taal Mila…..
Neil : Kajal what kind of song is this ?
Kajal : This is the song which we use to sing during rainy times, Neil. You also sing it, you will enjoy it.
Neil looked her and started singing by helding her hand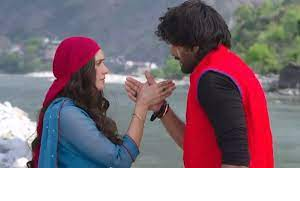 Maana Anjaan Hai Tu Mere Vaaste
Maana Anjaan Hoon Main Tere Vaaste
Main Tujhko Jaan Loon, Tu Mujhko Jaan Le
Aa Dil Ke Paas Aa Is Dil Ke Raste
Jo Tera Haal Hai, Woh Mera Haal Hai
Is Haal Se Haal Mila
O Taal Se Taal Mila
Ho Taal Se Taal Mila….