Steeve held Kamali's hand. As soon as they touched each other they felt a spark in each other, unknowingly Kamali shut her eyes with a smile. Steeve kept his other hand on her shoulder and looked their hands together. They both felt they have fallen for each other .
Kuch Na Kahe
Bas Chup Rahe
Khamoshiyaan Hi
Keh Jaaye
Tham Jaaye Ye Jahan
Aur Pal Bhi Thehar Jaaye
plays …….
The spirit became violent and it tried to split their hands by shedding fire towards their hands
Father : You can never do it because they have started finding who are them .
The spirit gets anger and by using powers it bought a constrain to tie Father Benedicts
Father gazed the spirit and sat on the bench with his pet dog Ceaser. He kept the bag near him and looked the spirit.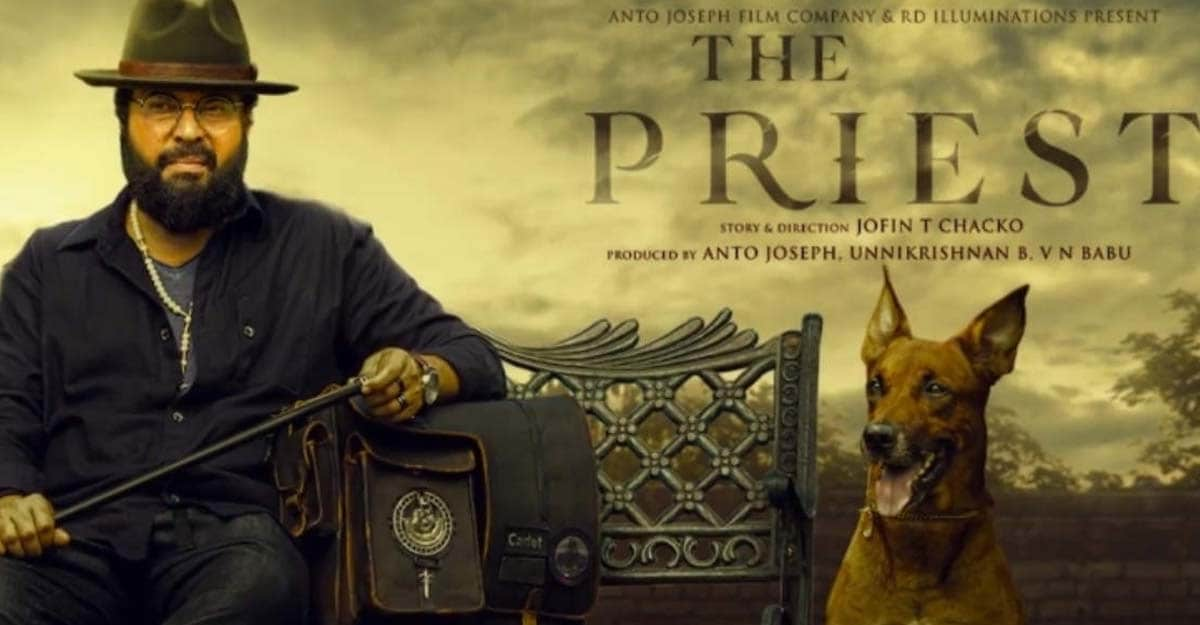 Spirit started roaring meanwhile Father opened the bag and it was a radio which was capable of capturing the vibes of spirits. So now the words of spirit was clear to every one
Father signed Steeve and Kamali to sit beside him.
Father : Now the spirit will tell what it wants from you both. I have captured it's powers in this radio but it's for few hours only. After that spirit will be realeased. Listen keenly what it wants to say.
Father auto tuned the radio. Spirit started narrating the story

Years back when Shravanapuri was a well known village for the special day Shravanapurnima which means Full moon Day. That day is actual a festival time for the villagers. They believed that this village is created by Lord Shiva and Mata Parvathi at a Full moon day. That night ShivJi and Parvati devi does the Tandav nritya together for showing the world that Love is Divine and Eternal. A temple was constructed centuries ago in belief of this . It was situated in the Fort of Kingdom. That day the king's family send their unmarried daughter or son to the fort for receiving blessings from the diety. Those occassion prince or princesses from neighbouring kingdoms will also be arrived there. There was a custom that king's unmarried son should look into the water kept after getting drowning in water  and the girl whom he is going to marry will come behind him and her face  will be visible to prince. After that prince has to put sindoor at the hairline of the girl whose reflection he saw in the water. The ritual went on for years and there was one such day at 1936 when Maharaj Pratap Chandra Simha was ruling the village . He lost his wife in a battle  and he was very fond off with his one and only son Saraswati Chandra Simha . Like all Shravan Purnima's Pratap Chandra who goes to temple at the fort for prayers this time came with his son .
Pratap folded his hands before the diety and got emotional
Pratap : Bhagwanjee, Devi Ji at your fort only I got Savitri . She was a brave woman who sacrificied her life at the battle for saving this kingdom. I applied sindoor at her hairline here only and I thought that after marrying her I will stay with her for so many years. But bhagwanji you called her very earlier.
Pandit : Maharaj, as you mentioned she was a brave woman who fought for saving the people . It was her responsibility to save the nation and she did it well. Her soul is with you always , Maharaj.
Pratap : I know Panditji but I really wish what happened with me never should happen with my son Saras. Rajkumar Saraswati Chandra Simha should get a good girl as his life partner and unlike me who wasn't able to save life of my wife that type of situation should never happen with him. So I am bowing my head before god to request that he should get the best girl and they should live forever together . They should die also together only.
Pandit : Maharaj, Please don't mention about death. Shubh-Shubh boliye.
Pratap : I am not scared off death. This royal family is devoted towards it's mother kingdom and we are always ready to face the battle.
Pandit : Have you find the girl ?
Pratap : Yet now I haven't find any one. Though I send messages to my neighbouring kingdoms no one has reached the palace till now.
Pandit : The moment will happen in night only. Please wait Maharaj. You will surely get right princess for your prince son.
Pratap : I hope so.
Meanwhile Saras was coming with the Puja thaal for performing puja . A girl was also coming there to perform puja.
As soon as both of them get inside the temple they both called ….Panditji
Pratap turned back and saw Saras and the girl . Saras and the girl too looked each other.
Pandit : Beti you need to wait little more. First I have to complete the puja of these two. Because they are King and Prince.
Girl ; If they came earlier than me then I am ready to wait , But if you are saying just because they are royal and I am an ordinary person then I am not ready to accept it.
Pratap and Saras were  impressed with her words.
Pandit : But beti
Saras  : Rehane deejiye Panditji , Let her do the puja.
Girl : Rajkumar Ji do you came here first ?
Saras : Ji
Girl : Then it's your right to perfrom puja before than me .
Pratap : But just now you was saying that we are royal and you are ordinary then you are not willing to accept it.
Girl : I said the truth only Maharaj. I am sorry if I have said anything wrong.
Saras : You don't need to appologize because what you said is absolutely right. I am happy Pitaaji Maharaj that our people are courageous enough to stand for their rights rather than staying behind.
Pratap : You are absolutely right , Rajkumar. What's your name beti ?
Girl : Ji Kumud. And whatever praises Rajkumar ji did now for me I feels honoured to hear it . If this kingdom's people are courgaeous then it's because of their trust which they keeps in their king. Maharaj has already did so much for the welfare of this nation. We are grateful to you.
Pratap : It's a pleasure to hear. Rajkumar after finishing puja meet me at my room.
Saras : Ji Pitaaji Maharaj.
After finishing pujas when both were leaving Saras walked behind Kumud
Kumud ; Rajkumar Ji this is not right. What will people think if a prince following a girl ?
Saras held her hand and kept an anklet.
Kumud : This is my anklet
Saras : One of your anklet fell down at the temple. I came here to return that one to you .
Kumud : Oh!! I see, Thank you
Saras ; One thing I wants to say when you said that I am following you I noticed that you are looking beautiful. So it's natural that a person can follow you.
Kumud : Ji!!
Saras : Relax, I was just making fun of you . But seriously you looks beautiful.
Saras smiled and looked her
Kumud also looked him and smiled
Rahe Na Kuch Bhi Darmiyaan
Meete Yeh Saari Dooriyaan
Mil ke Bhi Hai Adhuri Si
Yeh Daastan
Rahe Na Kuch Bhi Darmiya
Meete Yeh Saari Dooriyaan
Mil ke Bhi Hai Adhuri Si
Yeh Daastan…..plays…..
As the whole village assembled in the fort to see whom their Future King is going to win Saras's close friend and King's loyal sepoy Athirath's son Abhimanyu came forward with his sister Akansha .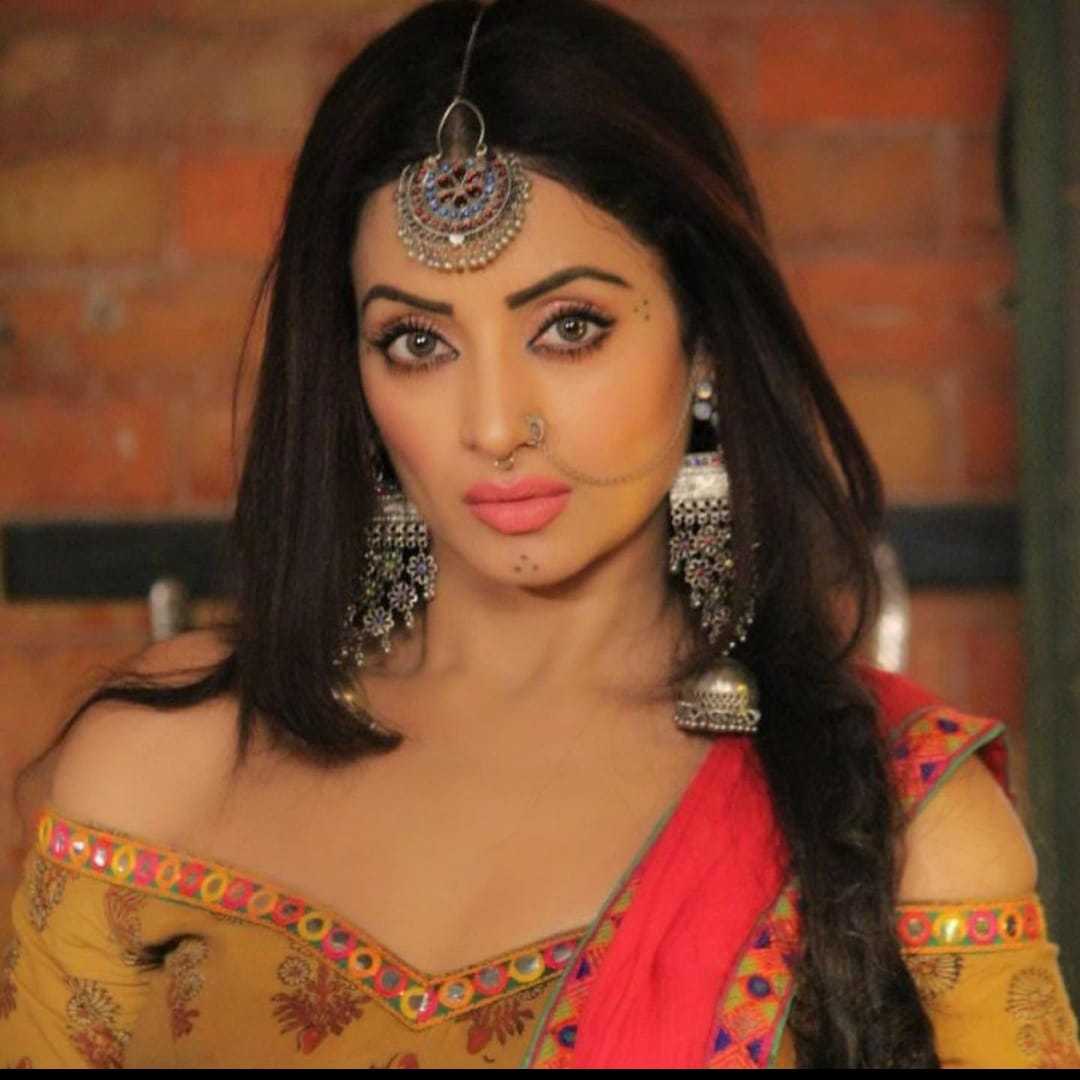 Abhimanyu whispered to Akansha  : Akansha you have to came forward when Rajkumar shuts his eyes and slowly you only need to enter inside the water. . As soon as he open eyes your reflection should be shown at the water . Understand ?
Akansha ;Ji Bhaiya .
Pratap : Athirath, Abhimanyu why there are no princesses here ? Do they didn't get the message from us ?
Abhimanyu : Your majesty , some are busy in conducting Swayamvar of their daughters . While some said that this ritual is mere stupidity . How can some one find his life partner in water ?
Pratap : Abhimanyu!! You are not supposed to question rituals of our royal family . It's been followed from years .
Abhimanyu : Ji , I was highlighting the problem only.
Pandit : Maharaj customs should be never breaked. If Shivji and Parvati devi bless us surely your son will see the girl who will change his life.
Pratap : Saras beta are you ready ?
Saras : Ji Pitaaji.
Meanwhile Kumud was also assembled among the crowd to see the future princess of prince Saras. Saras went inside water and closed his eyes. Pratap also closed his eyes. Meanwhile Akansha slowly tried to get inside the water, but soon she saw a person's reflection at the water. He was holding a bow and arrow and his focus was on Rajkumar only. Akansha in fear stepped back and Kumud who also saw the reflection in water jumped in water and before the arrow could reach Saras she made him to drown inside water and the arrow went some where else . The one who send arrow left the spot immediately by running away.
Pratap screamed : Saras!!
Soon Saras came upwards in water and Maharaj got relief in his heart.
Saras bowed his hands and said : Bhagwanji send a saviour to save your son's life Pitaaji Maharaj. She is there
All looked on the other side and they saw Kumud looking there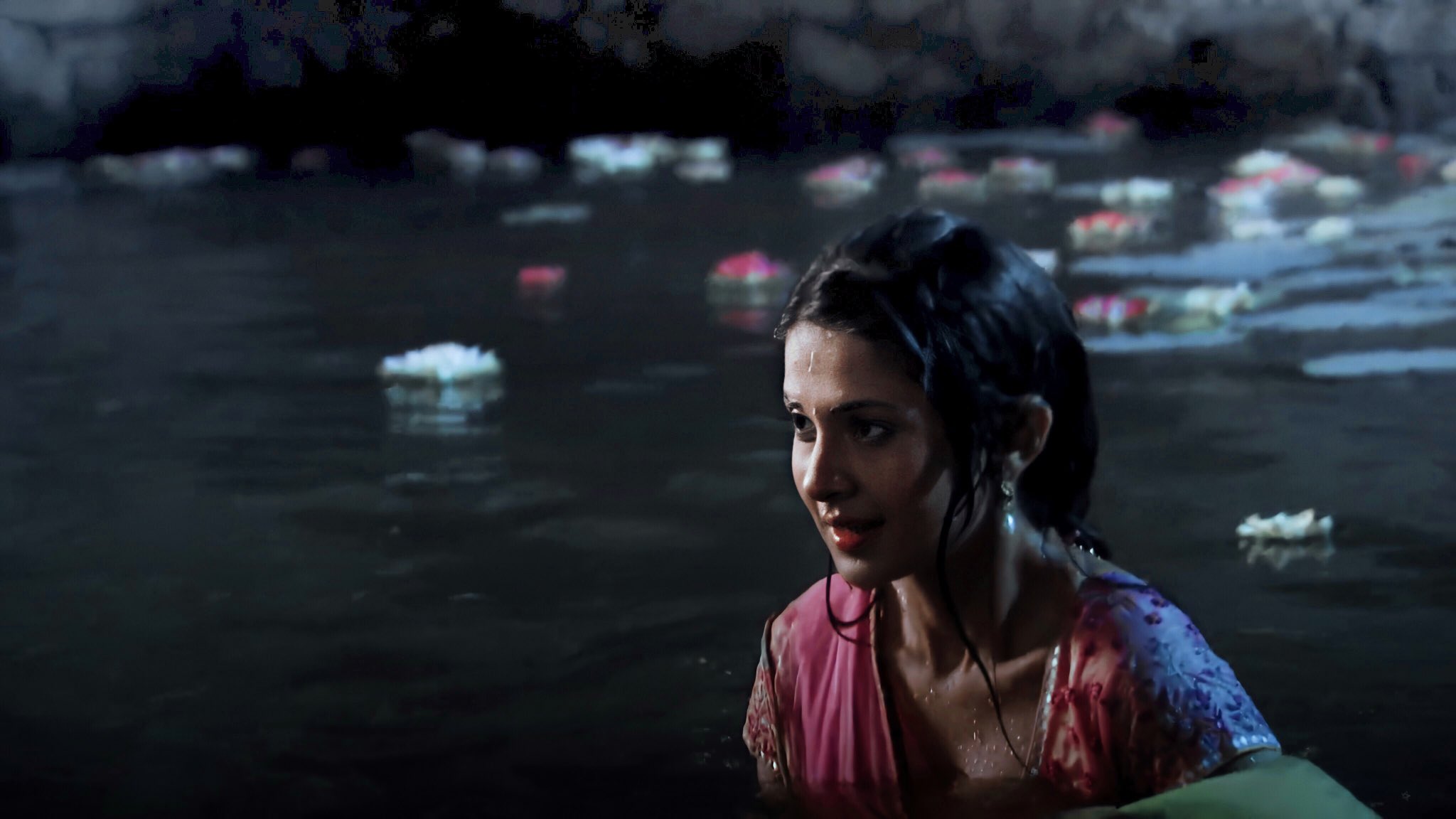 Pandit : See Maharaj I told you that Bhagwanji will bless your son. He has shown the right person for Rajkumar.
Saras and Kumud looked each other.
Meanwhile Kumud's father Lajwanth came there
Lajwanth ; Maharaj, Rajkumar.Please forgive my daughter . She doesn't have any intention to do the custom. Whatever she did was to save Rajkumar's life only.
Abhimanyu : You uncivilized man !! If a threat was coming over Rajkumar sepoys are here to protect him. What your daughter think about yourself ?
Saras : Really , Abhimanyu, Then why you didn't saved me ? Why this girl only saw the enemy ? And where is he ?
Athirath ; We are sorry Rajkumar. Before we could catch him he ran away from here.
Pratap : Is this way you sepoys are saving Rajkumar ? If this girl didn't risked her life then that arrow would have pierced my son's body. We are grateful to you Kumud.
Kumud : I saved this nation's prince the future king only. There is no need to thank me .
Saras : But I certainly thank you because you again showed how much you are courageous. Not courageoues, you are really brave like my Maa.
Pandit : But King now the question is who will be the princess ?
Pratap ; Pratap Chandra Simha will never break his word . Saras you have to fill sindoor at Kumud's hairline .
Akansha and Abhimanyu gets shocked
Lajwanth ; No Maharaj, I am a farmer and my daughter is not from any royal family . Please don't do it.
Pratap : This custom is followed for generations. We can't object it, the girl whom my son saw in water is Kumud only.
Kumud : Your Majesty please don't get me wrong.  But I am not ready for this. I can't accept all of a sudden if some one fills sindoor in my forehead .
Pratap : Are you disobeying your King's order ?
Saras : Pitaaji let her take time. This is not the single Shravana Purnima, It will come again also and let her give time upto that.
Pratap : And if she denies then
Saras : I will respect her decision always . Pitaaji upon your insistence only I did that custom . I don't know anything about it in detail and this girl too. We shouldn't force some one to be with us in the name of any custom and I believe that Bhagwanji will never show any sort of anger if we did it.
Pratap looked into the wall pic of Savitri and took a breath.
Pratap : I agree with my son. Kumud we will never force you . But I expect you will say Yes for this soon. As you have saved my son it's my duty to honour you .
Pratap brings a Lehanga for Kumud.
Lajwanth : Maharaj why are you giving this to my daughter ?
Pratap : She is like my daughter only. This was made by Maharani Savitri to gift whoever comes as her daughter in law.  Don't think that it is a Shagun. I am gifting this to my daughter only . Please accept it.
Saras : Kumud it's a gift from a father . Please don't refuse it.
Kumud took the lehanga and touched feet of Maharaj. He blessed her.
Days passed and one day as Saras was roaming at the village he saw Kumud playing and enjoying with some kids . As soon as Saras went near there the kids ran away from ther and Kumud turned her face from him
Saras ; Thank you Kumud that day you saved me .
Kumud : You have already said that Rajkumar Ji .
Saras : Naaraz ho ?
Kumud ; Why ? Rajkumar Ji
Saras : Then why you are not looking at me , Do I look like a demon ?
Kumud : No, You are the prince. I….
Saras : I am sorry that day you might have felt wierd. But it's the custom.
Kumud : I can understand . Mein chalun
Saras : Do you have any work ?
Kumud : Ji. My baaba will be waiting for me. It's the time for his lunch . I am going to the paddy field only.
Saras :  Will you please give a share from that one ?
Kumud : Rajkumar Ji , this is not any royal food, it's ordinary and it's prepared by my Amma only.
Saras : Then I would love to have it. Because it's been 4 years I haven't ate the food prepared by my Amma.
Kumud gives a box to him.
Kumud : Rajkumar Ji have it and fill your stomach. I need to leave.
Saras and Kumud smiled. Meanwhile Akansha who was watching them feels anger on Kumud.