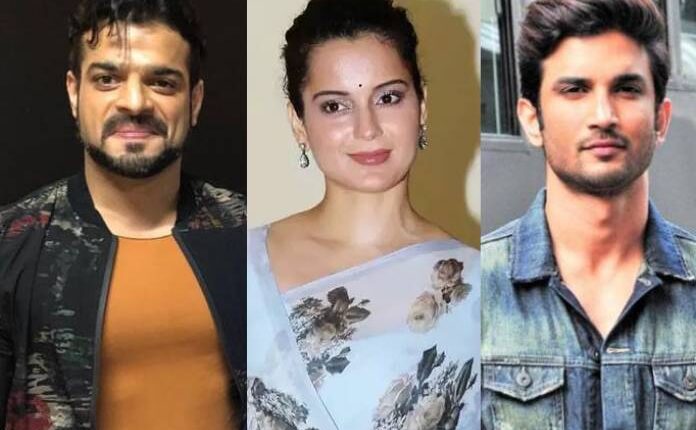 After the untimely demise of Sushant Singh Rajput, the entire entertainment industry got divided. The blame game started and a heated debate on nepotism broke out. We all know and have come across multiple instances of how actor Kangana Ranaut has spoken about nepotism and has blamed many in Sushant's case too.  Her recent comments on Sushant Singh Rajput's demise and nepotism drama surrounding Karan Johar became news headlines.
Many from our telly industry were very close to Sushant. They had worked with him or had him as a friend when he was active in the tv industry. Actor Karan Patel recently took an indirect dig at Ranaut without actually taking her name asking why she preferred her family members over outsiders to run her production house. He also mentioned how instead of mourning Rajput's demise, few people are trying to use this opportunity to gain mileage and use it to their best ability.
He said, "When a person dies like this, there are people who are nowhere related to him but they jump into it and start creating stories. There are a lot of people. For eg, after whatever happened with Sushant, there were a few people who started talking about nepotism. And just see who has not tried to milk the situation. From Abhinav Kashyap to any other small time actor, everyone has jumped into it. And I see no reason for people to rant about nepotism. For example an actress these days is talking about nepotism. If I am not wrong she came up with her own production house some time back so why didn't she cast Sushant in her film if she's such a big star. She first cast Sonu Sood and then later someone else, so she forgot about Sonu Sood. I have never seen her working with a new director or an actor. Before signing a film, I am sure even she must be asking which banner it is, or who the producer is, or which studio is backing it. So, when even you are running behind big studios then why are you blowing nepotism's trumpet. If you are that big hearted and you have your own production house please go and pick a newcomer, a new director and work with him in his film as the heroine then we will talk and listen to you. You have your own production house and your family members, your sister is taking care of your business, why didn't you hire new people, an outsider and announce job interviews. Why didn't you hire someone who had an MBA degree to look after your production house. I am not saying what she did was wrong (by hiring her family). Today, if my father announces a business obviously he will ask me to look after it. Nepotism is everywhere and it has been going on since ages. I will be shocked if there is no nepotism. It is simple, a person works hard, he earns everything and once he is gone, obviously everything will go to his kids, and not to the neighbours. We need to think then why are we working so hard."
What do you think about the same? Leave in your comments below.