Kaisa yeh isq hai ( AVNEIL fan fiction ) 7 Episode

Warning: A non-numeric value encountered in /home/ftpusers/tellyu/public_html/wp-content/themes/publisher/includes/func-review-rating.php on line 212

Warning: A non-numeric value encountered in /home/ftpusers/tellyu/public_html/wp-content/themes/publisher/includes/func-review-rating.php on line 213

? Kaisa yeh isq hai ?
? 7 – Episode ?
Recap
:- At the party at SUKOON ghar , AVNEIL had a dance , Neil finds Avni exchanging money with some men
___________________________
Neil looks with suspicion into Avni's eyes " But today only we were there , Then who can do it , Isn't it Ahiana "
Avni gets little worried and looks with panicky and irritated vision .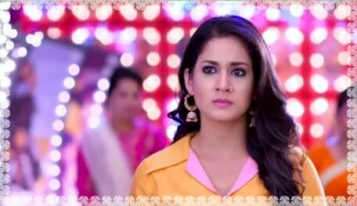 Avni : What do you you mean by this , Ha !
Neil : I mean that , Today only family members and knowns were present at the party so the thief must be here within us only
Avni : Oh so indirectly you're pointing me , That I had stolen the money
Neil : maybe
Avni : Let me tell you Mr. That you are wrong , I didn't did it
Avni turns in opposite direction , As she took a step forward , Neil holds her hand and pulled her away .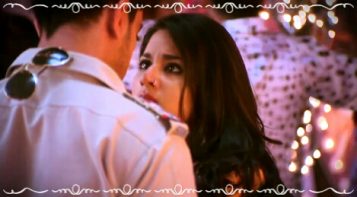 Neil : Let me tell you that you're wrong , Yes ! , Yes , She's only the one who had stolen your money
Avni pushed him away " Hey , What are you saying ?
Neil : I knew you won't say yes like this , Just wait and watch
Neil goes and plugged his phone to a television kept on a table
Neil : Neela ma ! yours culprit is here
As soon as he switched on the television , Everything grew dim .
Neela : oh Another electric cut
Neil : Don't worry I'll see to it wait
After a few minutes he comes back .
He turns on the television and is shocked to see a blank screen .
Neela : What is all this Neil , You said I know who's culprit
Avni : You know people of this kind can only speak and do nothing , Would you please stop passing the time
Neil : oh really I know you only did it , Right ?
Avni : Why are you pointing again and again me only
Neela shouts : Please , Please guys , Stop quarrelling now , Please
Avni : This man can't do anything
Avni walks away from there , Neil " Ahiana wait ! " He says and goes behind her
Neil : No I won't let you go away like this
Neil grasped her hand , And pressed her against the wall
Avni : what nonsense is this , What are you doing ?
Neil sealed her mouth with his hand " Shhh"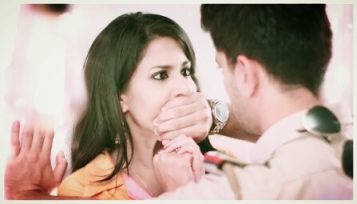 Neil " Don't shout , Preserve your energy , Because you need to shout in court to prove yourself
Avni : you're crossing your limits now , You don't have any evidence , Then how can you even say that I stole money
Neil pulls in handcuffs from his pocket and tethered her hands .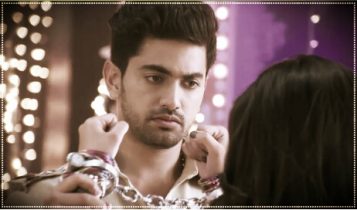 Neil : I had an evidence , But you removed it from my phone , Right ! but I'm more smarter than you , I've saved that video in a secured folder in my phone
Avni : Oh really , Wow ! could you please show it to me
Neil : wait and watch
Avni's corners of lips curved , She smiles with sneer looking at him , As he's struggling to find it , He's searching every corner of his phone .
Avni " Tak Tak Tak , Did you got it , No I guess , Don't worry better luck next time .
Neil looks with sharp intense gaze to her
Avni looks into his heavy , Black , frowning eyes
She thinks " I knew you were making video of mine , But you don't know me , since 15 years I've done a lot of practice , I've made myself ready how to deal with every situation "
Neil constantly staring at her , Thinks " In these 15 years I've seen a girl like you for very first time , You can hide your mistake so nicely wow , But you don't know me , Now be aware
Avni silently takes out keys from his pocket , Unlocks the handcuffs and smashes onto his hand .
Avni flips her finger in front of him " And next time don't you dare to challenge me without any strong evidence , And I think you forget it time and again , Better write it on a paper and read it everyday "
Avni rotates around , Twists her stomach and walks ahead .
Neil : you're right , I IPS officer Neil , Pledges that next time without evidence I won't come to you , And once I got it you'll be behind bars .
Avni as walking away , Her eyes are watery .
The Next Scene is shown in London , From where Avni has ran away . Inside a big room .
The room is intensively dark , No light , Not even a window through which even single shine can come in .
A person is sitting on a high chair , He's sitting in opposite direction , His body isn't shown .
Ragu , Standing a few steps behind him .
The man throws a knife towards wooden plank , On which Avni's photo is handing , The knife pierced into the photograph .
Man asks in heavy voice " I hope at least today you've bought a good news "
Ragu is silent , The man breaks a glass down on the floor .
Man : Since so many days I'm asking you the same question , But no replies are coming out , Why ?
Ragu : We're not able to bring her back !
Man : what ! Ahha ( laughs ) what you said just now , What does that mean you can't handle a girl , Wow
Ragu : Boss , She has sent money in place of her , She said she won't come
He rotates around the chair and stood up , His face still covered in blackness , He threw the cigarette which has done it's purpose on the floor and walks
Man : Aaj ke jeevan ka doosra naam hai … rokda, paisa, maal( The other name for today's life is … cash, money, wealth)
Man : And if I didn't got my Kohinoor then what would I do , Yeh dhanda kase chalega ( how'll this business run )
Ragu : She said she won't indulge herself in any illegal business now , She'll fight for herself
Man : She ! she ! She'll fight from me , Me ! Nice joke
He picks up a piece edgy glass from the floor and inserted it into Ragu's flesh
Ragu cries " AAA " out in pain .
He says " Joh dhande ke liye sahi woh sahi … joh dhande ke liye galat woh galat … isse zyada kabhi socha nahi ( What is right for the business, is right … what is wrong for the business, is wrong … I've never thought anything more than that )
Man : Just because of her my business is lagging behind , I need her now
Ragu : But , What can we do !
Man " What can you do ! ,you're asking me " He interjects the glass more deeper into his arm
Man : I don't know any how , Why , When , I just want Alia
Neil comes back to police station .
Dd : Sir Ji , You said you've caught the theif who stole money
Dd searched for the thief everywhere , " Where's the thief "
Neil : I couldn't catch her
Dd : what the thief is a girl , And you couldn't catch her
Dd laughs " Amazing sir amazing "
Neil : It's a serious thing you're laughing
Dd : I'm laughing sir because firstly you couldn't catch Alia and now this Ahiana
Neil : Don't worry next time it won't happen
Neil taps his phone on his palms " Why's this phone not working , what has happened to it now "
Dd : I think Sir , This phone is also sad as you couldn't catch the thief
Neil Dd , This is Mumbai we've alot of cases pending , Go and do your work
Neil calls a computer operator . He examined the phone and says " Someone has sent a virus into your phone , Because of that your whole data is deleted
Neil : what ! A virus
He thinks " Ahiana how clever you're isn't It , But I'm also a policeman "
Neil : Find out how , when and by which source this virus was sent
Neil to keeps the picture of Alia and Ahiana on the table , One picture , On which a girl covered in hood , Other Ahiana's .
Neil : first this case 123 of Alia and now this case 321 of Ahiana , Have to solve both .
AT SUKOON GHAR , it's partially evening now .
Neela comes in from door and is uttering " God knows who stole my money , I had collected them to pay rent , If I didn't paid , They'll kick us out from this house , Oh god "
Neela shouts " Ahiana , Ahiana , Bacha "
No replies cane down from her room .
Neela walks to her room and knows at the door " Bacha I'm sorry , I know you can't do it , You hadn't stole money "
Still no answers were there
Neela : Ahiana , Open the door .
---
Extremely sorry for late update . Please tell me how do I wrote . Show it some support by hitting ?? if you liked , Please do comment . I really wanna know from you all how I write . Love you all , Good day ahead ?
Hey AVNEIL fans , let's all pledge that 
We'll be always united .
We'll always keep our AVNEIL 
Alive with our stories . 
We'll never forget them .
It's my promise to you , Do you ??

Warning: A non-numeric value encountered in /home/ftpusers/tellyu/public_html/wp-content/themes/publisher/includes/func-review-rating.php on line 212

Warning: A non-numeric value encountered in /home/ftpusers/tellyu/public_html/wp-content/themes/publisher/includes/func-review-rating.php on line 213