Ishq mein marjaavaan 2 FF. Part-30
So guys I am back 🖐️
Let's start.
In VR Mansion.
As they both reached and went inside Riddhima there was a dark all around and someone came and blind fold Riddhima and takes her to the dark room and opened her blind fold as soon as riddhima saw she can only see darkness all around when suddenly a lights got on after seeing riddhima got shocked 😳. (Person revels to be vansh and the dark room is Riansh room).
Vansh (coming towards riddhima and huskily said)- how it looks sweetheart.
Riddhima was hell shocked 😲 by seeing the preparation all around the room. The room was full of roses 🌹 and a sweet smell of them are touching her heart ❤️.
Riddhima (camly and peaceful)- very beautiful 😍.
Vansh- let's enjoy sweetheart.
Riddhima- what do you mean by this.
As riddhima said vansh started tracing her back and shiver ran through Riddhima's body-
Riddhima- wha..what…are.. you.. doing..vansh.
Vansh- This is called romance sweetheart.
Vansh said and kissed her back and made her lay on the bed and started kissing her whole body and also kissed her belly then kissed her lips then both shares the passionate kiss and vansh started tracing her belly without breaking the kiss then vansh saw the time and broke the kiss and give her the dress and told Riddhima to wear this dress and come outside he is waiting for her. Then riddhima went inside the washroom to change the dress and vansh went outside the room.
After sometime–
When Riddhima came out then she saw that the hall is still dark and called-
Riddhima (shouted)- vansh..vansh..vansh.. vansh.
Then lights on and seeing the decoration Riddhima was Mesmerized by the beauty of mansion it seems like whole Mansion was decorated like the queen 👑 and vansh came and put a crown 👑 on Riddhima's head and birthday queen sash. 👇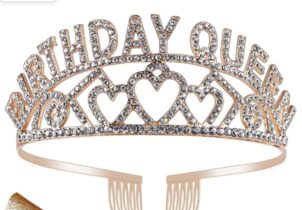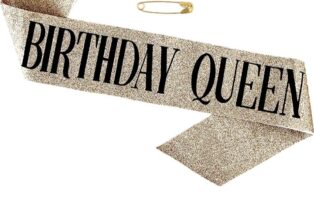 And everyone came there after that they bought the cake 🎂 for riddhima and Riddhima cut the cake and also made vansh and all the family members eat that cake 🎂 then took the blessings of all the elders and went for sleep as she was tired due to her pregnancy she sometimes feels like this.
In the morning 🌅.
Everyone was……..
Byeeeee.
Again suspence 😜.