INSTAGRAM FARINDSHIP Ft. MANAN PART-4 By Kanfi

Warning: A non-numeric value encountered in /home/ftpusers/tellyu/public_html/wp-content/themes/publisher/includes/func-review-rating.php on line 212

Warning: A non-numeric value encountered in /home/ftpusers/tellyu/public_html/wp-content/themes/publisher/includes/func-review-rating.php on line 213

Like this Manika and Nandini used to talk on daily basis.Two months passed in no time.Their day was incomplete without talking to each other.He used to share everything with her but nandini being an introvert,she doesnt expresses herself much.They came to know lots of things about each other,each other's likes and dislikes,dreams,past..!
There was a special place in their life for each other,may be not known by them.Nandini came to know so many things about him,his behaviour..It was all because of some past incidents,his break up but she didnt force him to know more as no one can change the past so its better we dont think about it and escape with its pain…!
She has also forwarded hand of friendship two to three times but again he refused,so she decided now she wont ask anymore.One day he himself will ask me for my friendship.
She also came to knew about his moods.We all know why Manika has been given the name "Monster Manik",due to his anger issues.!He get angry soon and say whatever comes in his mind but soon he realises his mistake and apologise for it.
Nandini found that beside that rude face,their is an adorable kid hidden.
Next week,its Manik's b'day.So she's planned few things but before executing it,she thought that she should ask him once as he has already told her that "she doesnt need to make him feel special".
What if she arranges everything and he doesnt like..
_________
Good one??
Whats going on.?
Nothing just talking to you..
Ok can I ask you something.?
Wo its  your b'day in a week so can I post on your b'day.?
No,its not needed…I dont celebrate my b'day and I've told you not to do any special stuff for me…
Nandini's POV
He didnt even text after that.Uff,I'd planned so many things for him,now I'll delete evrything..!Monster..!!
_____
Hiii….
Guess what,where I'm…!
Yeah they've called me here to sing in the annual function…Actually principal has been calling me for two years,but I was denying everytime but this I accepted…
Ohhkk..
So how's the college..I mean evrything as it is.?
Yeah almost…Now I'm near music room…
Music room….So many memories…..
Yeah yeah,,you've punched me here only…
Actually FAB5 and nandini and Navya had collaborated for a competition.It was the beginning of their semester.And Manika was famous as "the angry young man" of the college but Nandini wasnt afraid of him.
They started jamming but everytime the sync was being disturbed because of FAB5 but Manik being Manika was blaming the girls for this.
Nandini was controlling her anger but now it was enough.
Mr.Malhotra,how can you behave like this.!You know its your fault still you are blaming us..!""said Nandini angrily
Wohooooo look who's speaking..Lower your tone Ms.Murthy otherwise…."said Manika with equal rage but was cutoff in between
What otherwise,haan….?What….speak n…!!!""said nandini stepping towards him making him step back
Wohooo guys calm down…""interrupted Cabir
You should say this to your Friend.."said Nandini staring Manik
Listen…""Manik said but again cut by Nandini
You listen….""she said stepping ahead but got entangled with the wires,stumbled and fell along with Manik on the floor…
He fell with Nandini over her and kissed him…
Fab 5 was amazed to see this.
Nandini instantly stood up and ran from there followed by Navya…
Ayyi appa,,What was this…"she ranted while washing her mouth….
She came out of the washroom and here the Monster was standing…
So how's the experience..?
Shut up…
No no tell…what were you saying "You Listen" ,yeah say now I'm listening..
It was just an accident…!!
Really..?You wished it to be real..?
And this was it Nandini could not tolerate this anymore and she punched Manik on face very hard….
And then silence prevailed there…!Nandini left from there muttering "You are disgusting"
________
Ohh god…Those days were really fun….
Yeah.And then our performances at Musicana…I so wish to relive those days…!!
So you are going to perform on which song.?
I havent decided yet…!You suggest..?
Hmmm,there are lots of good songs…"YEH ISHQ HAI"..
Do send me the video ok…!!
Hey…
It was really an amzing day…
Ok,I'm sending relax.I've sent you on whatsapp…
Nandini played the video and get lost in it……
I've attached media above,do watch it.)
Hey,
Its awesome??
I loved it…
Hmmm you can post anything you want on my b'day…
So what…I'm allowing now n…!!
I've deleted everything whatever I had prepared…
Wowww….
So prepare again,,its two days left.?
Ohh please,,,as if I dont have any other work??
Now its your choice..I've allowed…
Now I'm going to sleep,the day was so tiring…
Ok good night…
Sweet dreams..
**firefly0812 has tagged you in a post
Nandini has posted an image with a long caption wishing him B'day….
He liked the post and commented "Thank you"
Yeah…Thank you..!!
YOU ARE SPECIAL
What should I reply now….Should I say the same..? No it would sound weird…Should I just say thank you or ignore this….uff….
________
Okkk.??
So whats the plan for today..??
Nothing.I dont celebrate b'days…
Nothing serious just I dont feel to do that…
Ok…I'm going now…Have to wake up early tomorrow,I mean today?
Good night
Make a wish. Whatever it is that your heart has earnestly whispered to the heavens, I pray that they do come true! Wonderful birthday!
Manik…Thank you but its not my b'day today??
What???You've told that day n…dont lie…!
Why would I lie…My b'day is tomorrow 08th Dec..?
Yes…But its ok…No problem?
Shit…No its not ok…Sorry…?
Are its fine..You can wish me tomorrow again?
Ok…
Thank god I havent sent the gift..!!
You'll get to know tomorrow…
Now finally Happy b'day,b'day girl…..!!
Thank you so much….
My gift…..
Its nothing special…so dont get excited...
I've sent a video on whatsapp..See and then say if you liked it….
In that video there was so many pics of nandini and beautufully edited and the song,it was sung by him…The perfect gift for her as she values feelings much more than materialistic things…
Manik….Thank you soooo much….It is sooo beautiful…..I really loved it…??
Thank god…I thought it isnt good….
They chatted the whole day…Manik did all the possible things to make her feel special,this was indeed one of the best b'days of her…!
But will everything will go well???
They havent talked for two days…Manik has told that he'd some work so he wont come online next day,so nandini also didnt text him but two days have passed but there wasnt clue of him….
So she decided to text him to find if everything is fine…
______
Nandini's POV
Two hours has passed,he hasnt replied yet..!
I tapped his pic and landed on his profile and what I saw was unbelievable for me…!How can he do this to me…How could he…!!
How can he BLOCK me….!!
A layer of tear formed in her eyes….
_________
Hey guys….
So liked the update..??
Vote,vote,vote and comment too?
And this amazing cover by my friend SWATHI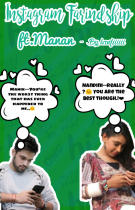 Lots of love
Kanfi

Warning: A non-numeric value encountered in /home/ftpusers/tellyu/public_html/wp-content/themes/publisher/includes/func-review-rating.php on line 212

Warning: A non-numeric value encountered in /home/ftpusers/tellyu/public_html/wp-content/themes/publisher/includes/func-review-rating.php on line 213