Reyansh and Pranati came back to their senses. Pranati's eyes went on the card. She took the card in her hands.
Pranati ; Keep it safely Reyansh .
Reyansh thought : It is safer in the right hands , I was going to give this one to you only, Pranati.
Pranati ; Reyansh !! Your card
Reyansh : Mmhh…It's for my Diana
Pranati : I know that's why I told . Please keep it safely. She is so lucky that she is getting you as her soulmate .
Reyansh : What ?
Pranati : Don't hide it anymore. I understood that you are in love and you don't need to hide it from me .
Reyansh held her hand .
Pranati : Reyansh!!
Reyansh : You wants to know who is that Dayana ?
Pranati : I really wishes to see her .
Reyansh : Before I will show her please give me a promise that you won't get anger and break our friendship .
Pranati : Why I will do so, Reyansh ? Trust me I am really very happy for you .
Reyansh : Then come with me
Reyansh took Pranati to his room. He moved the side curtain and Pranati was stunned to see a photo frame of hers behind it.
Pranati : Reyansh !!
Reyansh ; You wore this one at the wedding anniversary of my parents last time and I clicked photos of yours . I am sorry for doing it without your permission but seeing you I couldn't hold myself from capturing your beauty at frames . Pranati right from the moment when we started becaming more close , all our journeys I started feeling some thing new and when I realized my heart has fallen for you I was longing to express it in many ways but always I had a fear that what will you say ? After getting to know about your perspective regarding love I was like a confused soul . But that day when we talked over the fairy tale I saw smile on your face and it bought me the rays of hope. But I was waiting for the right time Pranati . Whenever dadi was narrating about Lucca and Dayana I have always imagined you as princess and me as Lucca only. Those moments my silly heart lived another life and though it was unreal I started loving it to the core. That's why at that day at shop I asked whether Lucca and Dayana would have united or not and when you said Yes I started building dreams of love again in my mind and I am not scared off the outcome as I respect your decision in it's each aspect. I won't hide anymore it's you only Pranati. You are my heart beat . This truth is aware to my whole family except you. All were kept it as secret because my family cares you so much. They didn't want you should accept me all of a sudden and I……I don't know how to say it….But ….
Pranati : Reyansh!!! Why you love me these much ?
Reyansh : I wanted to give you everything as best to you …..All those happiness which you deserve , that's why I bought you here . Because I can't see you in pain. I thought even if you are not getting your parents love at least by coming here and staying with my family you will get all the affection from family.
Pranati ; So that day you said my inlaws will always care you as daughter not as bahu, it was your heart's saying only , won't you ?
Reyansh : Yeah Pranati. It was true words of my heart . I want to give you the happiness and love which a daughter need from her parents , a brotherly care from my bhai , a sweet dadi who can stand as strength and me ……
Pranati : And you!!
Reyansh : That's upto you
Pranati : And if I say a No then
Reyansh : I can happily bear it because it's said by you.
Pranati : But your family will not be happy if their loving member became sad.
Reyansh : I will convince them . Don't worry.
Pranati : Why you are so good like these , Reyansh ? Just for me
Reyansh : Because you are my love , my soul , my life.
Pranati : If I deny you then I will be the most unfortunate girl in this world. I don't want to become that .
Reyansh : Pranati
Pranati ; You heard it right , Reyansh . Not just you even I have also started imagining you as my prince Lucca. In fact at that night when dadi narrated whole story I really wished to live in my dream world again as that was so special for me. But my circumstances, my harsh truth – I was aware about it well and always my heart said that I should not express anything to you. When you will get married to the deserving girl your friends, relatives, family all will be assembled and what if my parents won't come for that moment ?
Reyansh : I assure you , your parents will be together .
Pranati : This is not any fairy tale , Reyansh . My parents are two separate individuals as my dad limelighted that shocking truth again to me. You really think it is possible ? How long we can keep trying and if it became so long what will be your life ? This age when you have to bring a partner to your life you are struggling whole life just for my happiness ?
Reyansh : There is no gain without a pain , Pranati. Struggles may come but if you stand with me we will face it together.
Pranati : Be practical Reyansh. I can't stay here any more. It will affect your life too. I will go anywhere and won't trouble you again.
Reyansh ; Please don't do so. If you are hurt with the way I opened my feelings then I am sorry . But please don't go, please don't break our friendship by going like these.
Pranati : You are so adamant and hopeful natured person and before these qualities I am unable to say anything. You give me your shoulder when I cried , you consoled me when I was in pain. You made me happy with so many sweet memories and when you said I am also a part of your family you gave me the precious treasure and lastly your immense love on me has made me to surrender myself before your heart. I can't deny it anymore , I am also in love with you my Lucca .
Reyansh : I love you a lot my Dayana
They both hugged each other emotionally
Reyansh : Pranati ,  I am always with you at each step of your life. Please trust me .
Pranati : Reyansh everything needs a time. My priority is to see my parents together.
Reyansh : I know .  I am glad that at least we opened everything to each other . They will surely unite and we will try again .
Pranati : When you are with me I feels so confident . I am ready for the further attempts to unite them.
Reyansh : That's my Dayana
Pranati : So I need to read this card now
Reyansh : Not before me
Pranati : Why ?
Reyansh : I will feel shy
Pranati : Aww how cute was that
Reyansh : I can make more cute moments like these
Reyansh quickly lifted Pranati in his arms
Sanam re Sanam re tu mera sanam huwa re plays…..
Pranati : Reyansh leave me , Please leave me.
Reyansh : I won't leave you so easily my princess .
Pranati : Reyansh Dadi!! Dadi is coming.
Reyansh : Oh Shit!!
Reyansh quickly released Pranati.
Reyansh : Where is dadi ?
Pranati smiled and ran away from there. Reyansh also smiled .
On the other hand Rikara was on their romantic date 
Gauri : Wow this dish is so amazing.
Omkara : Thanks to my Mom , she only made it for us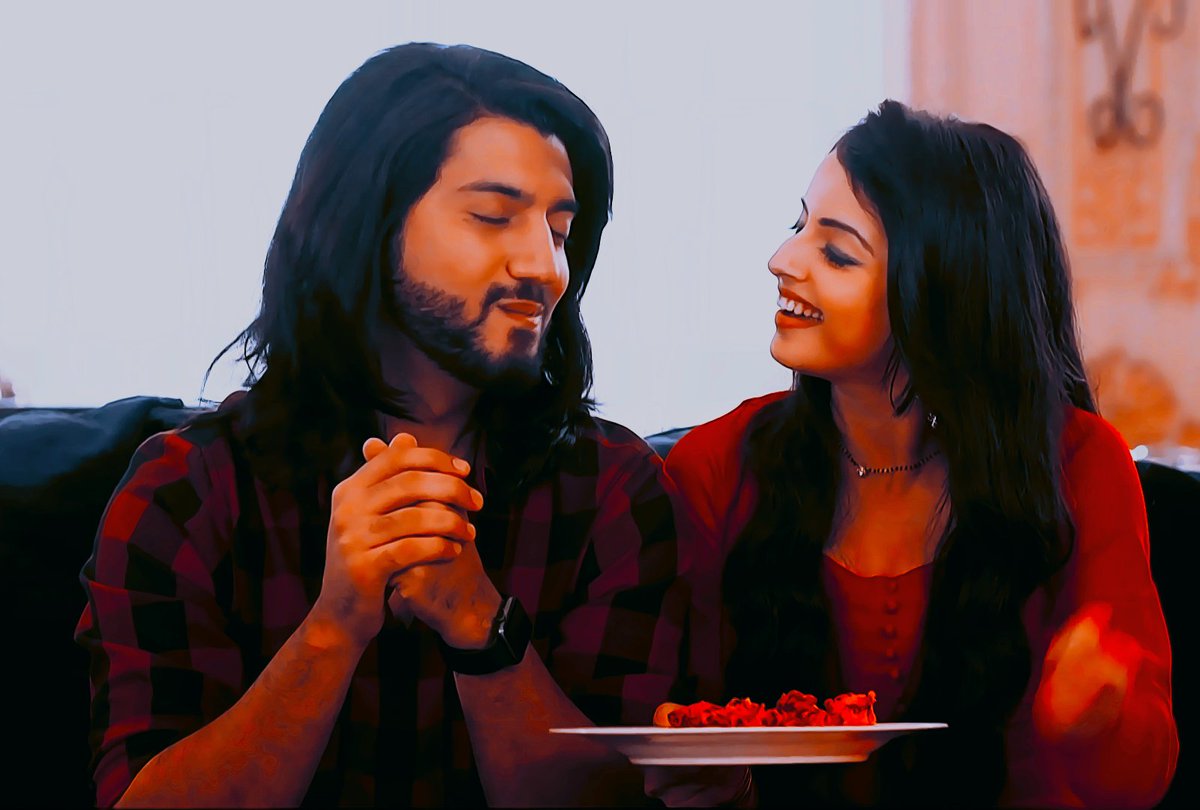 Gauri ; Wow that's so good. Even when your Mom called me I was surprised .
Omkara : I was about to ask you how you came here ?
Gauri : Your mom called me yesterday night and said that now she needs to peep your paintings to know who has captured her son's heart . She was so sweet that she thanked me for making her son's life as colourful. I was dumbstruck and I wasn't able to say anything. You are so lucky Omkara.
Omkara : I fear after marriage if I mom will care her bahu rather than me ?
Gauri ; Don't be so silly my Jealous Oberoi . Of course she will treat me like a princess daughter .
Omkara : Not only you, Even Pranati your sister will also be treated like that.
Gauri : Yeah and did her parents came to visit her ?
Omkara : No.
Gauri : I hope they should realize what they are losing.
Omkara : Yeah Gauri. And what about Krish bhai ?
Gauri : Seeing his anger on Spandana , I feels so bad . Spandana is a brave fighter so I think she will bring a miraculous change.
Omkara : At all these messes we get some moments to spend with each other. And we have to add charm on it.
Gauri ; Oh!! So you have bought canvas here too ?
Omkara : That's really a a bad joke, Gauri.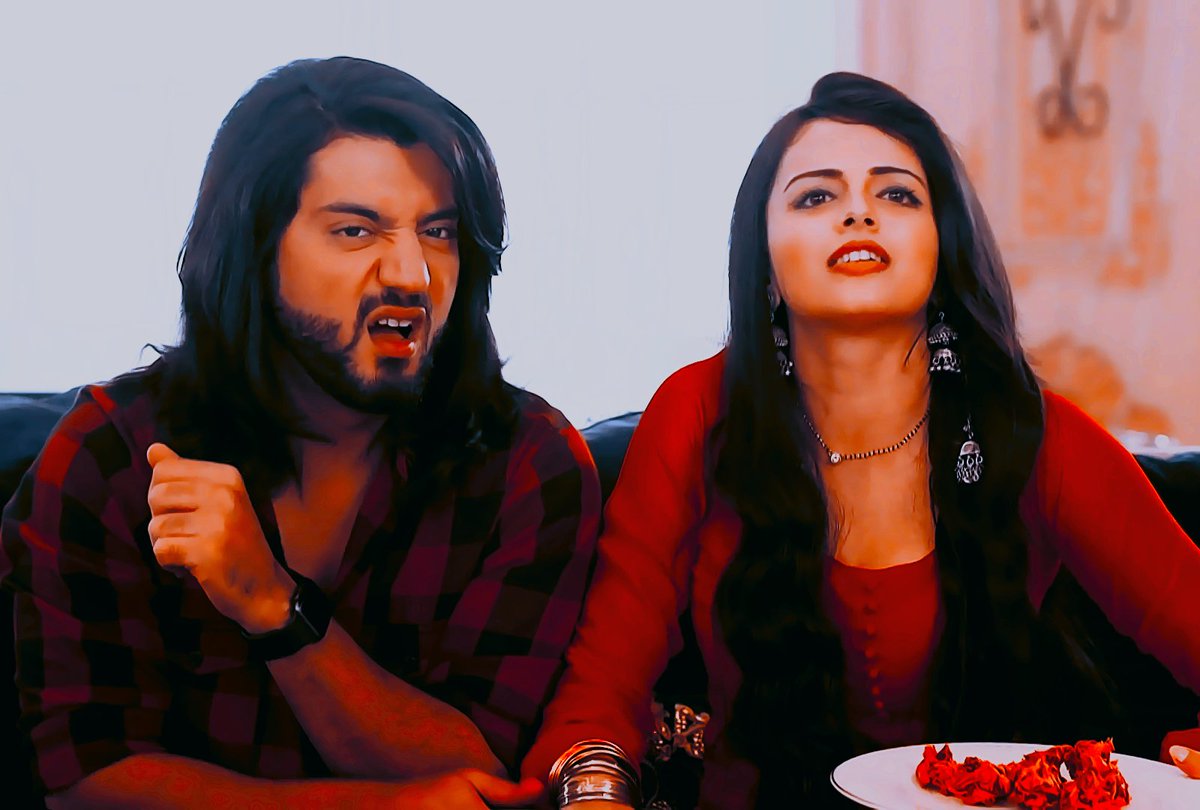 Gauri : I was just kidding .
Omkara : You didn't tell me what you felt after hearing that voice over ? The tale of Lucca and Dayana
Omkara was getting more close towards her , Gauri slightly pushed him back with a smile
Gauri :You are trying all possible ways to do it . I strictly prohibhited that thing .
Omkara : I have a disease of forgetting things . Please remind me again.
Gauri : No . Please put a pause on that
Omkara ; Fine , I won't break the promise . But I want to live these moment through seeing your eyes.
Gauri : What's that much special at my eyes ?
Omkara held her hand and looked at her eyes
Teri aankhon kee manzil mein naa jaane kyun
Kho jaata hoon mein Har baar
Inn jhilmil palkon mein
Mujhe bhi samet lo
Kyunki abb inn aankhon se siwah
Kambaqt dil ko aur kuch nahi dikhta
Gauri : You have first time depicted your shayarana andaz to me , why you was not doing it ?
Omkara : You are the Dabang girl and after how much time you opened your heart to me and moreover till now I wasn't able to see these sparkling eyes close towards me .
And when it came like the sweet petals of roses I was lost myself in it.
Gauri : It was lovely and I would love to hear more.
Omkara : If you stay with me whole night I can do millions of shayari for you.
Gauri : I need to leave my lovely Shayarbaaz Omkara.
Omkara : Just now only we came and you are leaving
Gauri ; Please, I need to leave. Dad will be waiting for me
Omkara and Gauri rubbed their noses romantically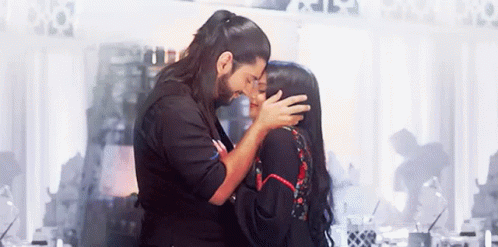 Omkara : I will wait for that moment when we both will became one in all ways.
Gauri : Me also Omkara.
AT SHOBNA'S HOUSE 
Shobna : I am so happy that you all came here.
Baljeet : Puthar joh huwa so huwa. But we have to do their wedding again. I mean how can our children do a register marriage ?
Shobna : Ji, what you are saying is right, Maaji.
Tej : Shobna ji whatever issues you and your husband have for the sake of your daughter's wedding you both need to forget it. You both have to be together at that wedding. We are conducting it with all rituals and customs.
Shobna : But Tej ji, If he will come I will not be there.
Jhanvi : Your personal problem is more important than your daughter's wedding ? A child receieves blessings from both mom and dad during wedding. Then  only life will be happy . We don't want any excuse. Please you both have to be there.
Baljeeet : And if you both won't come together then this wedding will be cancelled. And we will send your daughter to you istelf.
Shobna gets shocked.