RECAP: MAYUR AND KARTIK HAVE A ARGUEMENT.
Kartik is at home and calls Kairav:
Kartik: Kairav, Vansh Krishna!
Kairav Krishna Vansh: Kya hua?
Kartik: Aaj se papa, Big bro aur kitkit nahi hai, main Sid hu.
Krishna: So you trying to get back Naira didi by being Sid.
Kartik: yes, like she became TINA for me, I will be Sid
Next day:
He sees Aarya in the park, and calls her.
Kartik/Sid: Aarya!
Aarya: Hi how are you Kartik.
Kartik: I am good, and don't call me Kartik, I am Sid, Sid is my name
Kartik in mind: Sorry Naira, I have to lie to you.
Aarya: Ok Sid.
Sid: Isn't that Mayur there coming?
Aarya: Yes woh hi hai, I will call you please go he will beat you and me.
Sid: Let him try.
Aarya: No please listen to me go.
Sid: Fine because you said, but please if he does anything don't be scared to call me.
Aarya: OK thank you.
Sid: Bye.
Aarya: Bye.
Mayur comes.
Mayur: why are you always talking to him. He is the one who loved you.
Aarya: He is my friend, and he is not Kartik he is Sid ok? Now lets go.
Mayur is at home while Aarya is in the park walking.
Some guys come and harass Aarya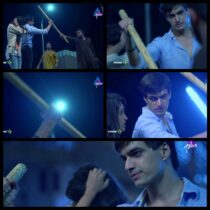 Kartik aka Sid sees and comes to save Aarya.
He is hit by the men and Aarya, enraged hits back.
Sid gets up but the men nearly hit him again but again this time Sid's aka Kartik's sherni protects him. The rock hits Aarya and she starts to bleed.
Sid , now also enraged hits back the same rock which hit his Naira.
All the men run away.
Aarya: Thank you Kartik.
Sid: No problem, and I am Sid.
Aarya: Sorry, my ex was called Kartik he betrayed me.
Sid: I am sorry Naira, also are you ok? I have hankie in my car put it round your arm.
Aarya: Ok thank you ji, but I am Aarya not Naira. But, who is Naira.
Sid: My wife, she is not in this world, I lost her in the hills, she looks exac- never mind. Your house has come.
Aarya: Why don't you come in? Don't worry about Mayur, I am not scared of him.
PRECAP: AKSHU KAIRAV AND AARYA MEET AGAIN