I like Ranbir kapoor says Smita Sharan
Hi Everyone,
We hope you all are doing good.
This is our another interview with Smita Sharan. She has done shows like Ishq Mein Marjawan 2. She answered our all the questions. Have a look.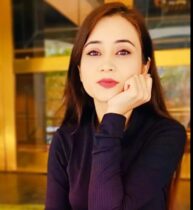 1 Why did you pursue acting as your profession?
She said," honestly i never thought to be an actor being a small town girl limitations of our dream is either to be an engineer doctor teacher or get a government job. Acting is my destiny and now i started loving this profession".
2 Do you miss Ishq Mein Marjawan 2 cast? Who was the closest one to you on the sets?
She replied," I think everyone the entire team of ishq me marjawan2 was so good..co actors, technical team ,hair didi ,makeup dada and spot dada everyone..Sejal the character is always close to my heart".
3 Have you ever been on diet? If yes, did you tried to break it ?
She said,"never. I foodie..main sochti to bahut hu ki dieting kar lu par jis chiz ko dekh ke mera khane ka mann tarse rok nhi pati..but yes i eat them in a small quantity".
4 What is your dream place  ?
She told," northeast india , venace"
5 Your favorite childhood memory?
She said,"being 90s kid watched shaktiman, play hide and seek with cousins and friends and the tiffin time of school".
6 Have you ever pranked someone or got pranked by someone?
She said,"yeah one of my friend's brother made me believed that my friend and his family eats rat..the way he explained the receipe..he made me believed".
7 What do you think about this industry?
She replied,"this industry literally test ur patience level..when u are working you get lots of work offers and when you are not it takes time to find next..industry is like a rollar coaster..and the experience is beautiful".
8 Who is your favorite actor and singer?
She said,"I like Ranbir kapoor..but main jo bhi movie dekhti hu us time pe vo actors mera fav hota hai. singer arijit singh."
9 One thing you always wanted to tell somebody close to you?
She said,"I trying and one day i ll make you proud..this is for my parents".
10 What would you say about your fans?
She replied,"they are not my fans they are my family..i have seen their self less love and support towards me. I am blessed"
That's all
We did loved talking with her. Will be soon back with another interview.
Till the take care 
Team Telly_destination