Episode stars……
When he goes to the terrace he saw ridhima and Aryan.
Aryan : just taste it dude you will feel light and chilled believe me.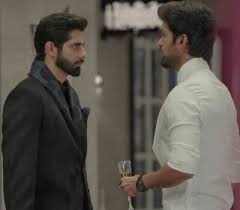 Vansh : Aryan Just stay away from her (in Vr style) , don't you know that she don't drink .
Aryan : why you are always ready bump between us.Now you are engaged so show some concern for you would be wife Ragini otherwise she will be neglected.
Vansh : Aryan don't try to teach me I very well know what is wrong and what is right. You can't see how she avoiding and feeling uncomfortable .
Aryan : I was just trying chill her up bhai you can't see she is upset so you can leave I will handle her .
Vansh : I know my friend better than you so you go and I will see her.
Ridhima : guys stop it …..I came here to take fresh air and now you both are suffocating me from your argument .please leave alone I don't want any bodies help. So please…..
Aryan turned and moves from there.
Ridhima : you also …
Vansh : but …..
Ridhima : no if and but….
Vansh : I also came here to take fresh ……promise I will not utter a single word..
Ridhima : ok
Ridhima closed his eyes to feel the touch of cold breeze and vansh was looking at her and thinking how innocent she is…..You know ridhima why I stopped aryan because I know when you get drunken ,you are out of control…… he remembers an incident when ridhima was get drunk .
Flashback
One day vansh was doing some work in the library . Ridhima came to him to inform something while talking she started coughing ,vansh goes to take water for her. because of suffocation she drank that which was kept on the table .
Vansh : take this and why you are making such faces ….
Ridhima : because that was bad in taste ……why this house is spinning.( holding her head)
Vansh : what was bad ? Why you are behaving like this?
Ridhima : this(pointing toward the glass)
Vansh : what ?(shocked ) you consumed this ….
Ridhima : yyyyyeeeeeeesssssss my dear hubby….how many time have tell you……vansh pick me I am falling…..
Vansh : (shocked) what hubby…..she is gone and I also . let's go to our room.
Ridhima : I will not . what you will do ? You VANSH RAISINGHANIA I tell you how bad you are……you always scared me ( complaining like kid)..you snatched my phone and she throws his phone.
Vansh : RIDHIMA (shouted )
Ridhima runs from there and hides behind the chair.
Vansh goes to her and picks her on his shoulder. she started beating his back and says you are devil ,leave me . he ignored her. They went to room .He made her to sit on the bed.
she started Weeping.
Vansh : what happen to you ?what made you to cry? I must cry as you were beating me but you only started crying?
Ridhima : because of you.
Vansh : because of me . what I have done ?
Ridhima : you caged me and even you married me that to forcefully .have you ever tried to understand what I want I also have dreams and now they are no more .you know why because of you ……I hate you vansh .you snatched my right to go out and to speak to my loved one….. this hurt me to the core of my heart.
Vansh : what you did to me ? You are no less.
Ridhima : what I did ? I only burnt your hand.
Vansh : seriouslllyyy ridhima….. only…..
Ridhima : sorry na …..hurt hua hoga na….I 'll make it right .Give your hand.
Vansh : its ok ….already many days are passed .It is ok.R
Ridhima took his hand and kissed .vansh was totally shocked by her action.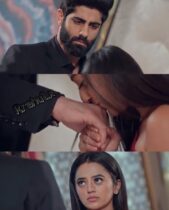 Ridhima : what ??? Why are you looking like this ….I have all the right to kiss you because you are my husband…..you know what I always cried for family…..I use to ask why Buppa snatched my parents from or should I say that my parent thrown me.., who can did like this to their child as my parent did to me.( she cried)
Vansh wiped her tear and hugged her tightly with lots of love .It was their first hug with so much intensity and affection……you are not alone I am with you and always ……don't cry as tears don't suits you ridhima….
Ridhima : thanks vansh for giving me a family…..she looks into his eye…..
Vansh : what ???
Ridhima : your eyes are so deep and I want to feel their deepness .
she slowly moves towards him and gently kissed his eyes with so much love that vansh also could not resist her action . On the other hand he also feels attracted towards her.
He also started looking into her eyes which were not less than a ocean……they were too close that they can hear each others heartbeat and could feel the warmth of their breath.,……they were lost in ocean of the eyes ……that they could realised that when their lips were just about to touch each other…….this moment was broken by knock on the door …..vansh goes to check ….it was Angre who came to give file …..vansh thanked him and he goes.vansh goes to bring lemon water.
Vansh : ridhima drink this .
Ridhima : No , I will not .I will not leave that Angre …..
Vansh : why ?? What he has done?
Ridhima : he spoiled our moment .,…how can he walk like this to our room…you are married now and you tell him to stay away from you….as I am your wife not he….
Vansh : Ok . I will .now you drink this first.
Ridhima : no .First we will complete our work .
Vansh : what work?
Ridhima : you buddhu , we were about to kiss …..first we will kiss than I will drink this …
Vansh : No . Nothing going to happen like this. You drink this .
Ridhima : No, we will kiss first than I do other work.
Vansh forcefully tried to drink her and they fell down ,lemon water spill over them . vansh forcefully made her to suck lemon And went to washroom .after changing….. he ordered her to go washroom and he will bring cloth for her. he goes to give ..,.she said that she will wear his shirt and that to only that he was wearing. Firstly he refused her ….. she started crying than he gave her …
When he was going to take other shirt .Ridhima locked washroom. She started dancing vansh was adoring her ….this ridhima was new to him…..while dancing she slipped .when vansh gave his hand for help she pulled him to the floor….. She took his hand like pillow , rest her head over his chest and slept.
In morning she woke up earlier than vansh. on seeing his condition she was shocked to the hell as vansh was shirtless , her head was over his chest with wrapped hand around him that to in the bathroom only.
Ridhima : vansh……vansh ….get up.
Vansh : yes what happened ? Why you are so tensed.
Ridhima : what happened yesterday ? Why we are here like this ? I don't remember anything?
Vansh(with fake shocked reaction) : what ?? What happened??? Everything happened jo ek genuine husband and wife me honi chahiye . Seriously ridhima you don't remember anything ? How ?
Ridhima : you are lying.
Vansh : Achha….You remember how you kissed my hand and eyes than moved to lips or…….
She got a glimpse of that moments .She started crying…..
Vansh : how you are so sure that I am lying ? If you are so sure than why are you crying?
Ridhima (crying) : because…because I trust you…I know you ….we are in forced marriage but you never forced me to do wife things or other things in which i am not comfortable with you like bed sharing and all . I know you  are a gentlemen. I am crying because I was the one who was out of control .if I only forced you to do…..
Vansh was shocked…… How she with in little time knew him soo much that he can't do such thing to her…….He felt elated to have her…….
Vansh : No ridhima……..don't cry …..nothing happened between us.,….I was just jocking….
Ridhima : pakka na ….
Flashblack ends
Vansh smiles again thinking about her innocent and trust which she hold over him……
Ridhima was thinking about how her boyfriend………