Hello my dear readers..here is the next chappy. 
Recap: Vansh reveals the past to Sia and thus to the audience too. Its Riansh Engagement day and in the midst the preparation for the struggle is going on. Is Sia convinced with the past will she accept the reality and Vansh back? 
Chapter 31 : Everlasting love and Companionship 
With all handsome wizards and beautiful witches arriving there, Gaurav calls them together
Gaurav: Before Vansh and Ridhimaa are here I want you all to cast protector charm for this venue. I dont want any risk
Maya: But Gaurav do you expect an attack?
Gaurav: We cant be careless Maya. Haden is the Dark Lord now and thats a threat
Chandrika: I think he is right. Meghnand…have a watch..everyone get into work
Kartik and Naira grab their wands and rush to the engagement dias. Shivaay and Pankhuri join them. On the other hand Aman, Roshini , Karan and Preeta get to the entrance. They draw out their wands and in unison : Ati Rakshak Bhava
Golden light erupts into the sky sealing the area. As it happens Angre leads in Harish Avantika Vansh and Ridhimaa. Ridhu is mesmerised to see the golden glow and her eyes twinkle. As they reach the door everyone gather around them
Aman: Wait..wait…itni aasani se nahi
Vansh: Aman yaar…
Ishani: Bhai you are the groom so get ready to face all these
Kartik: Haan Vansh..you are our commander but today your commands wont work
Angre: Exactly 
Vansh: Acha okay I give up…what is your plan now
Ranveer: If you want our Ridhu you have to do as we say. Anmol ratan hai ye ladki..isiliye itni aasani se kisike havale nahi karenge hum
Vansh: I agree with that point …she is indeed a rare piece. One can do anything for her
Hearing this Ridhu blushes 
Angre: Waah mera bhai..what a change in you
Ishani: Our brother is also so special , Ridhimaa should also prove herself capable to be his wife
Aman: Yaar Ishani..
Ishani: Wait..choose your sides now..these sides will remain till the end of the wedding, for sangeet everything we will compete , it will be fun
Gaurav: Lead them inside atleast
Aman: No sir Ishani is right..split teams now then we will decide what to be done to go inside
Shivaay: Im on My Ridhu's side
Angre: Mein on bhai's side
Meghnand: Thats known..only  brothers  support their  brothers 
Ranveer: Me  on Ridhu's side..Im  like her brother…aren't I?
Ridhimaa hugs Ranveer, so does Shivaay
Shivaay: Yeah,.you are our big brother
Avantika: Haan beta…If your mom Ishitha was here it would have been nice today.
Ranveer: But she sacrificed herself for a greater good
Vansh: If not for her Sia will not have been…
Remembering Sia he gets emotional 
Vansh: Without Sia..how will..this..
Sia: Without Sia? How can you even think I wont come for my bhai's engagement 
All turn to see Sia and Aryan. Vansh hugs her
Sia: After knowing everything I was upset as you hid from me..but then Aryan made me understand 
Vansh: Thank you so much Aryan
Aryan: Arrey yaar..we heard that teams are being made..then Im on Ridhu's side so don't thank me yet..because Ill be pulling your leg from now on
Saying this he cuckles and joins Ranveer and Shivaay
Ishani and Sia: We are here for our bhai. 
Shivaay: Kartik tum?
Kartik: Mein..mein toh Vansh ke side se hoon
Naira: Jaa jaa..Ridhimaa Im on your side
Shivaay: Wow yaar Atlast a girl to support us
They share a hifi
Roshini: Aise kaise boldiya aapne..Even Im on Ridhu's side
Preeta: Sorry guys Im on Vansh's side..childhood friendship sake
Bani: Shivaay Im here for your side
Pankhuri: Me too
Veer : So me on Vansh's side
Sirat: Di..sorry Im going with jiju
Kartik: Good decision
Naira: Jaa jaa..we will defeat you guys
Vansh: Ritik wont you join me?
Ritik: Vansh mera bhai..Im on …Ridhu's side sorry
Vansh: Cheater
Shivanya: Im here na..dont worry
Gaurav: If your done can we proceed?
Shivaay: Team bride squad..join me..we have to plan our tasks
Ranveer , Naira , Roshini, Pankhuri, Aryan, Ritik, Bani and Karan go with Shivaay.
While Veer, Kartik, Aman, Preeta, Sirat , Shivanya, Angre, Ishani and Sia are busy discussing something. Avantika, Harish , Gaurav, Maya and Chandrika welcome Khundras and get busy with them.Vansh  seizes  the opportunity and drags Ridhimaa with him to a corner spot
Ridhimaa: What are you doing Vansh?
Vansh: Romance sweetheart..for the last time with my lover
Ridhimaa: What?
Vansh: Haan…after this you are my fiancé right
Ridhimaa: Acha..Vansh..woh…
Vansh: I know its for Sejal right…we will tell the wizarding truth soon sweetheart if she knows now its risky for her
Ridhimaa: How did..
Vansh: Arrey my dear lover…I can read your eyes
Ridhimaa: Acha? 
Vansh slowly gets closer to kiss her. Her eyes widen and she is shocked 
Ridhimaa: Vvvvvannnshhhh
Vansh who was closing his eye for a sensual kiss and opens to see Ridhimaa looking at something with a mixed feel. Her cheeks are turning pink.  Ridhimaa tries to  push him away
Vansh: What happened?
Ridhimaa: Vansh..turn and see
Vansh leaves his hold on her and turns to see the groom squad (lets call them as bride and groom squad as it's difficult to type all names repeatedly) staring at them
Angre: Bhai? What is going on?
Vansh: Are you blind?
Aman: Vansh..
Vansh: Arrey groom squad to help me not pull my leg. Now go and have a lookout for someone coming here..Ill..
He turns towards Riddhu and a shock awaits as the bride squad is already there
Aryan: We are taking Ridhimaa with us…good luck for your games..Jija ji
They take Ridhimaa with them. Vansh is disappointed 
Preeta: You will get a chance my dear friend come lets go
They approach the entrance. The bride squad is ready with their arrangements and the entey is blocked 
Ritik: Ridhimaa is already inside now your entry depends on how you do your task
Sirat: Kya hai task task…are you conducting Bigg boss?
Karan: Yes we are the bosses..so follow what we say
Vansh: Okay fine..tell me whats it now
Bani: So Vansh..see on the top lies the key for entry. You have to take it without using your wand and broomstick
Kartik: Are you even wizards?
Ranveer: Arrey…we never knew this world till recent times..Ridhu too grew non magically only..so this task is to whether Vansh fits into her world 
Angre: Come on guys…planning time..we cant let our teammate lose
They plan and few minutes later,
Angre, Kartik, Aman and Veer form a human pyramid..Vansh climbs on them and takes the key
Meghnand: Woow..awesome mere cheete
They enter the venue
Vansh walks towards the stage. 
Vansh: Will you bring Ridhimaa now?
Ranveer: One more task before it..Naira ready?
Naira takes a bow in her hand and comes
Kartik: Why do you need this to kill ? Your eyes are enough jaaneman
Everyone other than Kartik and Naira : Hayeee…kya line bola aapna
Naira gets shy. 
Sirat: Arrey Jiju its Vansh and Ridhimaa's engagement today
Kartik: Arrey..Cant I express my feelings?
Naira: Kartik..shut up na..
Kartik: Naira tum bhi
Pankhuri: Naira…now tell the task. You can fight later
Naira: Yeah coming to the point…Vansh you have 3 chances and you have to use the arrow and shoot the bird toys up there..one of the birds has your ring. Only 3 chances
Sia: If he didn't find the ring in them will you send us back?
Vansh is shocked and : Sia…yaar
Naira laughs and : No Sia dear..that's because 
Ranveer: Our Laila is equally Pagal like your Majunu..
Karan: If you lose
Ritik: Then you have to listen to what we say throughout the wedding 
Shivanya: If we win?
Aryan: We will listen to you
Vansh: Come on.give me
Angre: Bhai..take care
Preeta: Yaar Vansh..its not only you but our entire team at stake now
Vansh grabs the arrows and he strikes…and a miss
Ishani: Bhai…
Vansh: What..do you know how difficult it is
Ishani: Acha sorry sorry
Another chance and miss
Kartik: Vansh mera bhai..please make us win here…please 
Aman: Yes my man..last one please concentrate 
Vansh leaves a deep sigh and strikes…and it is…..sorry Vansh fans our hero missed it too…
Bride squad: Woohooo..so you have to listen to us now
Naira: Oye mendak..get ready 
Maya: Bachon..auspicious time is here bring Ridhimaa..lets start
Roshini and Pankhuri go inside. Kartik sits in a corner with a sad pout. Aman goes to him
Aman: What happened Kartik?
Kartik: Ab sherni kacha chapajayegi
Karan is dancing with joy
Aryan: Karan this much happiness?
Karan: For the first time in history Preeta will obey my words
Aryan: Golden chance huh
Ritik: Yaar Karan I can understand your feel
They hug. All the sounds stop and silence prevails. Ridhimaa is brought to the stage. Everyone else disappears for Vansh . He could feel his heartbeat thumping as Ridhimaa walks closer. He doesn't blink and is seeing her and only her.
On catching his stare she blushes hard making him stare intensely. A melodious tune rings in his ears and he admires Ridhimaa as she pushes the hair behind her ears. 
Vansh gets to reality when Angre jerks him
Kartik: Vansh..I know it's difficult to get your eyes off your girl
Aman: That too when they get ready for us
Ritik: Thats a plan to kill us on spot
Angre: Someone planning to kill Vansh ..impossible 
Vansh: Right..how can one kill the dead
Angre places his hand on his chest and acts surprised 
Gaurav: No talk of deaths now..exchange the rings please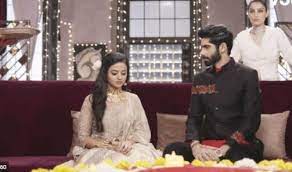 Vansh takes Ridhu's hand in his and wears the ring. Ridhimaa follows him
Meghnand: Now you are entering a relationship which promises everlasting love and companionship 
Harish: Vansh we know that you love Ridhimaa more than anyone else does. 
Avantika: We are blessed to see our daughter getting engaged to someone who will take care of her like a Princess 
Vansh: Sure aunty..she is my queen
Everyone get happy but thats shortlived..they hear loud thunders and wind blows like a howl
Meghnand: Danger..danger..grab your wands…danger
Vansh draws his wand in one hand and his other hand pulls Ridhimaa to his side
Gaurav: Dont panic…stay safe..dont come out of this venue…
He gets out with his wand. 
Shivaay: Sir…
Gaurav: Shivaay…you know what to do …and where Im going
Shivaay: But sir…marriage has…
Gaurav: Dont you know that magic rules were set by the westerns and their marriage means ring exchange 
Gaurav walks out and Shivaay stands blank
Pankhuri: Whats it Adi?
Harish: What happened?
Shivaay: Ridhimaa and Vansh's power has merged as per the prophecy. They are the one who will lead us to the dark power now
Vansh: Shivaay you mean the struggle
Shivaay: We have reached the second step on our side after the Aeres potion
Kartik: Haden will know this by now..thats why this disturbance
Shivaay: Shsh..no more of his name anymore…atleast not until Vansh and Ridhimaa are married . Vansh the time for our next step is here and sir has gone for it
When Shivaay tells this Vansh's face gets pale
Ridhimaa: Whats it Vansh? What happened?
Vansh: Sweetheart…this is not the time..Angre its time for sunset
Everyone is confused 
Angre: Bhai you mean…he…he has gone there?
Vansh swallows his saliva rather slowly as he nods. Angre sees that and his eyes well up
Maya: What is that you guys are hiding from us?
Vansh: Mam..the right time to tell that is not yet here…now we cant get back to our houses
Kartik: Lets go to our house….in the wizarding world..its safe
Naira: Yes…we will have facilities for any emergency too
Vansh: Thats right Kartik..lets leave..better to use thestrals and brooms. Ill take Ridhimaa with me
Angre: Why not apparate? 
Karan: Its risky..and lets go to different places and then re assemble
Veer: Good..dont disclose your first location..Preeta is pregnant..Karan you leave first
Karan takes Preeta and leave. Followed by Aman and Roshini. Avantika takes Sia while Harish takes Aryan. Mr and Mrs Khundra leave with Maya ji. Chandrika takes Ishani. Sirat takes Ranveer with her. Shivanya and Ritik leave. Angre, Vansh, Ridhimaa, Kartik , Naira , Shivaay and Pankhuri are there
Shivaay: Angre Take Pankhuri with you please 
Pankhuri: Adi..aap…
Shivaay: I have an important work
Ridhimaa: Whats that bhai…you cannot 
Shivaay hugs her
Shivaay: Dont worry my sister..Nothing will happen to me ( he looks at Pankhuri who is teary eyed and ) I promise to meet you safe and sound soon
Kartik: Shivaay can we….
Shivaay: No Kartik…you have…to go with Meghnand..yesterday's work was left right..Sir told me about it..I will need it tonight
Naira: Where do we give you?
Shivaay: You know my place right…there Ill meet you and code word is..
Kartik: Kachori
Naira: Kartik..be serious 
Kartik: Arrey codes should be silly yaar then only no one will guess
Vansh: He is right Naira..
Shivaay: Fine..Ill finish and then tell you about it
Shivaay leaves from there turning back to see a glimpse of Pankhuri 
Kartik and Naira too leave with Meghnand. Angre and Pankhuri leave. Lastly Vansh takes Ridhimaa on his broom. The episode freezes 
Next Chapter : Death