Falling Head Over Heels For a Wizard Riansh ff – Drunk?
Hai hello my dears. Yaar these college people are really mad. Exams within such a short span was too hectic. So could not meet you with our witches and wizards till now. But its all over now and Im back. From now on Expect the Unexpected in the story.  Lets now enter the world of our witches and wizards. And yeah I love you all a lot
Recap : Vansh and Ridhimaa have some beautiful moments in the masquerade ball. Ranveer spots Shivaay at the party but mentions him as Aditya to Vansh.
Chapter 23: Drunk?
Ridhimaa and Vansh are seated in their table enjoying dinner. They order the drinks at the end of their meal. Just as it arrives Vansh's phone rings. Its Angre
Vansh:  Ill be back in few minutes sweetheart..you have the drink
He grabs his phone and walks outside. Ridhimaa starts to sip her drink. Shivaay is watching her from a distance with a smile on his face
Shivaay in mind: And my plan is working now. Thankfully no hindrance in my plan and Ill full-fill it now
Saying this he walks towards her. But he stops suddenly as Vansh gets back
Vansh: Ridhimaa we need to leave now
But Ridhimaa doesn't respond. Vansh shakes her
Vansh: Ridhimaa…what happened? We have to leave…
Ridhimaa spats his hand
Vansh: Ouch..
She looks at his face turning red and smiles at it. Her smile is not the usual one as he finds a  childishness in it
Ridhimaa: I dont want to go ( in an intoxicated and  childish tone)
Vansh is shocked at it
Vansh: Ridhimaa what happened?
Ridhimaa gets up and hugs him
Ridhimaa: Pyar hua ikraar hua
Vansh realises that she is drunk. He sees Aryan at a distance and gestures him to come there with Sejal
Aryan: What happened?
Vansh makes Ridhimaa sit and tells the matter to Aryan. In the meantime Ridhimaa climbs on the table. Sejal sees this and shouts
Sejal: Ridhu…ridhu get down
Vansh and Aryan who were in a deep discussion hear this and come to her
Vansh: Ridhimaa come down..lets go home
Ridhimaa: Ill not come until you click a picture of me
Vansh: Ridh…
Ridhimaa: Tu keech meri photo…piya…
Tu kheech meri photo 
Tu kheech meri photo 
Tu kheech meri photo piyaa 
Vansh takes his mobile to capture her photos as she starts to dance with the song playing in the background 
Befikar dil hai aaj 
Hai tera mujhpe raaj 
Jo kahe kehne de baawra ye samaaj
Bhaage yahan wahan ye zindagi Ferrari hai 
Waisi hi zindagi hai jis tarah guzari hai
Ridhimaa slips off the table but before she hurts herself Vansh holds her in his arms.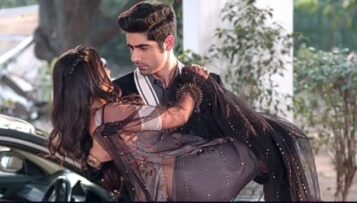 Mood aashiqana hai 
Subah ghar jaana hai 
Tune kaisa jaadu hai kiya
Lamha ye suhaana hai 
Time nahi gawana hai 
Jeene ka maza le sathiya
Tu kheech meri photo 
Tu kheech meri photo 
Tu kheech meri photo piya
Aryan: Vansh what to do now?
Vansh: We have to leave for Gaurav ji's place tonight. But I cant take her like this now. Ill better take her home and we will leave once she gets better in the morning 
Ranveer comes there
Ranveer: Vansh Someone must have spiked the drinks
Aryan: Yeah..if not..she
Vansh: If you dont mind..can you…
Ranveer: Ill find who is it and bring him to you soon. You take Ridhu now
Vansh leaves with Ridhimaa. Shivaay watches all this from a distance 
Shivaay in mind:  This Vansh always comes to her rescue….
His facial expressions get hidden in the darkness of the hall as the lights go off
Unidentified place
Angre: Bhai will be coming in the morning only
Gaurav: Thats okay. Roshini the Aeres is ready right?
Roshini: Yes sir..
Karan: So we start the struggle?
Gaurav: Yes we are starting the struggle now. This time we make sure we dont lose any dear one
Preeta: Last time Mrs.Sharma was pregnant this time its me
Chandrika: Preeta you ..
Preeta: Im not going anywhere mam. Its final
Meghnand: Sir Vansh is not here tonight…
Gaurav: Thats completely fine Meghnand. They lead us so they need not be here now. Maya and Bani start the rituals
Maya: Fine..Bani the phoenix tears are ready na?
Bani: Yes mam
Bani takes the phoenix tear vial and pours few drops into the Aeres
Gaurav: Meghnand bring that wand
Meghnand brings a fine big wand 
Aman: Whats it made of sir?
Gaurav: Its made of phoenix core. He gestures Veer to step forward. Veer takes the wand and dips it into the Aeres with phoenix tears
Once its dipped they hear loud thunderstorms and witness lightning piercing the sky. Haden's mansion is shown. He senses this and groans. Alga gets excited 
Alga: Thats it…the war has started now…finally
Haden: That means they got the Aeres potion you fool..last time they weren't this strong…
Alga: What now?
Haden: Off to the tower prison
Alga: Tower prison? Our hostages are needed or should we kill them?
Haden: Am I or was sir a fool to capture them and nurture them this long to kill them? We are using their knowledge now
Alga: How will they harm their daughter now?
Haden: They have already forgotten ever you fool now come with me
They rush to the tower prison and to their shock its empty 
Haden: This is not happening….arghhhhh…..
Haden gets mad in anger
Meanwhile the tunnel is shown where Karan and Aman found Shivaay. The upper shaft of the tunnel is shown and there is a couple of late middle age. They are crouched in a corner staring blankly at the floor. Their eyes are dry and it seems like no tears are left in them now. Their lips dont bear a smile now. The scene freezes 
Masquerade ball venue
Vansh is walking towards his car while Ridhimaa wriggles off his hold and gets on the floor with a thud
Vansh: Ridhimaa..what are you doing? Lets go
Ridhimaa doesn't listen and runs towards the swimming pool. Vansh follows her
Vansh: Ridhimaa…where are you going?
Ridhimaa: Im angry with you..I wont come anywhere..
Vansh: But why are you angry sweetheart 
He holds her hand and stops her.
She turns away from him
Vansh: Bolo na
Ridhimaa: Im angry..because..you..you dont love me
Vansh: What? Itna bada inzaam
Ridhimaa: Haan..even today all you cared was me coming with Abhay and you did not bother to say how I look
Vansh smiles at her cute reason to get angry
Vansh in mind: So madam wants to hear praises from me
Ridhimaa: And..you..you scolded me…
Vansh turns her towards him
Vansh: Didn't my looks tell you how you look? Didn't my kiss tell you how much I love you?
Ridhimaa: Then why did you scold me?
Vansh: You are mine…if I see you with someone else Ill get angry only
Ridhimaa: Then why did you say that you wont come to the party?
Vansh: When did I say? I just said I was busy..you only…
Ridhimaa: Wont you tell that No need to call him..Ill manage my works and come with you? You did not want to come so you never said anything 
Vansh: If I had not wanted to come then I wont be here right now
Ridhimaa: Dont change the topic now..you are guilty and you will be punished 
She pushes him away and turns to leave but she stumbles and falls into the pool
Vansh jumps in and pulls her into his arms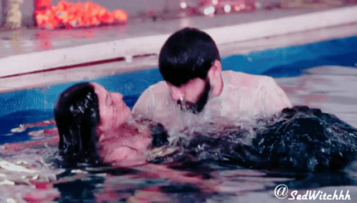 Vansh: Itna gussa achi baat nahi hai sweetheart 
Ridhimaa: See who is telling that
Vansh: Ab chalo lets go..
Ridhimaa splashes water on his phase as he is talking 
Vansh: Nautanki
He splashes water on her face. They have few beautiful moments. The scene freezes 
Unidentified place
Gaurav and others reach the terrace of the building 
Gaurav: Preeta beta what are the stars telling now..can we start the process?
Preeta: Yes sir..this wand will start the war now
Maya: Who will use the wand now Gaurav ji?
Gaurav looks at everyone and his eyes show concern
Gaurav: Sab chote bache hai..they have the whole life ahead. I am the oldest person here. Ill start the process and if I have to face the wrath Ill..
Aman: We cant let you do it sir..Ill do
Gaurav: No you have other great things to do
Gaurav lifts the wand above his hand and chants something under his breath. A bright red light emerges off his wand and the air turns red
Thousands of demons rush to the place. Haden too comes there
Gaurav: Preeta and Roshini go inside..Bani take them in
Preeta: We are not going sir…we are fighting now
The fight begins. Haden searches for Vansh and Ridhimaa among the group but to his dismay he couldn't find them
Alga: Where is that Ridhimaa?
Haden: Not here..I thought that Gaurav will definitely have her by the side while doing this and thats why I rushed here to kill her..but missed it..Ill have to instruct Shivaay to finish her off soon
The fight goes on but Haden escapes from there. 
Masquerade hall
Ranveer is searching for the bar tender who served the drinks to Ridhimaa after seeing the cctv footage. He hears someone's voice and stops
Voice: Sir..I successfully made her drunk and made our plan a success
Ranveer is shocked and peeps inside to see Shivaay. He rushes to him and holds him by collar
Ranveer: I should have suspected you when you were staring at them
Shivaay: Ranveer listen to me..
Ranveer: No Adi..you planned to hurt her…and now..
Shivaay: Ranveer please listen to me
Ranveer: You are planning to hurt her and you expect me to listen to you
Shivaay: Why will I hurt my sister?
Ranveer is shocked. The episode freezes 
Next Chapter : Estranged family 
Hey guys hope you liked this chappy. Next Chapter will be posted tomorrow for sure. Bye till then. Take care. Stay safe. 
With Love
Sai07
Sorry guys couldn't reply personally
Thank you so much Maanvika , Habiba, Anannya , Ishu, Pomu and Tina dears