Hello everyone !!
How are you all ??
Well I'm back again with the next part !!
Sorry for being late the festival's caught me up !!
Let's begin ::
Chapter 39
Ever since there confession there life was full of happiness. There was not a single moment of awkwardness or a conflict between them. There life was full of beautiful moments which they could cherish as there memories forever.
There life was full of love, surprises, adoration and admiration with certain cozy moments which would give them the warmth. There love growing with each passing minute along with a new found respect for each other.
A WEEK LATER :
After receiving the surprise confession from Twinkle Kunj was on top of the world but still he wanted to do something to make her feel special.
He planned a surprise for her giving her no idea of what was going on in his head, he completed all his office work so that he could be free on his weekend in order to execute his planned surprise.
SATURDAY EVENING :
Kunj returned from office in a very jolly mood as it was finally the day when he would be presenting his surprise to Twinkle.
He entered his room where twinkle was seen to be foldinv clothes and arranging them into the closet. He went near her without making her feel his presence and back hugged her placing a lingering kiss on her nape making her take a sharp breath. He turned her around and pecked her forehead making her close her eyes in pure bliss.
He presented her a gift wrap and asked her to get ready despite her attempts of knowing where they were heading to he never gave her a single hint.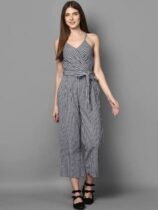 She got ready in the jumpsuit he got for her and he also got ready in his causual blue shirt and a denim jeans.

He blindfolded her and settled her in his car and drove off.
After a long jouney of two and a half hours they finally reached the outskirts of the city. It was a private beach with a beach house owned by Kunj.
He got off the car and helped Twinkle out and then mde his way towards the house and gently removed the blindfold. She was beaming with joy finally knowing his plan and gave him a bone crushing hug showing her happiness.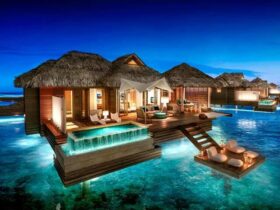 They went inside the house and explored it. It has a total of 3 Bedroom. 2 normal and 1 a master bedroom with a living hall and a dining hall along with a kitchen.
The back side of the glass house has a swimming pool with a sitting area wheras the flooring of the house was the most attractive.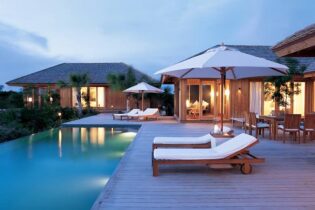 Kunj showed her the whole house but restricted her to see the master bedroom though he never revealed the reason for doing so bit Twinkle had an idea that there was another surprise waiting for her. They freshen up in the other room and went to the swimming area relaxing themself and talking with each other spending some time together. They had had some snacks all stocked by Kunj earlier. After that Kunj asked Twinkle to go in the other room statinv that a gift awaits her. As soon as she reached there she found a box placed on the bed. She opened it to reveal a Mergenta colour saree and a note which states –
""Get ready in the saree and wait for my message."
She got ready and received a message from kunj in 10 minutes asking her to come in the master bedroom.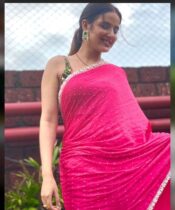 She hurriedly got up and checked herself one last time and made her way towards the master bedroom. As soon as she reached there and knocked on the door thr door wide opened revealing the surprise. The floor of the room was covered with rose petals.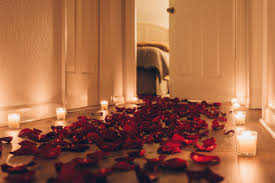 She walked ahead only to see the whole room decorated with scented candles, flowers and ballons giving it a total romantic vibe.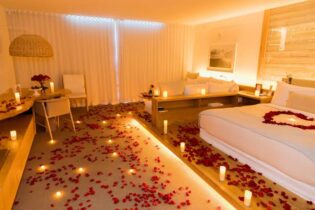 She walked ahead only to meet by the site of Kunj on his knees with a flower bouquet as soon as there eyes met they had an intense eyelock when kunj spoke-
"";Thank you Twinkle for entering in my life and accepting me nd my love whole heartedly. You make me the happiest person in the whole world  just by your presence. You made me feel special like no one did and today I'm here asking you " WILL YOU BE MINE TODAY TILL ETERNITY? WILL YOU GIVE ME A CHANCE TO LOVE YOU AND MAKE YOU MINE IN ALL SENSES TODAY ""
Twinkle has tears of happiness in her eyes, she can't believe how she
got so lucky to have a person like Kunj in her life as her life partner.
She nodded her head and whispered a YES and accepted the bouquet presented by Kunj. He took out another box revealing a braclet and made her wear the bracelet.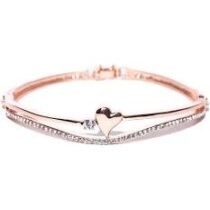 He got up and stood in front of twinkle and cupped her face bringing it closer a placing a chaste kiss on her forhead wheras she placed her head on his chest and hugged him. They stood in that position for a while when Kunj picked up Twinkle in bridal style making her scream bg his sudden act but soon it died down looking at Kunj who had a mischievous glint in his eyes and a naughty grin on his face, he winked at her making her blush as she knew what was going to happen next.
He very gently placed her on the bed pplacing a kiss on too of the head and came on top of her.
He placed a kiss on her forehead than moved towards her eyes kissing both of her eyes than her nose pecking her left cheek than her right cheek than sealing her lips in a slow yet sensuous kiss. He kissed her passionately showing his love,desire and a bit of lust with lots of adoration and admiration towards her.
He peppered kisses down her chin towards her jawline making her take a sharp intake of breath.
He unpinned her pallu kissing her neck and shoulder blade. He bite her on the joining of her neck and shoulder and than sucking the same spot soothing the pain leaving a love bite. He moved towards her br*asts fonding them. Soon there clothes were scattered here and there on the floor while Kunj was bisy exploring her body kissing and biting her giving her hickey's Twinkle was moaning his name making him go crazy.
Soon they we're lost in each other exploring and showering kisses to each other and finally Kunj marked her his and they were lost in making love to each other all night lossing the count of times they became together and drifted off to sleep.
That's all !!
Here i end this story of mine !!
Only the last part that is the Epilogue is left which i will be updating by the end of this week.
I hope you will like it !!
Do drop your view's and tell me how it was !!
Will be starting my other story after finishing it !!
Take Care and Stay Safe!!
Lots of love ❤️🥰