Dil Dhadakne Dho Na Episode 13
Recap : Virat expresses love to an unconscious Manvi. Virat and Viren make the plan. Radhika shares her problems with Arjun who plans to help her along with Neha and Rishabh. Latika blurts out the truth to Adi and Pankhuri. Rubel overhears it
Rubel: WHAT DID YOU SAY LATIKA?
All of them turn to see Rubel standing near behind them. Latika is shocked. Rubel marches towards her followed by Payal 
Rubel: What did you say about Adi and my separation 
Latika: Nahi Rubel woh..
Rubel: Oh come on I heard it from you and dont dare to change the topic. Its better if you tell the truth to me
Latika: Rubel….rubel…yes I did it. I love you and didn't want anyone near you other than me
Rubel: So you made all those false accusations on Adi and made me hate him? You liar
Latika: I love you Rubel thats why I did that.
Rubel: Latika did you just say that you love me?
Latika nods
Rubel: Acha…will you do anything for me?
Latika: Of course
Rubel: Then never show your face to me 
Latika: Rubel…
Rubel: Dont utter my name hereafter 
Latika: Acha..dont you love me then?
Rubel: I never did. I thought you were my friend but that too not anymore 
Latika: Why? Why dont you love me?
Rubel pulls Payal near him
Rubel: Because I love her
Latika: So its all because of her right
She barges towards Payal. Rubel slaps Latika
Rubel: How dare you think of hurting her
Before Rubel could do anything else Adi stops him
Adi: Bas Rubel..dont stoop to her level
Rubel's anger melts into tears which flow down his cheeks. He hugs Adi and starts to cry
Adi: Shsh..dont cry na yaar
Rubel: Im sorry Adi
Adi: Its okay
Rubel: Its not okay. I behaved like a rogue to you and to Pankhuri too
He breaks the hug and goes to Pankhuri 
Rubel: Im sorry Pankhuri 
Pankhuri: Its okay Rubel. Leave it
Rubel: Let me apologise 
Adi: Yaar when did you become melodramatic? Come on yaar its okay lets start fresh now
They share a group hug. Suddenly Adi's mobile rings. Its Virat
Adi: Bhai?
Virat: Adi are you safe there?
Adi: Haan bhai what happened?
Virat: Someone has complained on the attack on me and arrested Viren. He is in police station now. That Karan is planning something. Be safe
Adi: Should I come along bhai?
Virat: No Adi. Jeevika didi and her colleagues Rishab and Neha are coming with me to the police station
Adi: Okay bhai. Take care
Virat: Be safe
The call disconnects 
Rubel: What happened?
Adi: Tumhe Viren bhai aur Virat bhai ke baare mein pata haina?
Rubel: Of course I know that very well. Again a fight?
Adi: No man it's actually very lengthy 
Pankhuri: We dont get anything Adi
Adi: Ill tell wait
He tells everything in detail from Manvi's attack to Virat and Viren joining together
Rubel: I have heard dad talk about that Karan. Such a brat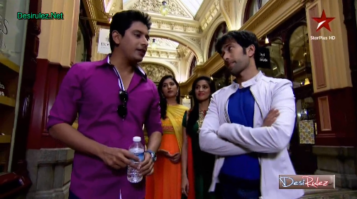 Pankhuri: Will business rivalry get to this extent?
Adi sighs and nods
Rubel: No one can dare to touch you till Im here
Adi: Oh hello Im not any damsel in distress for you to become my saviour prince
Rubel: Okay hero
Payal: Bas bas baaki ka bromance after class
Payal leaves from there. Adi Pankhuri and Rubel walk to their department with everyone watching this in amusement. The scene freezes 
Police Station
Virat, Jeevika , Neha and Rishabh rush inside. Jeevika gets teary eyed to see Viren behind the bars
. She couldn't understand why but the pain makes her heart pine
Virat: Sir we have come to free Viren
Police officer: But sir we cant
Virat: That attack was on me and
Jeevika: It was my sister who got hurt. When we ask you to free him why dont you
Police officer: No mam the complaint 
Virat: How can you arrest someone based on a random complaint without proof
Police: Sir your rivalry is well known so..
Virat: Now Im here to get him out , is there any rivalry seen in this? Let him out. My attack was not by him
Police: Then who did it?
Neha: Shayad aap bhool rahe hai ki yeh aapka kaam hai
Police officer gets speechless 
Virat: What are you still thinking? I said na Viren did not do that attack. Release him . Lawyer sir
Police officer: You should sign certain documents for that
Virat: Why not? Show me
Jeevika rushes to Viren
Jeevika: Viren sir are you alright? Did they mistreat you?
Viren os happy and surprised to see so much concern on him by Jeevika
Viren: Jeevika Im fine dont worry
The lock up is opened and Viren walks out.  Virat hugs him
Virat: Sorry Viren I never expected this
Viren: Dont say sorry Virat. We need to be cautious than ever. He is planning something worse
Virat: Yes but now we leave from here
Everyone walk out.
Virat: Ill drop you three in the office 
Viren: But…
Virat: No other answers other than lets go. Get in
Viren: Rishabh and Neha thanks for coming too
Neha: Its our responsibility sir. Dont embarrass us
Rishabh's mobile rings. Its Arjun
Arjun: When are you four coming? The team is empty now. We need to finish the work.How is sir?
Rishabh: He is fine sir. We are on the way. But isn't Radhika working on the project now?
Arjun: Radhika? Isnt she with you?
Rishabh: No sir. Hasn't she come there yet?
Arjun: No…okay fine come soon
He disconnects the call
Arjun in mind: Where is she ? Is she fine?
He dials her number but it's switched off
Arjun in mind: Did they do anything to her? I have promised to save her and I must do it
He rushes out to Jenny
Arjun: Jenny Im going out on an important work. If sir comes please inform him
Arjun takes his bike and speeds out. The scene freezes 
Hospital, Night
Jeevika is sitting with Manvi. Manvi has gained consciousness now and is as lively as ever
Manvi: Di how long should I be here?
Jeevika: Just for few more days Mannu. These wounds should heal right
Manvi: Its so boring here
Jeevika: I wanted to ask something to you
Manvi: Yeah..ask..
Jeevika: You said you dont like Virat then why did you risk yourself for him?
Manvi: Haan he was irritating me a lot but my inner feelings made me do it..it pushed me to move him away and take on that..something was telling that its worse to see him getting hurt that getting hurt myself 
Jeevika is surprised to know that her little sister is in love and she has not realised it and is calling it as an inner feeling 
The nurse walks in
Nurse: Mam please get these medicines 
Jeevika gets it and leaves. The nurse changes the IV bottle and walks out. Manvi gets too bored and dozes off. Suddenly someone enters the room. He is wearing a mask and has a knife as he approaches Manvi. Manvi senses a presence and opens her eyes. She sees the person and shouts. He shuts her mouth and aims the knife at her neck. The scene freezes 
PRECAP:
What happened to Manvi?

Radhika's SOS message

 

Rubel's wait ends?

Pankhuri gets a letter