Hai friends. I'm back with another episode. Thank you so much for your support and love. Please keep supporting.
Its next day morning. Ishwari is getting ready to go to the temple. Dev comes down.
Dev: Maa…I'll take you to the temple today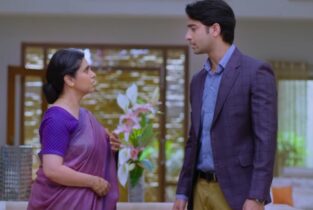 Everyone including Kichu bhaiya are stunned to hear this
RR: arrey Dev beta is it you?
Vicky: Haan bhai..I can't believe myself… Nikki just pinch me nah
Nikki pinches him hard
Vicky: Aahhh Nikki I won't leave you now
He starts chasing her.
Ishwari: Dev…you are taking me to temple?
Dev: Haan maa…its not for yourbhagwan..its for you
RR: Jiji miracle is happening..
Ishwari: Sach bhabhi..I'll go to temple and come
Ishwari and Dev get into the car the scene freezes.
Scene shifts to Bose house. Asha is in the kitchen when her phone rings. Its Ishwari
Asha: Hello Ishwari
Ishwari [ in a cheerful tone]: Asha do you know something?
Asha: I don't knowwhat it is but you sound so happy
Ishwari: Today Dev took me to the temple…
Asha: Really? You told that Dev doesn't spend time for such things
Ishwari: Haan..but today miraculously he took me to the temple..spent time with me and brought me back home. I'm so happy
Asha: That's very good. So happy to see that you are happy
Ishwari: Its all due to the entry of Sonakshi…
Asha: Arrey what did Sona do? Its all Dev who did it
Ishwari: Dev is changing and Sona is changing him. I'm so happy that she will take my responsibilities of Dev and I need not worry anymore.
Ishwari cuts call as she had some work. Just then Sona comes there
Sona: Maa..early morning phone call..who was it?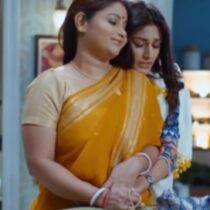 Asha: Ishwari..
Ishwari: Maa? Is anything wrong
Asha: Oh fo Shona stop being suspicious always she called to share a happy news that Dev took her to the temple and spent time with her..its true boys become more responsible when they attain marriageable age
Sona smiles to herself.
Bijoy: The lets fix the marriage of football…atleast then he will be responsible
Saurabh hears this and makes an irritated face
Asha: Bijoy..early morning why are you pulling his leg..first lets finish Sona's marriage
Sona grabs her coffee and goes to her room.She locks her room and calls Dev
Dev: Good morning my love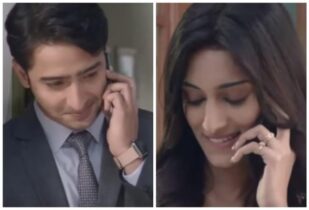 Sona: Arrey waah Mr.Obodro you took my words seriously
Dev: What are you referring to..
Sona: You took maa to temple today..thats so sweet
Dev: When what you told is right why won't I listen to it
Sona: Maa was so happy she called maa and shared her happiness
Dev: Maa..maa…maa…so confusing
Sona [giggles] : Ishwari maa called Asha maa and shared her happiness
Dev laughs too.
Dev: I love you Ms.Kargosh
Sona: I love you too Mr. Obodro
The scene freezes on their happy faces.
Natasha is standing under a tree and her driver is checking her car. She is sweating and is fanning herself using a file. Neil crosses there in his bike and stops.
Neil: Ms.Natasha…
Natasha: Neil?
Neil: Any problem with the car?
Natasha: Huh..breakdown and waiting for a mechanic
Neil: Shall I drop you…you will be coming to our office right
Natasha:No…I'm not a part of Dixit company
Neil: Then I'll drop you wherever you want to go
Natasha: No..you will be getting late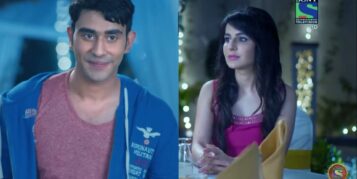 Neil: If bike isn't comfortable for you then no problem
Natasha: Hey its not like that..[she sighs] you won't be happy without helping so drop me no problem
Natasha sits in his bike and he hands over a helmet to her
Neil: Safety first always.
Neil and Natasha have a bike ride.
PRECAP: NATASHA LIKES NEIL. DEVAKSHI ARE ON A COFFEE DATE