Hi all!!!
Scene 1
Sumitra gets shocked to see Avantika there. The brothers and Avantika are also shocked.
Sumitra: Avantika, what are you doing here? We got message from your mom stating that you are missing and everyone are worried there.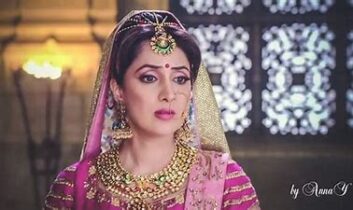 Ram: Ma, please listen to me.
Avantika and Ram tell everything to Sumitra.
Sumitra: Swastika is so lucky to have you as her sister. But sharing husband doesn't create any rifts between you sisters.
Avantika: But ma thinks that there would occur big bad thing is didi's life.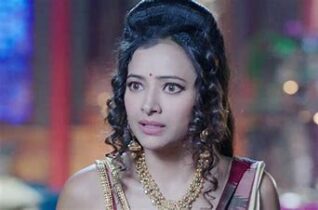 Sumitra: you should return to your home; your parents are worried. Your missing news has not been spread still. If it gets spread, then who will marry you?
Avantika: I won't marry anyone. Please forgive me. I already started to think Adithya as my husband. So, I can't see anyone with that wish.
Sumitra: Then what are you going to do?
Avantika: Chaciji, let me stay here for some days. After Didi having a baby, I will go to my home. You please send information to my parents. My mom will understand.
Sumitra: Ok, you come with me to the palace. No need to stay here.
Avantika goes with her.
Scene 2
Panchali sits in the palace garden and thinks of Nakshatra's words. She decides to convince Arjun to marry Subhadra. Just then Swastika come there.
Swastika: Hello Panchali.
Panchali: Greetings princess.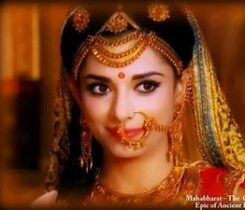 Swastika: You can call me by name itself. Actually, by relation you are elder to me. I should call you as sister.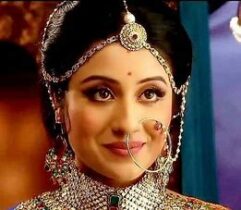 Panchali: No need of that. It's ok.
Swastika: Why are you sitting here all alone?
Panchali: I'm more confused.
Swastika: why?
After much reluctance, Panchali tells Nakshatra's plan.
Swastika is shocked.
Swastika: Why are you going to do?
Panchali: I'm thinking of convincing Arjun to marry her.
Swastika: Are you ready to share your husband?
Panchali: Ma accepted me with whole heart. We as the people of this kingdom always wished for Arjun to become a king. But he chose me over his kingdom. It's my time to return his favour. I'm ready to accept Subhadra.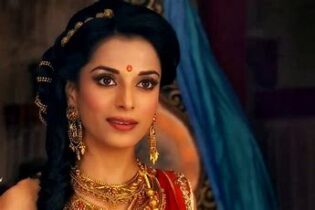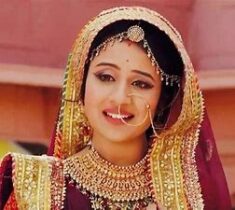 Swastika: You are great. If I'm in your situation, I won't and can't accept someone sharing my husband.
Panchali: That's what love does. My love for Arjun and for my country is huge. I always wished only good to my mother land. How could I itself be a barrier for him.
Swastika: From your talk, I could understand how much you love this place and kingdom. Shall I ask you something? Does Adithya is not strong enough or less competent than Arjun?
Panchali: Why you think like this?
Swastika: No, you, ma and people wish Arjun to be the king. So only asked.
Panchali: Adithya is also a good warrior. Both brothers are equal but Adithya is slightly arrogant and rude. He doesn't have any mercy at all. But Arjun is someone who handles everything very maturely. He respects all grades of people equally. So, people love him too.
Swastika: You know a lot about this place. Shall I ask one last question? Does Adithya had any affair before marriage?
Panchali is taken aback hearing this.
Panchali: No, both brothers are gold in their character. Adithya was not even interested in marriage. So, don't worry.
Swastika thinks!!!
Scene 3
Adithya drinks more and starts to dream of Avantika. He dreams her sitting next to him. He also dreams hugging her.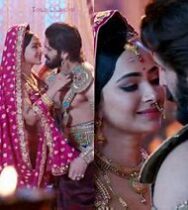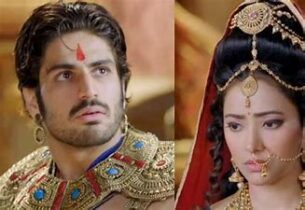 Then he realizes it is a dream and is determined to see her. So, he decided to go to her kingdom. He goes fast in his horse. The servants follow him but it goes in vain. They come and tell this to Bhoomika and Swastika. Both gets worried. Time goes on, he doesn't return. So, Swastika decides to go in search of him. She goes and sees Adithya in an injured state at the forest. She takes him in her arms and treats him. In an unconscious state, Adithya takes Avantika's name which shocks Swastika.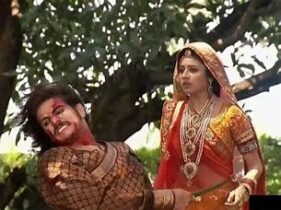 Adithya: Why did you left me? I married your sister only because of you. If you had told ok, then we would have married now and lived happily. I lost you. I need you back.
Telling this, Adithya faints. Swastika is hell shocked to hear this. She cries loudly.
Swastika: Avantika, why did you do this to me?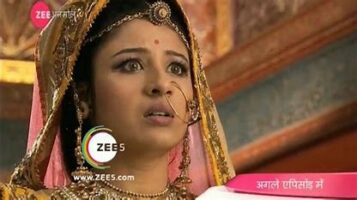 She cries thinking of Avantika's words regarding a man and cries in pain thinking Adithya and Avantika together.
Scene 4
Sita makes an embroidery cloth in which the word Ram is embedded.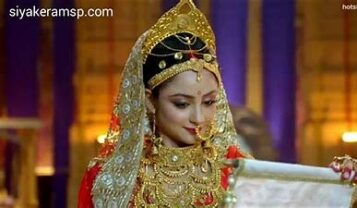 Urmila: Didi, you started to day dream now itself.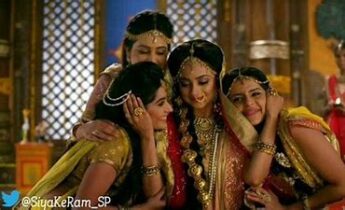 Sita: Don't pull my legs. I feel the history will repeat itself.
Mandavi: What history didi?
Sita: Four sisters marrying four brothers.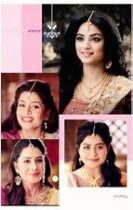 Sruthakirthi: Really, it will be good.
Sita: Look at her, someone has already started to dream itseems.
Urmila: Actually didi, we both started to dream like that.
Sita: But if you don't like the groom, what will you do?
Mandavi: How does we won't like the groom? We will definitely like them.
Sita: We are thinking and talking about them but don't know whether they will talk about us?
In Ayodhya,
Ram talks to a girl doll.
Ram: Sita, till you come here as my wife, this will be you. I will share everything with you.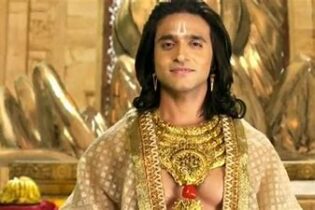 Just then Sita feels strange. She turns and looks at the Sun. She feels Ram talking to her. And they both think of each other.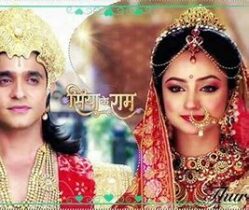 Just then,
Mandavi: But after our wedding, we will leave this place. I get hurt when I think about that.
Sunaina comes then,
Sunaina: You don't need to go anywhere after wedding.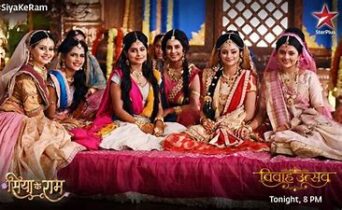 Sita: Ma…
Sunaina: Yes, this kingdom needs a good king. But our both sons are not fit for that?
Urmila: Why?
Sunaina: Arjun married a low caste girl and Adithya became an alcoholic person. He is drinking all the day.
She tells that day's incident which shocks the sisters.
Mandavi: Ma, is bhai and bhabi is safe now?
Sunaina: Soldiers went to see them. I'm thinking of making any one of you to sit on the throne. Girls are also equal in our kingdom. And Sita is more intelligent than our sons.
Sita: Ma, this is wrong.
Sunaina: Nothing like that, I will go to your dad and talk to him.
She leaves.
The sisters worry as that will become a huge problem in their family as well as in the kingdom.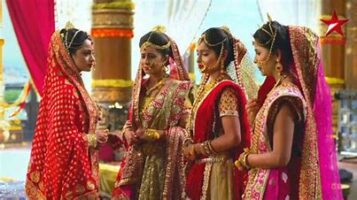 Scene 5
Urvi is seen cooking. Karn goes to her and hug her from behind.
Urvi: What are you doing, leave me.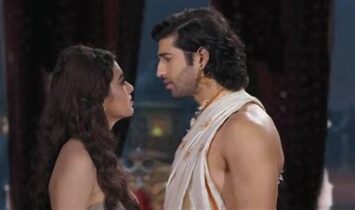 Karn: I'm hugging my wife. What's wrong in this?
Urvi: Acha…. Your mom will come now.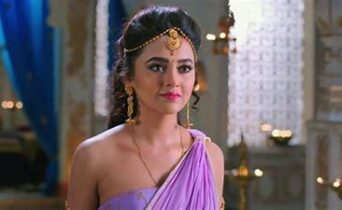 Karn: She won't come till evening. It's our personal husband and wife time.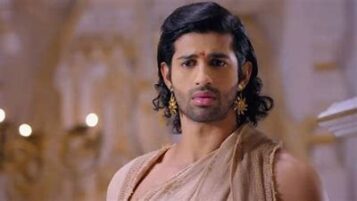 Urvi: You are becoming naughty now a days.
Karn: I will show you what naughtiness is.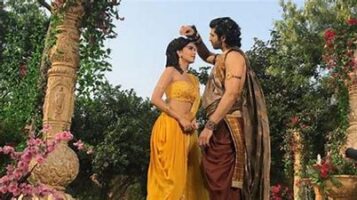 He drags her towards him and they both become intimated. They have their passionate consummation!!!!
Scene 6
King surya is sitting in his room thinking of Adithya's behaviour. He thinks what to do and whom to make as King.
Just then he hears a voice telling him to make their son as the king. He is shocked and turn to see Mala.
Surya: Mala, you…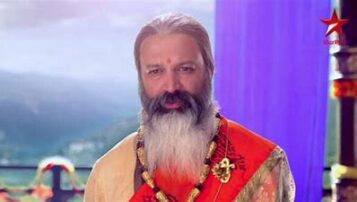 Mala: Yes, I'm. Please do make our son as the king. He is capable of being a king.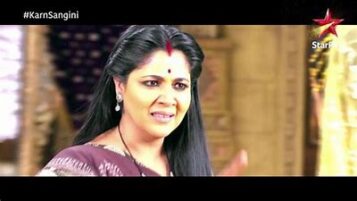 Surya: Our son??? First tell me where were you these many days?
Mala: I'm staying here only. But I always managed to get hide from you. You and your wife attended a wedding, yesterday right?
Surya: Yes…
Mala: It was your son's wedding. Karn is your son.
Surya: But we didn't have any kind of such thing between us. Then how a son would be possible?
Mala: Do you doubt me?
She cries. Sruya goes near him and consoles her by hugging. Mala enjoys the hug.
Mala: I longed for this hug and comfort a lot many times. During pregnancy of our kid, I missed you a lot.
Surya: Why did you go leaving me?
Mala: That was due to your coronation ceremony.
Surya: I would have chosen you over the kingdom. We would have lived happily ever.
Mala: Your son and me lived thinking of you always.
Surya: I want to see him. Come let's go.
He holds her hands and they both turn and see Sunaina standing there.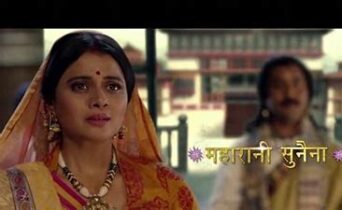 Surya: Sunaina….
She cries and runs away from there.
Surya goes behind her but is stopped by Mala.
Mala: Atleast now, give us some time.
Surya agrees with Mala and goes with her. Mala smirks!!!!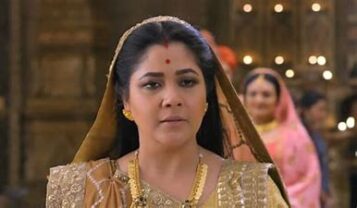 Precap: Arjun-Subhadra marry… Avantika becomes pregnant… surya and Karn reconcile…Surya decides to marry Mala officially which further shocks Sunaina and Sita.