Chandra Nandni Review: Just another historical show; Leads' chemistry may work in favour
Chandra Nandni started on Star Plus on 10th October 2016 at the 8.30 PM slot. The show brings the chronicles of the great emperor Chandragupta Maurya. There will be few stories from the Maurya clan that were not recorded well in history. Added up with fiction, the viewers can get a dose of good drama, action and history.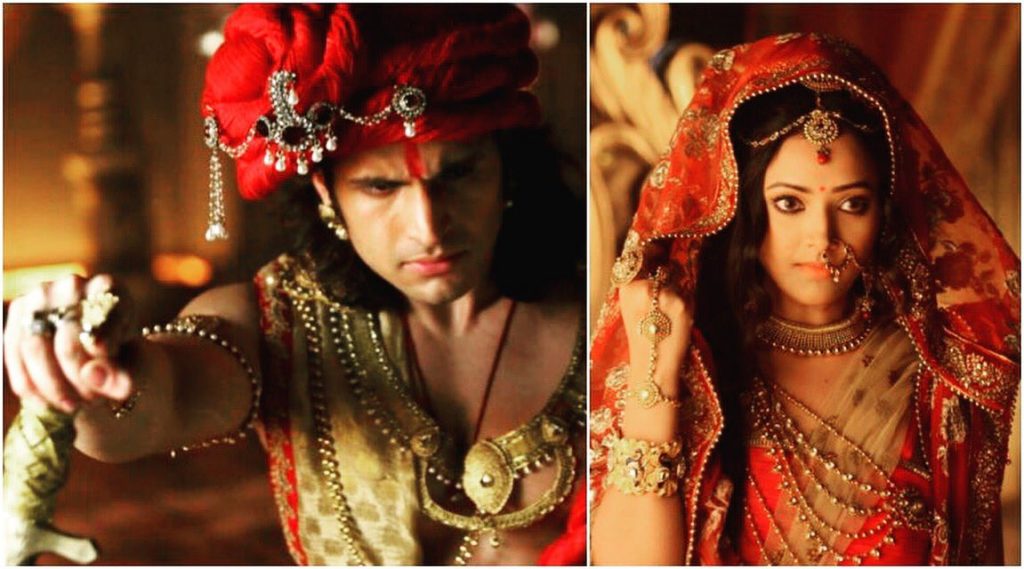 Chandragupta Maurya's story was very much wanted on a prime entertainment channel. After Colors' big show Chakravartin Ashok Samrat ended, the historic show lovers can just follow this show for the grandeur and insight into the lives of Chandragupta Maurya and his love Nandini. Chandragupta and Nandini's story since childhood is shown. Their total introduction of family roots is presented in the show. The show stars Rajat Tokas and Shweta Basu Prasad in the lead roles.
Main Characters:
Chandragupta Maurya: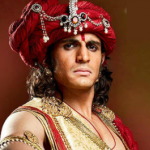 Chandragupta is son of King Suryagupta and Rani Moora. He is raised by a common lady Kanika. He is brave, smart and conscious. He holds all the qualities of a good ruler since his birth. His childhood becomes exceptional after he crosses all the hardships. Chandragupta is a born King. His great values, humble nature and King's virtues are first acknowledged by Chanakya. Chandragupta gets groomed to become a great warrior by Chanakya. He obtains all the warrior and ruler skills by Guru Chanakya.
Princess Nandini: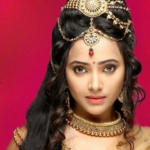 She is Avantika and Nanda's daughter. She is raised by much love. She is Padmanand's only weakness. He loves her more than his life. Nandini is a bright, virtuous and brave girl. She becomes a warrior princess and has good fighting skills. She also holds elegance and charm. She does not get scared to speak out and shows dareness. She wants to fight for people's rights. She does not know Nanda's truth of being an evil person. She dearly loves her father and wishes that her husband possesses good qualities like her father. Nandini gets revengeful against Chandragupta by misunderstandings, but then she turns into his intense lover and biggest support.
Cast:
Rajat Tokas as Chandragupta Maurya
Shweta Basu Prasad as Nandini
Jineet Rath as Young Chandragupta
Angel Rupchandani as Young Nandini
Manoj Kolhatkar as Chanakya
Arpit Ranka as Raja Padmanand
Papiya Sengupta as Moora (Chandragupta's mother)
Mansi Sharma as Raja Padmananda's Wife, Avantika
Tanu Khan as Durdhara
Sanjeev Siddharth as Amatya Rakshas
Rohit Choudhary as Vakranaas, Padmananda's Minister
Story So Far: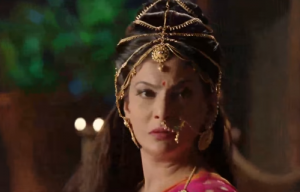 ChandraNandini is described as the tale of Chandragupta Maurya and his wife Nandini, who was the daughter of his biggest enemy. Chandra's parents and background is shown. Chandra is going to be born in Piplivana. King of Pipilvana Suryagupt and his wife Moora have a talk. Moora is pregnant and drinks the water after getting reflection from the moon/Chandra. She wants her son to have good effects of the moon. Moora is not aware that her son will become one of the greatest emperors, but there will be much hurdles in his journey. Moora is spoken about as a Daasi/maid, but she happens to be the Queen of Piplivana.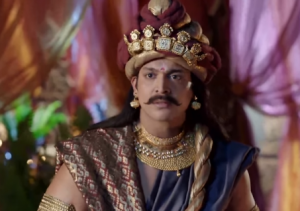 Moora and Suryagupta's lovely bond is seen. They are very good and kind-hearted. Suryagupta trusts Moora a lot. Suryagupta and Moora are invited by his friend, Shishunaga, King of Magadha. Suryagupta asks her to get ready for the journey. Moora happily agrees and they look forward to meet Shishunaga, his wife Avantika and their nine sons. On reaching Magadha, Suryagupta and Moora get a warm welcome by Shishunaga and Avantika. The Kings talk to the Praja of Magadha. Moora tells Avantika that she wants her baby in her womb to hear his father's speech and know his values and thoughts. Moora wants the baby to learn his father's virtues.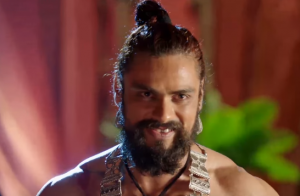 Suddenly, she comes across a cheap barber of the palace Nanda. Nanda tries to see Moora while she goes to have a bath and gets his evil eyes on her. He wrongly holds Moora's hand, which makes her understand his bad intentions. Moora confides his cheap doings with Avantika. Avantika gets angered and asks Moora to come along. Avantika punishes Nanda and sends him to prison. Moora gets relieved that all got well. She then spots Nanda in the palace and gets a doubt. She informs Suryagupta about the incident and spotting Nanda in palace. Suryagupta finds out Nanda going towards Avantika's room.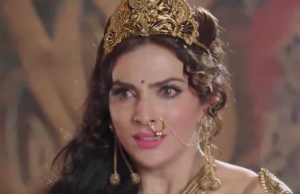 Suryagupta worries for Avantika's safety and rushes to see. Suryagupta gets shocked seeing them in a compromising position. He hears the truth that Nanda is the father of Avantika's nine sons, and she has been cheating King Shishunaga since her marriage. He hears their conspiracy to get the throne from Shishunaga. Suryagupta decides to inform his friend and gets seen by Avantika and Nanda. They together hunt down Suryagupta to keep their affair undercover.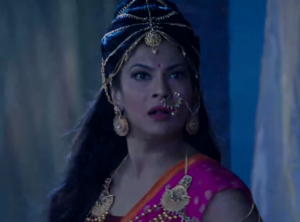 Suryagupta goes to meet Shishunaga, but gets to know that Shishunaga has already got killed. The entire blame comes on Suryagupta. Nanda kills Suryagupta and looks for Moora. He tries to catch her. Moora manages to run in the jungle, where she gets labor pain. She falls down on the ground, where miraculous birth of Chandra happens. The peacocks cover up Moora, and she delivers her baby. Moora drops Chandra to a safe place in the village, where he gets adopted by a commoner Kanika.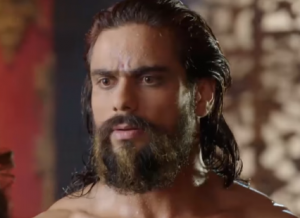 Moora gets caught by Nanda, who has now become Magadha's King after taking Shishunaga's place. He is now King Padmananda. He marries Avantika and fools her that his love for her is true. He proposes Moora, and she declines his proposal by insulting him. Moora is then detained. Avantika gets to know Nanda's true face. Moora tells Padmananda that her son will come back and take revenge from him. She also curses Padmananda that if he gets a daughter this time, who will pay for his sins. Avantika gives birth to her tenth child, a daughter whom Nanda names Nandini. He believes Nandini will bring prosperity for him.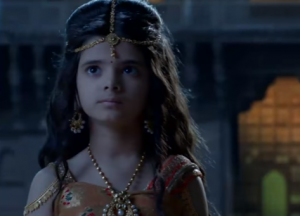 The show takes a leap of 14 years where child Chandragupta and Nandini are shown. Padmananda has become more powerful and cruel. He does not care for his Praja and exploits them. Padmananda loves his daughter Nandini a lot and she is his only weakness. Padmananda has no interest in Avantika now, and left her alive just for Nandini's sake. Moora is still held captive by him. Chandragupta is seen grown up as a commoner in the province. He loves Kanika. Kanika has raised him. Chandra fights with his foster-father, who hurts Kanika after getting drunk and demands money.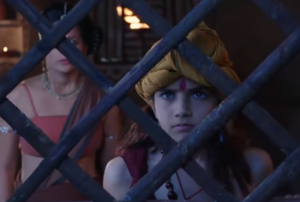 Chandra protects Kanika. Seeing the pressure and financial needs, Chandra sets out for Pataliputra. Chandra reaches Pataliputra with the special coin that has royal mark of Magadha, given to him by Magadha's minister, when Chandra impressed the minister by his great values and skills. Chandra gets to see how Padmananda is torturing the Praja and seeking heavy taxes from them. Chandra finds Moora in between the crowd.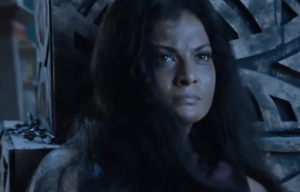 He protects Moora from Padmananda's soldiers. Chandra gets to see Nandini. Chanakya happens to see Chandra's brave doings and understands that Chandra will become a brave King who would fulfill his dream of united India. Chandra goes on to confront Padmananda for his wrong evil activities. Padmananda does not give him any response and gets Chandra thrown out. Greek King Alexander and his army enter the province to conquer.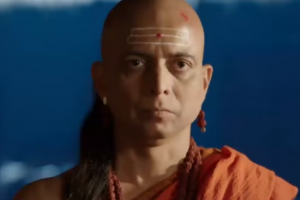 Chanakya goes to the palace to alert Padmananda about Alexander. He asks Padmananda to save the province from the attack. Padmananda humiliates Chanakya and does not pay attention to his warnings. He throws out Chanakya from the Sabha. While Chanakya did his duty, Padmananda calls him a beggar who should be outside his palace. Chanakya warns Padmananda that one day his empire will fall down and that time Padmananda will be responsible for the empire's destruction. Chanakya meets Chandra on the way and finds him possessing all the great king's virtues.
Our Take: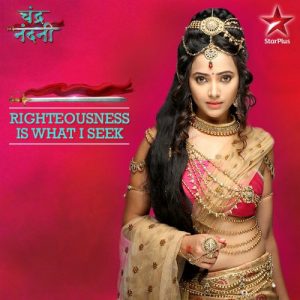 The show gets more details about Nandini, who is not read about much in history. Nandini's birth, childhood, and her marriage with Chandragupta for the political alliance will be seen. The love story of Chandra and Nandini will be good one to see, as they both have hatred and enmity in their hearts. Hate transforming into love in this grand historical show seems a good idea, but the show lacks at many points. It gets boring, not stretching. The concept may interest the viewers after the love story begins with Rajat and Shweta as the leads. They were not in the first week and expectations are high by seeing them in the promos.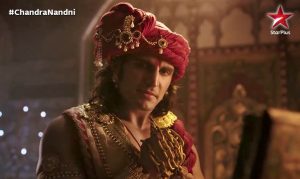 Sets, costumes, jewelry, and characters are fairly okay. Papia Sengupta as Moora deserves a mention by her natural portrayal. Mansi Sharma, Manoj Kolhatkar and Arpit Ranka too seemed genuine. The scenes did not create much impact. Birth of Chandragupta was a scene worth mention, but yet too fictional. Child actors are good in their roles. The historical show fans can really look forward to this grand love story of Chandragupta and his super-supportive wife Nandini. Dialogues are plain. Story proceeds well and fast. There is no mystery and curiosity driven tracks. Chandra and Nandini's romance will be surely intense as its beginning from hatred. The show might get a high in upcoming episodes.
Overall: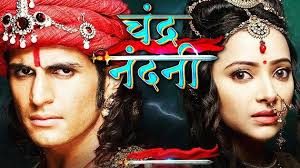 By the first week, it was not too impressive. The show targets a limited audience. History fiction drama would go along well till the leads grasp the viewers by their charm. Regular romantic show fans don't have much to connect here. This period drama may or may not create the magic like Ekta's and Rajat's earlier show Jodha Akbar. All depends on the leads and their chemistry ahead.
Our Rating:
2.5 out of 5
Feel free to post your reviews in comments below. All off-topic comments will be deleted.