hello friends..here is the 3rd episode. I was having semester exams so couldn't post it till now and sorry for it.
Suwarna thinks something and goes to kartik..
Suwarna:kartik beta..
Kartik:yes..mom..
Suwarna: Today..today you take Ashi to the party held for the best business man's na.
Kartik:but the party is helded only for the business man's and their family members but Ashi is..
Suwarna:do you think Ashi as an outsider? She is living inside our home..so take her. A good friend is equal to family only..and aslo she will feel comfortable staying here if we keep her happy.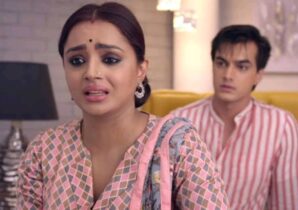 Kartik reluctantly agrees while dadi and surekha overhears their conversation and gets shocked..
Surekha whispers:maaji..this suwarna is upto something. Before she does anything wrong..we should stop her.
Dadi:you are right..i guess she is planning to get kartik married to Ashi.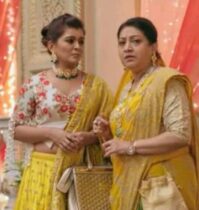 Surekha:yes.. though naira did wrong but we can't separate a couple like this. Kartik loves naira but due to this suwarna's emotional blackmail and her health problems..even he started to hate naira.
Dadi: we should do something to stop this nonsense..
Surekha:yes..
Later kartik and Ashi goes to the party while the media surrounds them..
Person 1: sir..you have achieved a milestone in Goenka business. Today your business in under top 10 of India..what do you feel about it?
Kartik:i feel so proud to say that our business reached this level. It's not only my hardwork…it's my entire family who helped me in this.
Person 2: but many of the businessmen's tell that their wives were the backbone of their success..what do you think about it?
Ashi gets shocked and stares kartik..
Ashi in mind:did people think me as his wife?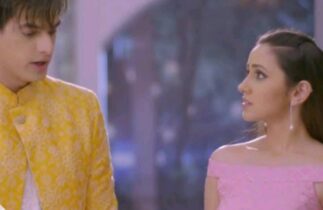 Kartik gets reminded of naira md gets angry..
Kartik in mind:once upon a time..you were my backbone for everything. But today you have proved that you never loved me nor you considered my love. If you loved me..you would have came back to me even though i told you to get out and if you considered my love then you would have never hid anything but you hid shubham's matter..i hate you naira.
Kartik: i think i can't tell my views on it as i always consider my whole family as my backbone strength. Each and every members in my family gives their support and help..so..
Person 1: it's pleasure to hear that you consider your entire family as your backbone sir. But you both look like an ideal couple..so we will be happy to see you both dancing in this amazing party.
Kartik and ashi gets shocked and they stare each other..
Ashi in mind: suwarna aunty told that kartik isn't married..i think that's why he have somehow pacified this question. But people are thinking me and kartik in wrong manner..what will i do?i wouldn't have attend this party if i had known this would happen..
Kartik holds ashi's hands and murmers in her ears..
Kartik: don't take it in wrong was ashi. As suwarna maa insisted..i brought you here..but we will be ideal friends only.
Ashi smiles and..
Ashi:i know it kartik..
They both go inside and they attend the party and later the song starts Playing and everyone starts to dance while Ashi and kartik stands still..
Ashi:i think we should go out now..
Kartik:yes..you are right.
They were about to go but media pushes them inside and..
Person 1:sir..your dance gives us the immense pleasure..so don't go without performing sir..so please..
Person 2:yes..sir..please..
Without any options ashi and kartik dance together..
Tum mere ho, iss pal mere ho
Kal shayad yeh alam na rahe
Kuch aisa ho, tum tum na raho
Kuch aisa ho, hum hum na rahe
Yeh raaste alag ho jayein
Chalte chalte hum kho jayein…
Main phir bhi tumko chahunga
Main phir bhi tumko chahunga
Main phir bhi tumko chahunga
Main phir bhi tumko chahunga…
Iss chahat main mar jaunga
Main phir bhi tumko chahunga…
Meri jaan main, har khamoshi main
Tere pyar ke naagme gaungaa..
Hmmmmm….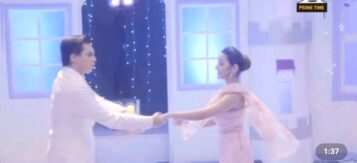 Iss chahat main mar jaunga
Main phir bhi tumko chahunga…
Main phir bhi tumko chahunga…
Main phir bhi tumko chahunga…
Aise jaruri ho mujhko tum
Jaise hawaen saanson ko..
Aise talaash houn main tumko
Jaise ke pair zaminon ko..
Kartik gets reminded of dancing with naira while dancing with Ashi..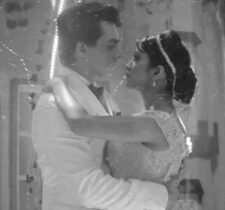 Hasna yaaron na ho mujhse
Pagal sa dhudun main tumhe…
Kal mujhse mohabbat ho na ho
Kal mujhko ijazat ho na ho
Tutte dil ke tukde lekar
Tere dar pe hi reh jaunga…
Hmmmm…..
Main phir bhi tumko chahunga
Main phir bhi tumko chahunga…
Iss chahat main mar jaunga
Main phir bhi tumko chahunga…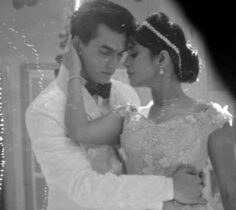 Tum youn mile ho jabse mujhe
Aur sunheri main lagti houn..
Sirf labonse nahi aab to
pure badan se hasti houn
Mere din raat salooni se
Sab hain tere hi hone se
Yea sath hamesha hoga nahi
Tum aur kahin main aur kahin
Lakin jab yaad karoge tum
Main banke hawa ajaunga…
Ooooo…
Main phir bhi tumko chahunga
Main phir bhi tumko chahunga…
Iss chahat main mar jaunga
Main phir bhi tumko chahunga…
Main phir bhi tumko chahunga…
Main phir bhi tumko chahunga…
He sees naira everywhere and gets angry and leaves ashi immediately and he goes to the bar area and starts drinking wine in anger..

Ashi gets shocked seeing it..
THE SCENE FREEZES.
Keerthi and naksh rush downstairs..
Keerthi:papa..
Naksh:bhadimaa..baisa..chachu..chachi..come soon..
The Singhania family gathers around them and..
Devyani:arrey..what happened to you both? Why are you shouting like this?
Keerthi:woh..maaji..
Naksh:arrey..grandma..naira has shown a reaction when we told about her our pregnancy. Tears..tears were falling from her eyes..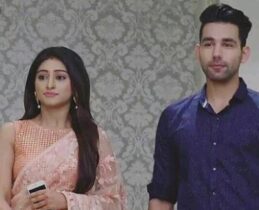 Everyone gets happy hearing it while naitik cries..
Naitik: my..my princess..
Bhadimaa:that's very good news. Now we should ward off bad sight from naira..so tht she will soon wake up and come back to us..
Devyani:yes..
They go the room and they ward off her bad sight and bhadimaa kisses naira's forehead..
Bhadimaa:you are courageous like Akshara. Krishnaji will make you soon recover..we are waiting for your arrival.. please wake up soon my dear.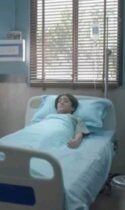 Naitik emotionally cries and he too kisses naira's forehead..
Naitik:you are my princess..so the princess should not leave before the king dies right? So you should come back and hug your papa..
The entire family rejoice the emotional moment with naira and later they disperse while Keerthi naksh and Mishti stays there..
Mishti:naira diiii..iam so angry on you. From small we played together and you promised that we will be playing even we become old..but you are not playing with me now. You should get up and play with me and then only i will grow up orelse i will myself ask God to not give my height..


Naksh and Keerthi giggles while naira reacts nothing..
Naksh: my dear naughty sister..if you come and talk like this daily..she will get up soon. So come and blackmail her daily..ok?
Mishti:ok..bhaiyu..
Keerthi:my husband only knows to accept ideas but doesn't know to give ideas..waah.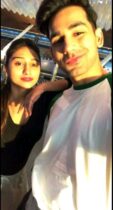 Naksh stares her while Keerthi and Mishti Giggles..
Naksh:so you are indirectly taunting me that iam brainless huh?
Keerthi:ofcourse..hahaha..
Naksh:you..
Keerthi runs while naksh chases and Mishti kisses naira and she too leaves..
While naira slowly a smile appears in her lips..


THE SCENE FREEZES.
next episode promo:- suwarna reveals the truth to Ashi. Dadi warns Ashi. Kabir re- entry..