hey guys..as per some of my friends recommended i have accepted their request of writing kaira story in between from before 2 years leap in mumbai..that's is yes from shubham's death track. Hope you all like this.. please do support.. but there will be small changes in shubham's death here..and here Keerthi and naksh knows about shubham's drug case as they heared while Shubham confessed..
Naira is seen lying on the bed with ventilaor..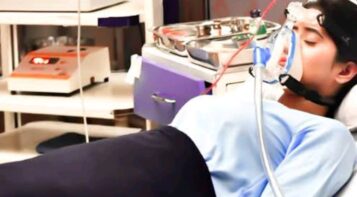 Naksh and Keerthi comes and they caress her head while Keerthi breaks down..
Keerthi:nairaaa…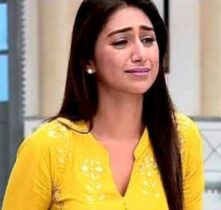 Naksh holds Keerthi..
Naksh: Keerthi.. please don't break down near naira. The coma patients can't do anything but they can hear and feel it..so please be strong.
Keerthi wipes her tears and nods her head and she sits near naira and..
Keerthi:naira..you are my everything. You are my friend, mother, sister and whatnot.. everything in this world. Please wake up soon..
Naksh too caresses her head and..
Naksh: don't you want to steal my food and chocolates? Don't you want to irritate me? I..iam really sorry for hurting you when Kabir did wrong as Keerthi got abortion..but please don't show that anger like this. Wake up my sister..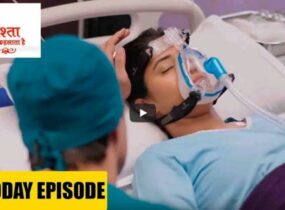 Naksh too cries and both Keerthi and naksh hugs and cries and they recall the past..
FB IS SHOWN:
Shubham hugged naira suddenly and cried..
Shubham:bhabhi..iam really sorry..
Naira:what happened Shubham? You are well right?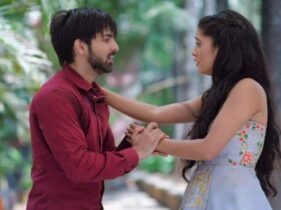 Shubham:no..i was well after you gave me treatments but again my friends manipulated and i consumed drugs again..
Naira gets shocked..
Naira:what? Why did you do this Shubham? Then come fast..we will approach our consultant before any thing happens..
Naira was taking Shubham to hospital but suddenly she faints shocking Shubham..
Shubham:naira bhabhi..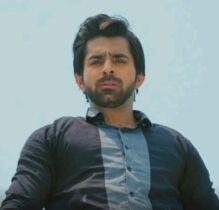 He tries to wake her up but she doesn't and he walks somewhere nearby to get help but suddenly his health worsens and falls down..
Later Keerthi and naksh who was passing the way sees naira lying and they panic and take her to hospital..
Naksh: doctor.. doctor..what's it?
Doctor examines naira and..
Doctor: don't panic mr.singhania..she is pregnant. She has fainted due to so much of tiredness. She has regularly came here in treatment for Shubham Goenka and she made him 50%cure..it's all due to her hardwork. But that exhaution made her faint..and take care of her well as she is pregnant.
Naksh and Keerthi gets happy and hugs each other and later they reveal naira after she gets conscious..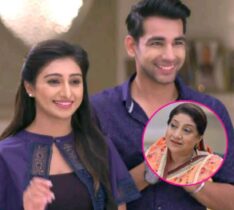 Naira:iam happy to hear it but where is Shubham?
Naksh: don't know..he would be in house only. Doctor told you made him cure 50%..so don't worry about it. Now you focus on your pregnancy..
Naira worries..
Naira:no brother..he..he was fine but again wi.. without my knowledge he he have consumed drugs..and i was bringing him to hospital..bu..but before that i..i fainted. I thought to admit in hospital and tell it to family but..
Naksh and Keerthi gets shocked..
Keerthi:naira.. don't worry.. nothing would have happened to him. Now first go home and inform kartik and we will find out about Shubham..
Naira:ok..bhabhi..if you find his whereabouts.. please inform me soon. And along with my pregnancy i will reveal everything about Shubham. As he has asked for promise..i promised that i wont tell to his family till he gets little cure but my fate is playing games..hope he is fine.
Keerthi:haan..ok. he will be fine for sure.. don't worry.
Naira leaves to Goenka house and is shocked to see Shubham lying dead and the goenka's mourning for his death..
Naira:shu..shu..Shubham..
The goenka's turn andsee naira and gets shocked while suwarna and kartik gets angry..
Suwarna:you..you the murderer…get lost..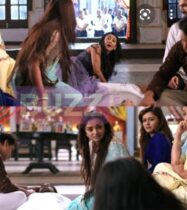 Kartik:nairaaa..you hidden such a big thing from us and killed him..why? You betrayed us naira..
Naira cries:no..listen kartik..
Kartik:i don't want to hear anything from you..just get out from this house.
Kartik recalls of how they found Shubham..
FB IS SHOWN:
The goenka's were traveling in the car and suddenly they spot Shubham lying in half dead state and they immediately run to him and they gets shocked him Murmuring Naira..
Shubham murmers: please save naira bhabhi.. please save naira bhabhi..
Shubham couldn't speak much as his helth worsens..
Shubham in mind:i don't know what happened to bhabhi.. Everyone go and save her. I know i can't live because it's all my mistake..bhabhi worked hard for me and cured me50% but i again consumed drugs without her knowledge and this is my punishment for it.
They take him to hospital and admit and the family surrounds him..
Shubham:muma..
Suwarna cries and caresses his head..

Suwarna: nothing will happen to you beta.. don't worry.
The doctor examines him and..
Doctor:how careless you all are? His drug overdose has lead to this level.. won't anyone notice his behaviours and take care of it?
They all gets shocked while Shubham feels his heart choking and..
Shubham murmers:muma..nai..naira bha..bha bhi kn..knows..this and..she..hel..
He dies before he completes the sentence shocking them and they all get shocked to know thy naira knows the matter..
FB ENDS..
Naira:kartik..
Kartik:i don't want you to be here now..so just get lost..

Naira holds her tummy and cries and she goes out and at evening she comes towards Goenka house and calls kartik but he doesn't pick up and so she was walking worriedly..
Naira in mind:kartikk.. please hear the truth kartik..i..i never intended to hide to you but..
Suddenly a speeding car hits her and she falls down in the pool of blood..

Naksh and Keerthi gets tensed on her not return and they search and gets shocked seeing in pool of blood and they take her to hospital and admit her..
Naksh: doctor.. doctor..what.. what happened to my si..sister?
Doctor:calm down mr.singhania..we will examine and tell you.
After sometime doctor comes out sadly and..
Doctor: sorry to say it mr.goenka..she..she is in coma. She had lot of injuries and especially in brain and her baby is aborted..
They get shocked and they fall down crying..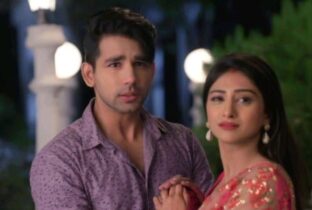 Naksh and keerthi informs their family and later they rush to goenka's along with naitik and Singhania family members but goenka's stop them..
Suwarna:if you all want to enter to talk about naira..then please don't enter.
Naitik:suwarnaji.. please listen..our daughter..
Suwarna shouts: please stop taking my son's murderer's name. She has killed my son and snatched away from me..i hate her. And i will hate tose whoever takes her name..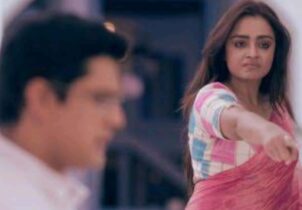 Naksh:kartik..
Kartik:i don't want to hear anything about naira..just leave everyone.
Suwarna goes in while Keerthi comes to kartik and cries..
Keerthi:kartik..naira..
Kartik shouts:you all can't hear what mom told? Just leave immediately if you all want to talk about naira..she has hidden such a huge thing from us.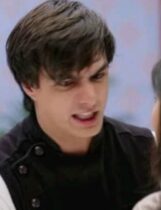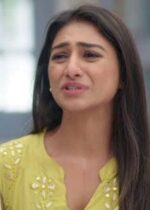 Keerthi:no.. actually..
Kartik:if you want to support your brother then come in orelse you go with the family who betrayed..
Kartik too storms away angrily while the rest of the members goes inside speechless and Singhania leaves from there diappointedly and disheartening..
FB ENDS..
Naksh:iam sorry Keerthi..but your family especially kartik betrayed naira. He..he never trusted her..if he had trusted he would have searched for naira..but no..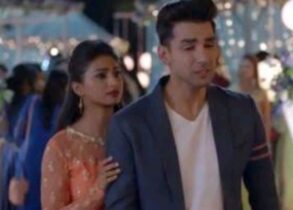 Keerthi:you no need to apologise naksh. Iam equally angry as you on kartik. Today my..my sister is living as dead because of him only.
Naksh:they never wanted to hear what naira did for Shubham and they never enquired about naira's whereabouts..so we shall not tell them anything about naira who doesn't care for her.
Keerthi:you are right. I hate my own family especially mom..
1 year has passed..
Naira is still in coma and she is shifted in Singhania house and they alloted a nurse for her who monitors her..
Singhania's prays before krishna idol..
Naitik:fir..first you snatched my wife from me..and now naira..if you really mean to help food one's then please return my princess.
Naitik breaks down seeing his pic with his children..
while everyone consoles him..
GOENKA HOUSE:
Kartik is disturbed with the memories of naira..
He wakes up in jerk and he takes his album and talks..
Kartik:naira..yes i asked you to go out from the house but i dint tell you to go out from my life. You should have waited for me outside but you dint..that's why i got enraged more and shouted your family that day. Still iam angry on you for hiding shubham's health issues and i will always be..you called me that day and i dint pick as i was in emergency situation but for that you won't come?if you had came to me that day.. everything would have got fine but you never believed my love..you insulted my love as well as you killed my brother by hiding his drug case..i hate you naira..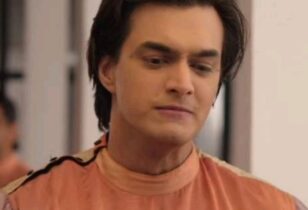 He throws away the album and he goes to get ready while suwarna talks with someone..
Suwarna:ashi..are you okay with this decision right?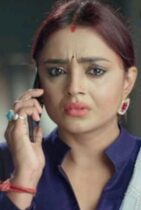 Ashi(in call): yes..aunty.
Suwarna:then iam waiting for your arrival..
Ashi:sure aunty..i will reach udaipur tomorrow.
Suwarna:ok..bye beta.
Ashi:bye aunty.

Both cuts the call and suwarna smiles..
THE SCENE FREEZES ON SUWARNA'S SMILE.
next episode promo: kartik hugs Ashi. Keerthi faints. Luv kush comes to Singhania house..