Hello peeepies aagyi me..
No bakwas.. let's start
Scene 1
Riddhima's pov
We cherished all the past moments in each other's embrace..
I don't care what future will bring for us..
I am his and he is mine..right now only this fact matters to me..
I just pray to bappa that whatever the truth will be..it won't affect our relationship..
"Vanshuuu" i whinned like a baby as soon as he flipped me on bed..
I am lying on my stomach now and he being giant raisinghania showering kisses all over my back..
"What say riddhu" he said groaning..
Although i got what is he asking but i decided to play with him #worst mistake by me
"What should i say vansh" i said trying to be stay confused and failed miserably
"Ouchhh" i whinced in pain as soon as he bited my bare back.. opening the zip of my kurta
"Van..vansh what are u doing" i asked getting his intentions very well
"I asked u very politely being a thorough gentleman but u chose to play with my sanity..now endure" he said removing my kurta.
He flipped me again and now i am lying on my back in my bra in front of him and he is shamelessly checking me out
I lowered my gaze feeling his intense gaze on my boss*ms
"Perfect and mine" he whispered huskily in my ear tearing my bra apart..
"That was my fav one " i said glaring him🙄
"I won't let u wear any clothes trust me " he said and started massaging my boss*ms with his hands..
With my one boss*ms in his mouth and another in his hand..he guided my hands towards his shirt's button
"Did u forget what i taught u..c'mon sweetheart we had many practical before .. i didn't teach u in any online class" he muttered and i biteed his neck smirking
"U smell freaking amazing sweetheart " he said digging his head in my neck..
Very next moment our clothes were dancing somewhere in room..
"Lets reversed the rituals of marriage..we will celebrate our first night now" he said entering into me..
"Aaaaahhhh" i moaned as soon as he started thrusting roughly
" Slow..Mr.Chumman devta raisinghania" i chuckled as he was continuously kissing my boss*ms
Taking his lips in mine i swapped our places and now i am on top of him..
" You played much more than needed " i said and ride him to pleasure..
_______
" You always come up with something new sweetheart " he said lying again on bed with me in his arms
"Vanshhh!! I said in a serious tone keeping my head on his chest
"Hmm" he said in reply
"Can i ask u something.. promise me u won't be angry" i said in low voice
"Your slave is at your service madam" he said pulling me more close..
"To whom you were talking on that day when i came to  your room " i asked whisepring
Silence!!! The silence if good 2 minutes prevailed in room..May be we were paying condolence to my hone wali death..
"Promise me you won't let yourself fall in any trouble" he said looking directly into my eyes..
All i can see in that dark orbs were love and care and some unknown emotion which i couldn't analyse
I nodded in yes smiling at him..
Pov ends
Vansh's pov
"Maanyata her name is Maanyata " i said and she holded my collar in anger
"You…how dare u to talk to any other girl sweetly except me " she roared
I chuckled looking at my little Fierce kitten..
U teased me alot now its my turn..
"She is beautiful" i said dreamily obviously fake one
Shitttt!! I shouted as soon as she..pulled my..
Upsss!! I can't even say that..(i didn't say anything u all are tharki)
Ps: Baal bhi ho skte hai.. don't know kaha ke😂
I didn't know she can do this even..
"Riddhima" i groaned in pain and she smirked..
Perfect to be Mrs.raisinghania
"One more word and u know what i mean " she said smirking tracking my manhood with her fingers
"Its nothing like that" i said giving up..
"Then what's like that ..care to explain" she said ordering me..
I looked at her keeping my head on her forehead
Flashback starts
2 days ago (when i left for a deal after which my behavior changed)
I was heading back to mansion thinking about the only person in my life in hope that may be everything will get fine soon now…
Thudddddd!!! A petite figure crashed in front of my car..
Who has a death wish now !! I muttured to myself and ran to see who is that..
A girl was lying on ground wearing a bridal attire..
I went and helped her to stand up..
I didn't hit her..she collapsed herself in front of my car..
A few injuries were there on her forehead and elbow..
Seems like she ran away from her wedding..
"Are u ok" i asked as she was crying silently
Passing my handkerchief to her i made her sit iny car comfortably..
"Care to explain" i said and she looked at me with a pleading eyes..
For once she got me remember my sweetheart..why this girls are so fragile yet so strong..
Just look at my sweetheart..she is so naive, soft and fragile but at the same time a fierce kitten ready to murder anyone just by her glare..
"Maanyata " she said bringing me back to earth..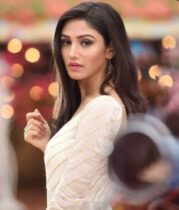 Donal Bisht as Maanyata (isn't she look so adorable)
"Elaborate" i said and she wiped rest of her tears
"My father was getting me married to a drunkeyard man for money and i ran away..
Plz save me i know you are vansh raisinghania .. people consider u god here..may be my destiny was with me this time that i crashed with your car..
You are Powerful plz save me from this hell..
That guy will definitely rape me or sold me for some money" she cried begging in front of me..
My heart sank seeing her condition..for once i saw my riddhu in her..
The same helplessness..the same agony..
"Don't worry" i said ignited the engine passing her some water..
Flashback ends
Pov ends
Riddhima's pov
I sobbed in his embrace listening about that girl..
Somewhere i also faced a situation like this..
"Where is she now" i asked snuggling more in his chest
"in my penthouse.. i ordered angre to arrange the necessities for her " he said calming me down..
"Why didn't u tell me about this " i asked flaring my nose in anger
He always does like this..keep hiding things…hufff😏
Pov ends
Vansh's pov
"Riddhimaaaa" i strached her name huffing
Why she always think i hide things from her..i do i accept but that was for her benefit only
"My world is extremely dark riddhima…even I don't know when will death approach me and from which corner…
I am surrounded by so many enemies ..may be she could be a spy or someone ..
I didn't want to risk your life ..
The more u will stay away from my world the better it will be for both of us " i said trying to explain my pov to her..
"Am i not part of your world vansh" she asked innocently..
Awww…my doll…so fragile you are riddhu..
" I wanna make a new and small world with u..only u.. me..and our symbol of love our baby " i said and she blushed at my statement
"You have thought about that also" she said hidding her face in my chest..
"Yeah..i have decided everything just the process is left " i winked at her and pulled her for another round..
Pov ends
Done done dana done ✅
Those who wanted hot scenes umid hai psnd aya hoga..
Comments tapka dena
Lob u all..