Hello peeepies aagyi me..
Sry sry..sry guy i m late..
I lost my cousin brother on 25th and busy with clg stuff
Will post whenever will get time..hope u all will wait for me
Let's start
Sometimes the living with a beautiful lie is much more better than accepting a bitter truth
Scene 1
Riddhima's pov
"Noooo..plzzz!!!" I shouted as i felt a man is going to stab me standing in front of me..
My worst nightmare turned into reality..
The shadow who was following me since so long is standing in front of me..
"K…kon ho tum"i said stammering tightening the hold on my pari..
I noticed his features..
Wearing a black mask..eyes shining with a dangerous glint as if he will kill me just by his gaze..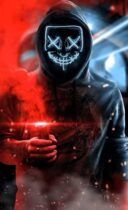 But who is he.. and why is he behind me..
"Riddhima" he whispered in his deep baritone and i felt a shiver ran down my spine
"Momo😭" pari shivered in my embrace
I instantly covered her with my duppatta
"Plz let me go..😭my baby is so small..jaane do plz" i said almost begging to him..
The whole area filled with his sinister laugh very next moment
" And why do u think..i chased u since so long.. just to free you..BABY" the man said emphasising on word baby..
The man not seems to be as young as vansh..may be in early 50s or more..
"What do u want🥺" i asked directly coming to the point
"YOU!!"he said and my whole body trembled in fear..
Vansh..vihan.. wherever u guys are..plz come..i need u both..
"Leave my momo😡😭" pari shouted turning to him..
"You little b*t*h..u will scare me now" he spitted and i hided pari in my embrace again..
I patted her back until she became normal..
" Like father..like daughter" he said and i could clearly imagine a smirk on his face..
Wait what..father..means..he knows about vansh..
"Va…vansh ..where is my vansh 🥺" i asked holding my breath ..
"Hhahahaha..that f**king a*sh*le..such a cheater husband you have..i feel pitty for u.." he said laughing manaickly
"Who are u..why are u behind me..😭" i asked again being defeated
" Okok..u asked something to me very first time..how can i refuse..
I will tell u .. infact i will show u who am i but after that..you have to give me something.
Agree?" He asked gazing intensely at me..
" I will" i whisperd and very next moment his mask was lying on floor..
His face is unknown to me..but i felt my head started spinning seeing his face as if some past blured memories started flashing in my mind..
"K..kon ho..kon ho tum" i asked pressing my head trying to gather some memories..
"Aww.. my poor riddhu baby.. don't u remember your FATHER" he said and i felt land slipped beneath my legs..
What the hell is he even saying..as fas as i know my father is dead..
" What..what rubbish..u are lying" i said gathering some courage
"Hhahaha…i knew it.. being vansh Raisinghania's wife..u will definitely ask this useless questions..
But to your utter disappointment ..i am your father..a real one.." he said and i didn't find any lie in his voice..
"Pa..papa" the only word came out from my mouth..
How much i missed my dada..how much i missed his love and care..
I used to feel jealous in childhood seeing children happy with their father but all i got was that bastard thakral..
"You are my papa" i asked with teary eyes..
I was happy beyond the limits to see my father alive in front of me..
But my happiness shattered seeing him smirking..
Why did he try to harm me..the sole question roamed in my mind..
"Yes..baby i am your beloved father..and u are my unlucky daughter" he said and i felt my cheeks getting wet due to tears..
Pari didn't dare to leave me even for a second or should i say i didn't allow her to..
" Why are u doing this🥺" i asked in hope he will hug me and love me like a normal father but i didn't know what Is gonna happen with me now..
Although I don't have any high hopes with my destiny but i just don't want to hate my father..
" You b*t*h!! 😡After destroying me..you are asking me why i am doing this.." he said in anger filled voice..
" Papa.😭.. I don't even remember your clear memories..why are u saying like this..i am your daughter na..plz don't hate me..i love u soo much"i tried to lessen the hate inside him but failed miserably
"Daughter..and you..f**k off..you destroyed my life that's why i hate you" he said and i felt my heart bleed seeing hatred in his eyes
" What i did papa😭" i asked begging
"You..want to..know😡 you want to know right.." he said and i nodded in yes like a child ..
I too want to know what i did that my own father hate me like this..
"I was a man with dreams..i was on cloud nine when i got to know that your mother is pregnant..
I wanted a boy who will earn money for me..who will fullfill all my dreams and i took the loan of crores from that thakral to secure my son's future ..
But i got to know that you are inside your mother's womb…a girl..my all dreams shattered
I sold your mom to that thakraal in exchange of money to pay the amount of loan but she died while giving birth to u..
Although i wanted to kill u before your birth but your mother stopped me..
Having no other option to pay the money..i sold u to that bastard thakraal …
But soon i got to know someone ran away with u and that bastard is chasing me again for money..
You b*t*h 😡!! I had to run away just because of you..
Because of u..i had to stay underground for years .
But now..there is no thakraal who will chase me..and about that husband of yours who snatched you from me..i will kill him also" he said and i rooted at my spot..
No words came out from my mouth.. what will i say..my father sold me and my mother just for money..
Thank god i didn't stay with him..even thakraal was better than him.. atleast he considered me his daughter..but this man in front of me..
Chee!! I feel ashamed of myself calling a daughter of this man..
I won't cry for him now..he doesn't even exist for me ..
And talking about vansh..i will rip u off if u will try to harm him..
I don't care if u are my f**king father or not..but u can't harm my man..
" I told u what u wanted to listen..now are u ready to give me what i want" he said and i chuckled sadly..
Even after hurting me to the core..he is asking something from me..
Why didn't he die for real…
"What else u want now " i asked directly
"Your death" He said and i gasped..
Just look at the audicity of this man!!!!
"Don't u have a Little bit shame ..u call urself a father..father is somebody who loves his child ..not like u..who sells their kid just for money
I was blessed to be orphan rather than having a father like u..
"You.. b*t*h😡😡..this is the reason i want to see u dead.. since when u came in this world..u are destroying me.." he said and raised his gun to shoot me..
"Bhoooommmm" i closed my eyes in anticipation as soon as the gun shot heard
But not feeling any kind of pain in my body..i opened my eyes and realised he is standing dumbfounded few meters away..
His gun was lying on floor…but who the hell shot if the gun is here..
"You.. aashole" my so called father shouted seeing behind me..
I turned instantly to see my savior..
"Youuuuuu!!!" I whispered in shock
Pov ends
Done done dana done ✅
Phew!! Finally mene likh lia..it was long than usual
Comments tapka dena
Lob u all