BEHIND THE SETS : VRUSHAN SHORT STORY [PART 1]
Hey guys, This is an imaginary story featuring vrushan pair. As we are fed up with the melodramas through this short story I am just trying to bring something new. Hope you all will enjoy it……
@ BEHIND THE SETS ……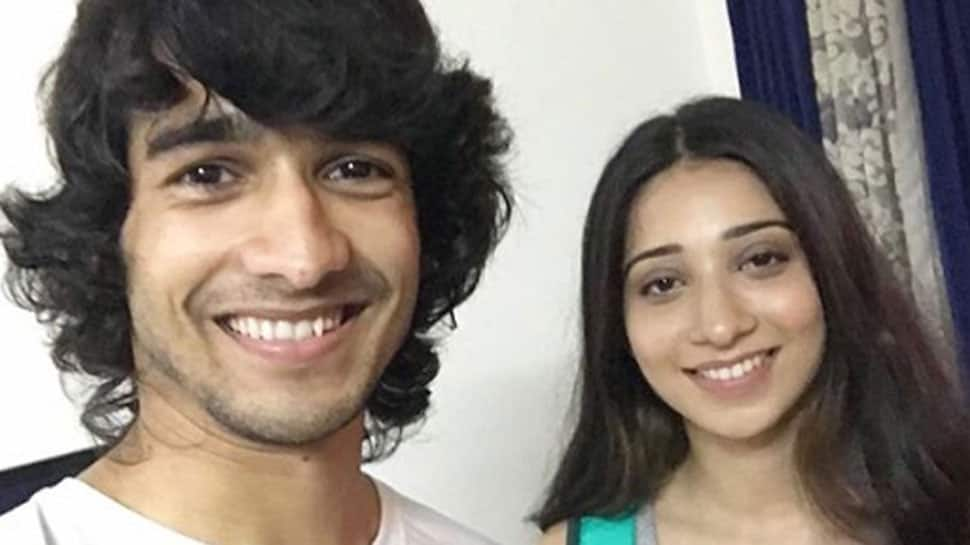 Shantanu : Another stupidity!!! How can a person think like this ??
Vrushika : Hey shan, what happened ??
Shantanu : That director Sumesh said that I need to play a 40 yrs. old man's role in the show.
Vrushika : Wow, that will be so nice to watch
Shantanu : Have you lose it ? Vrushy, I am fed up with these sort of typical dramas of Indian Television.  Our show was going fairly good and what the hell now they are planning to give a 13 years leap …….
Vrushika : Well, this has become the new trend , every show must take a leap…
Shantanu : But why ? Imagine instead of 40 they said me to do a 4 yrs. old boy …
Vrushika : [laughs and interrupts] Are u mad ? How can you do it ?
Shantanu : Exactly!!! Then why should I go with a 40 yrs role ?
Vrushika : Chill shan!!! Don't take it much serious …..It's just  a show…..
Shantanu : Yeah, by convincing ourselves we small screen actors have to compromise much…….We are professional actors not helpless creatures…….I am going to quit this show…..
Vrushika : Hey don't take decision in rush…… It's the matter of your career…..
Shantanu ; I can't do it and it's final….. That's all…… [shantanu leaves]
Scene shifts to Shooting spot
Vrushika : OMG!!! I need to wear this heavy jewels and this odd dress, but according to script , I am a normal middle class girl…… And the character richa is a simple person and at initial episodes she use to wear casuals only!! All of a sudden how can she do it ?
Camera man : Mam, I know this will not suit you and trust me when I will catch this one in camera then your looks will be horrible…..I said this to producer and director, but they fired me and it's my job….So whatever been shown, my camera has to capture it and they are not thinking about the artistic beauty which frames had to say…..I used to enjoy shooting richa's simplicity and her natural beauty …….But these weird make up is gonna kill her eyes today……
Vrushika : I need to talk with them…
Camera man : I don't think it will work…….
Vrushika ; Let me try once to make them understand they are going to kill richa and I am not ready for it….
Scene shifts to Press Conference
Cameras are rolled on vrushan's faces …
Reporter : Vrushika, It;s heard that since shantanu has quit the show "Naye Sapne " you are also planning to leave the show ?
Shantanu : It's absolutely wrong……Vrushika is not quitting the show…..
Vrushika : I am unhappy with the way my character richa has been changed….Seems the real Richa has been vanished and I have discussed the same with producer and director….But…..[vrushika stares shantanu]
Shantanu : Richa is been restricted , I mean vrushika has signed the 2 years contract of this show…..So whatever cv's can do with Richa they will serve it on screen and unfortunately vrushika has to do it…..
Reporter : But vrushika this is fairly an injustice to the viewers and also to Richa……
Vrushika : Well this happens with many shows now a days and literally our acting skills are murdered now and what we are doing is just a puppet show only!!! Shantanu and I decided to speak against this deed and that's why we called this press conference……We just request you to high light this issue as the main topic instead of going behind scandals……That's all…….
Scene shifts to shooting spot
Producer : Vrushika remember the fame you got now is because of Richa only…….
Vrushika : Of course sir……The show's name is "Naye Sapne " it's about the dreams of Richa and Ajay……
Producer : That guy ajay I mean your so called friend shantanu, I know you are raising voice against me because of him only…..
Vrushika : No sir……Shantanu quit this show because he is professional to this field and he don't want some one should mock his talent and unluckily I am not able to do it….. But it doesn't mean that I have been tied in ropes……I
Producer :  Are you threatening me ??
Vrushika : Till now you guys are doing it and this time you will realize what an actress can do …….
Director : If you will not co-operate , then we will ….
Vrushika : Oh Come on Sir!!! I am not scared of any replacements …….May be richa and ajay will be replaced by some one else….Is it ?? Persons can be replaced, but the emotions which viewers and we share , you guys will never understand it;s value…… Because you are bothered about TRP's not about heart's feelings……
Vrushika leaves….
PRECAP : I, ME, MYSELF IS THE FIGHTER ONLY…..THERE IS NO ONE WITH ME…..