Anuama FF – AnuRaj gets to know about Anirudh's love Ep: 8
Kavya: Ok,you can go with your baby…..(In a sarcastic voice)
Kavya gets angry and goes away
Devika: Don't worry we will bring her arrogance down.
Anirudh(Laughing): I can't imagine she being my wife
Devika: First let's make her confess her love towards you,then we will decide.
Anirudh: But how?She is so adamant. She won't confess  that easily.
Devika: Just wait and watch. Vanraj jiju,Anu, and I are there for you.
Anirudh: Thank you so much!
Devika: By the way when did you start liking her?
Anirudh: The day we met.  I felt special talking to her. Her style of talking is very different,it may be because I was admiring her.
DEvika: Then, was it purposely that you pored the drink on her gown?
Anirudh(Laughing):It was an accident. Actually I was searching for her all around and didn't find her. After that I just heard a voice of accusation.
Devika started laughing out loud.
Scene back in Vanraj's house.
Vanraj: Let's go out.Even Maa is not at home.
Anu: Okay.. I will change and come.
Vanraj: Come fast.Don't take the whole day to get ready. We have to leave before maa comes.
Anu(angrily): You are the one who takes an hour to dress up.I just take 10 minutes.
Vanraj:Arey baaba, I was just joking.You look cute when you get angry. Okey leave it and come fast
Anu goes to get ready while Vanraj convince Dadi.
Dadi: You need not ask me for taking your wife with you. I will tell Leela. Don't worry about that.
Hashmukh: haa…Maa is right.Don't worry about it. Go and enjoy with Anu. She have not even stepped out of the kitchen due to your mother's rude behavior.
Dadi: She needs a change.
Anupama gets ready and comes down.They both go out to have coffee.
They see Devika and Anirudh out there and get suspicious
Vanraj: What is going on??
Anirudh: Just chatting with Devika.
Anupama: Just chatting??
Anupama and Vanraj start teasing them thinking that they are dating each other.
Anirudh: No we are not dating each other. Seriously!!
Devika(Mocking):He is dating someone else!
Vanraj(Surprised):Who??you??Whose is it Devika??
Devika: Its none other than our Viya….
Anu (Surprised):What?????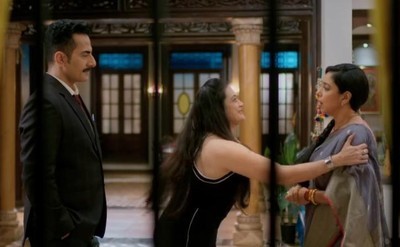 Vanraj:Who is Viya??
Anu:Viya is Kavya yaar..
Vanraj: What?????? Kavyaa????
Anirudh:YES!!
Vanraj: Seriously?Why didn't you tell me?
Anirudh:I never realized it in the beginning.
Anu: Does she love you??
Devika: She is getting possessed when I go close to him.
Anu(Mocking): Symptoms…….
Anu and Devika laugh together
Vanraj: We don't understand all these ladies jokes!!
Anirudh(laughing):I understood
Vanraj: Ohooo..So I am out??
Anupama: Arey buddhu….Kavya is showing the symptoms of her love towards Anni…
Vanraj:Ohh..Like that…
Anirudh: Why are you still like this?(mocking Vanraj)
Vanraj:I will talk to Kavya!
Anirudh(mockingly): No need.. We want to be together.If you talk she will never look at me again!
Vanraj:Was that funny??As usual your comedy is pathetic!
Anirudh:Thank you!!
They plan together