Angels and Suitors ft. Mishibir, Kuhukunal, Samaina and Mineil – Episode 9
Hi all!!! Sorry for the delay in uploading episode. Hereafter, you can expect the episodes on Friday and Sunday. If I suppose upload any episode in between, I'll share in my profile. Please do follow me and check for updates.
Scene 1
Mishti and Abir is shocked seeing Neha in beach. Neha goes angrily near Mishti. Abir worries.
Neha: Why did you do this? Why did you snatch my love?
Abir: Neha please relax.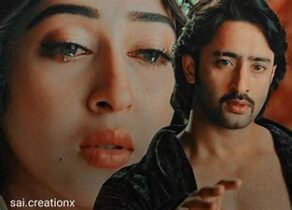 Neha: I can't relax. Meenakshi aunty is mom-like figure to me. From my childhood, the constant word from her was, Neha-My Bahurani. But now, everything is broken.
Neha cries. Abir holds and pacifies her.
Abir: Neha, please listen to me once.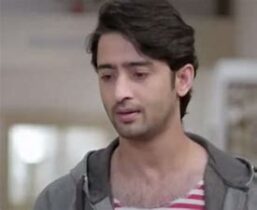 Neha: What are you going to tell now?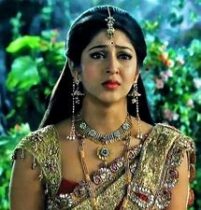 Abir: you, me and Neil were the best friends from childhood. And you were special to both of us. But trust me, I had never had any feelings for you from childhood. I treated you as my great friend. You were the one who understands me in every situation. I love you as a friend but not as a life partner. I never had such thoughts before. Even now, I need you as my lifeline. Please don't go away from me Neha.
Mishti gets emotional hearing him.
Neha: Oh, but you got feelings for her alone?
Abir: Neha, maybe you were with me always. In my every step of life, you travelled along with me. Even if I get married to Mishti, I won't leave you and our relation will be same as before. Neha, please understand, Salim is for Anarkali only but this Abir is for Mishti.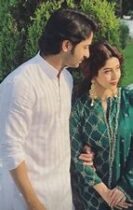 Neha cries. Abir continues.
Abir: When Neil's life got broken, he left us. From then, I too became very silent. Even I got disconnected from you too. From childhood, I had a feeling that my mom was the reason for dad left. But only now I got to know that mom was not guilty. Even Msihti is same like me. Her parents left her and she lives in some other house. Even at beginning Kuhu didn't cared her. Only at later stage, Kuhu became so close with Msihti. Here, Kunal was the one who cheered me during my bad times. Mishti and Kuhu are Kunal's best friends. We used to hang out together. Only then, slowly, I got feelings for Mishti.
Mishti: Neha, trust me I won't be in between you and Abir. If he had told me about you before, I would had developed feelings for him. I'm sorry. Maybe we had broken hearts in common between us. That made us fall for each other.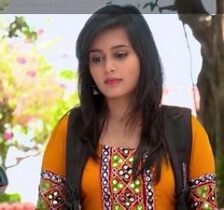 Neha smiles hearing her.
Neha: Abir and Mishti, you both are perfect. I won't separate you. But promise me one thing. I will be with Abir as I was before. I won't ask you permission for hugging him and hanging out with him. And most importantly Abir is mine first.
Neha laughs. Abir and Mishti hear her and feels relieved.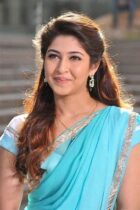 Mishti: Sure, I won't be a hinderance.
Neha: Mishti, don't worry hereafter that you don't have anyone as your own. Treat me as your own sister. I will be there for you always. We three should always stick together.
Abir, Mishti and Neha share a group hug.
Abir: Neha, how did you change suddenly?
Neha: Abir, I'm a girl who is against acid attacks and rapes just because that girl said no to that boy. I always voice out for this problem. Then how can girls alone do such villainous act to get the boy just because she loves him but he doesn't even love her. What you thought about me? As a serial villi who tries to separate the leads. No. Neha is different always. Yes, I'm hurt. Because something which I had thought and dreamed for years is not going to happen. But I'm a silly girl Abir. Locking the room for two days and crying out loudly will cure me. I will feel better.
Mishti: Sorry.
Neha: No sorry between sisters. And Abir, what about Neil?
Abir tells about Isha, Neil and Mini.
Neha: Abir, I know a lawyer. She is my friend. She lives in Himachal. Her name is Zoya.
Mishti: I know her. But after her husband's cheat, she is not handling any cases, right?
Neha: Yes. I'm trying to make her overcome that tragedy. So, I thought to give her Neil's assignment. Definitely she will do better.
Mishti: Yes Abir. She is one of the great lawyers. Even I met her for NGO few years back.
Abir: Ok. Let's talk about this after Kuhu-Kunal wedding. Neha, you go to home. I will come after dropping Mishti.
Neha goes. Mishti and Abir leaves.
Meanwhile, Kuhu wakes up and sees Mishti missing. She gets shocked. She calls Kunal and informs him.
Kunal: Did you inform your family?
Kuhu: No, they will get scared.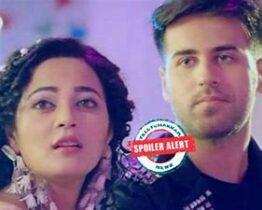 Kunal: Oh, my weird wife knows all these things. Not bad.
Kunal teases her.
Kuhu: Shut up. I'm scared. Do something.
Kunal: Wait, I will tell Abir bhai.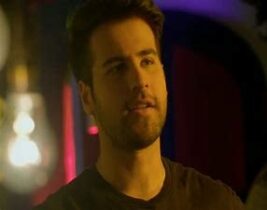 Kunal then finds Abir missing. He tells to Kuhu.
Kuhu: Oh God. This means, they ran away.
Kunal: Shut up Kuhu. Only you can imagine such things.
Just then Kuhu hears car sound. She checks. It is Abir and Mishti.
Kuhu then switches to video call with Kunal.
Kuhu: Look at them, they were together.
Kuhu goes to Abir and Mishti.
Mishti: Sorry Kuhu.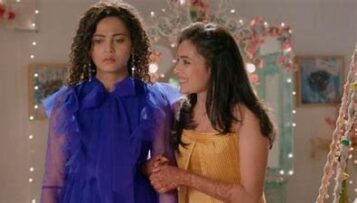 Kuhu: Shut up. I was scared.
Abir: What are you doing? Are you taking us video?
Kuhu: Kunal is in video call. I called him because I was scared.
Kunal: What are you both doing at this time?
Abir: You guys have a happy news?
Abir and Mishti tell them the happenings.
Kuhu and Kunal gets happy. Kuhu hug Mishti and Abir.
Kunal: I'm so happy for you both. Bhai, this is our best wedding gift.
Kuhu: Exactly.
Abir: Acha, ok. Now go and sleep. It's late. I will leave soon.
Abir tells bye to Mishti and they have an eyelock.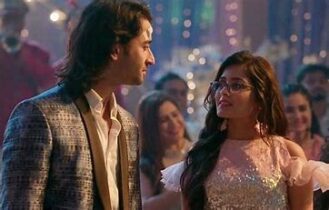 Kuhu drags her inside and goes.
Abir smiles and leaves.
Neha comes to Abir's house. She finds Kunal sitting.
Neha: Kunal, you didn't sleep yet?
Kunal: Thank you Neha di. You did a great thing. I cannot even imagine if any other girl can do this.
Neha: Nothing like that. Please don't make me emotional. I will do anything for my friends.
Neha hugs Kunal.
Scene 2
Meanwhile, Parul goes to Meenakshi's room. She finds Meenakshi sleeping. She touches her feet. Meenakshi wakes up.
Meenakshi: Parul, what are you doing here? Why are you touching my feet?
Parul: Thank you for giving me and my son Kunal everything.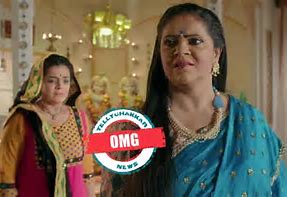 Meenakshi: Parul, Kunal is my son. This world knows only this. Only we two and my dad know the truth that Kunal is not my son. But I have nurtured him as Abir. I had never differentiated between them. They both share their dad's blood. And I loved Abir's dad a lot. I married him against my dad's wish. But I never expected that he would cheat me. But still I love him. He loved you. So, I love you too. Kunal loves me more than Abir and even I too love Kunal more.
Parul: I know. You love him a lot. I'm happy that my son is with a best and good mother.
Parul hugs Meenakshi.
Just then Neha come in.
Parul and Meenakshi gets shocked.
Neha: Aunty, shall I come now? Or shall I come later?
Meenakshi: Come in Neha.
Neha: Aunty, please agree something for me.
Meenakshi: What?
Neha: Let Abir and Mishti marry.
Parul gets happy. Meenakshi gets angry.
Meenakshi: What are you telling Neha? You never ever disagreed with me for anything. Now what happened?
Neha: Aunty please understand. Abir doesn't have any love for me. If I marry him forcefully, definitely we both won't be happy. Please agree their relationship. They both are best. Please give her a chance.
Parul: Meenakshi ji, you are worrying because Mishti is from a broken family and she will break our family, right? I can assure you something. Mishti won't do such thing. She deprives of receiving love. If you give her little love, she will reciprocate it more.
Parul and Neha somehow convince Meenakshi.
Neha happily hugs Meenakshi.
Meenakshi: Neha, now what about you? I treated you as my daughter. It's my duty to settle your life too.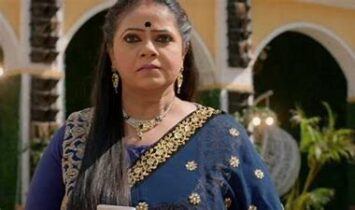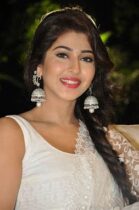 Neha: Aunty, let's see to that later.
Parul: Ok both go and sleep. Tomorrow is a big day for us.
Neha and Parul leaves. Meenakshi sees Mishti's pic in her mobile and thinks of her activities.
Scene 3
Abir and Kunal sits talking.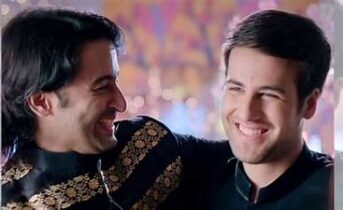 Kunal: I couldn't believe that Neha agreed.
Neha: That's Neha.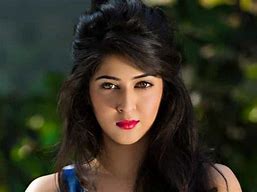 They both turn and see Neha standing there with sweet potatoes.
Abir and Kunal smiles.
Neha: Come, lets go to one person.
Abir: Whom?
Neha: Look there.
She points to Neil who sits alone around a bonfire.
They three go to him.
Abir: Neil, what happened? I forgot to ask? We saw Mini dragging you from the dance.
Neil smiles and tells them the happenings.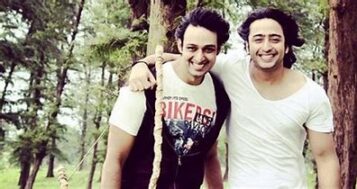 Neha and Abir jumps in joy.
Neha: This is the happiest news.
Abir: Wait, one more news awaits you Neil.
Abir tells Neil about Neha's change.
Neil hugs Abir and pats Neha.
Neha: Guys, I have one more news.
Kunal: What?
Neha: Meenakshi aunty agreed for giving Mishti a chance.
Neil: This is great. You are our little monkey Neha.
Neha pinches him.
Abir thanks Neha.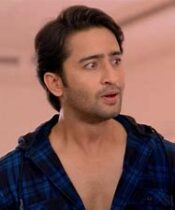 Neha: ok ok come let's eat this.
Everyone eats sweet potatoes and have fun.
Just then, Babita wakes up and vomits. Mini gets up and is shocked.
Mini: Babes, are you ok? What happened?
Babita: Mini, I should tell you something.
Mini: Tell me.
Babita: I'm pregnant again. But trust me, we didn't plan. It just happened. But we both are very clear in one thing. If you say no, then we will abort this.
Mini: Babes, what are you speaking? Will I kill my own sibling? I'm happy with this baby.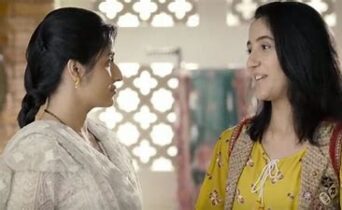 Babita: But about society?
Mini: Babes, leave about that. They will talk only rubbish. You sleep, I just want to feel some fresh air. I will come after some time.
Mini goes out and sees Neil with everyone.
Neha welcomes her.
Neha: Ah Neil and Mini, I have something to tell you.
Neha informs about Zoya.
Mini: It's good. As soon as wedding gets complete, we will proceed for this.
Abir: Ok, let them talk. We will leave.
Abir,Kunal and Neha leave.
Neil looks at Mini. He gives her sweet potato and eat.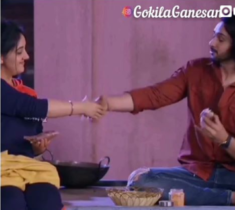 Neil: Mini why are you looking tense?
Mini: Babes is pregnant.
Neil: What???
Mini: Yes, my dad is having a separate life and even his wife is pregnant. Why Babes alone want to bear me for whole life and not thinking about her personal life? Let her also be happy. And you know what? I always treat Arya as my own sister. I just wish sometimes that, why Hanuman uncle couldn't be my own dad.
Neil: Mini, actually Hanuman sir deprives to hear the word papa from you to him.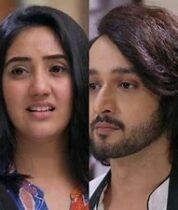 Mini: I know that. But I'm gonna give that special moment in my wedding's kanyadhaan. And after our wedding, me, you, Babes, Hanuman uncle, Arya, new born baby and our Kia will stay together. I'm all ready to accept her as my daughter.
Neil and Mini have an eyelock. Neil kisses her forehead.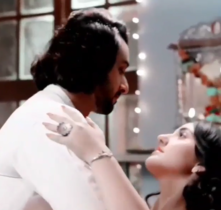 Babita hears and sees this from a distance. She prays that Hanuman should agree for this relation.
Scene 4
Mishti and Kuhu sits talking.
Kuhu: I'm happy now. I'll have you in my sasural too. But…
Mishti: What but?
Kuhu: Tomorrow is my bidaai right?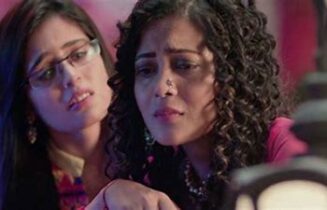 Kuhu starts to cry. Mishti consoles her.
Varsha comes to drink water and see lights up in the girl's room. She come to the room and see the girls hugging each other.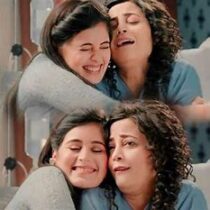 Varsha: If you don't sleep, then you will get dark circle tomorrow.
The girls see Varsha.
Varsha pacifies Kuhu.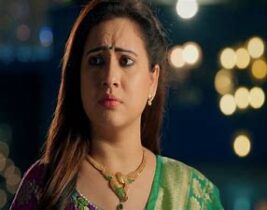 Mishti tells Varsha about the incidents.
Varsha: You went out at this time. If ma comes to know about this, she will get angry.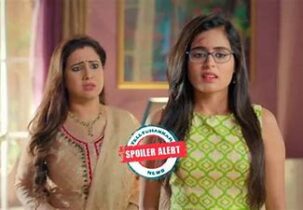 Mishti: Varsha aunty, please don't tell this to badimaa.
Varsha: Ok I won't. But I'm happy for you both.
She hugs both the girls.
Rajshri doesn't get sleep. She comes to the house temple and prays to god.
Rajshri: Bhagavan ji, I have only one prayer for now. Please keep Kuhu happy. She is little immature but, she is very good at heart. Take care of her.
She too sees lights on in the room. She comes to room and sees Varsha with girls.
Mishti sees her.
Rajshri: What are you doing?
Varsha: Kuhu is crying.
Rajshri pacifies her.
Kuhu: Dadi, what was your mindset when you came here?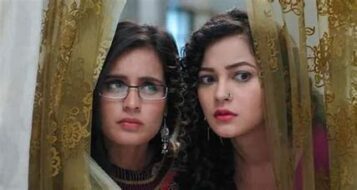 Rajshri: I was scared at first. But then my saas, she was too sweet. She took care of me so well.
Mishti: Varsha aunty, you tell us your experience.
Varsha: I was not scared since I grew up in this house along with Akshara from childhood. But I just had only one concern as my mom will be alone in our home. If you take Akshara, she was scared and also made us scared.
They continue to talk and tell about the experiences.
Mishti: I miss Akshara badima. She was the one who was with me all the time. Even my mom and dad won't spend much time with me.
She cries.
Varsha: Sorry Mishti. Akshara is my best friend before becoming as my nanad. But till her last breath, we were together as best friends. You were the child whom she brought up. I should have stepped in her shoes and should have took care of you better. Please forgive me. Hereafter don't call me as aunty. Call me as ma.
Rajshri: I'm happy Varsha. Thank you.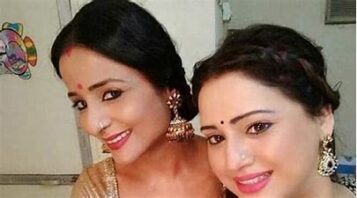 Mishti cries and hugs Varsha. Kuhu and Rajshri hug.
Scene 5
The next day.
At Ahmedabad, Naina is seen packing things.
Bela is busy with kitchen works. Preeti helps Bela. Arjun helps Naina.
Rakesh: Naina, don't forget anything. Pack correctly.
Just then, Beena and her husband comes.
Naina and Preeti worry.
Beena simply sits in the swing silently.
Anand is also busy with his works.
Beena: Bela, here are some dry fruits for Naina. Pack this too.
Bela and everyone are surprised.
Beena: Why are you standing silently? Even I care about her. What did you think about me?
She calls Naina. She caresses her face. Naina is surprised seeing this behavior from her.
Beena: You all think that I'm controlling you all. I don't have any towards this family, right? Listen to me now. I'm going to talk everything now.
Beena: When I got married into this family, I was 20-year-old girl. I was like ususal 20-year old girl who had many dreams and wishes until I stepped into this family. Because, from the moment I came, I was given a huge responsibility of bringing up Rakesh and Anand as there were no elders in this house and Rakesh was 16-year-old and Anand was 12 years old. That time, we lived in our village house. I agreed happily. Even my husband and me together decided to not to have children until we settle both Rakesh and Anand. My Husband was staying at Ahmedabad and I took care of our farm and Rakesh, Anand. After 2 years, Rakesh was about to go for an entrance exam for a college in Delhi. But suddenly, my leg got sprained and Rakesh took care of me. He didn't go to the exam. I still feel guilty as due to me, he lost his career and not as successful as his brothers. But, till now, Rakesh has not told a word about that to me. Rakesh started to work as a librarian at that village. After 2 years, for Anand's studies, we decided to come here. I sold my jewelry and bought a permanent flat in this society. I was against selling the land and sold my jewels. Time flew away, Rakesh got married to Rama. She is such a gem. People started to badmouth about me as I don't have kids. But Rama found out the truth behind bot having kids. She scolded me and my husband. She didn't even tell this to Rakesh. She decided to give Arjun to us. But we denied. I took care of Arjun as my own child. Then we got married Anand at a young age itself. Even Bela was young when she came here. Both me and Rama took care of her very well. Pooja was born. You all know that I was the happiest when she born as I considered her as Lakshmi of this house. After her birth, our financial status also grew and we bought this flat. Anand and Rakesh's family lived here and we stayed back at our old flat. Rama did that for us. We both should spend time together. But I was not ok to have a baby at this age. Then Naina and Preeti was born. That time itself I told, Saraswathi and Durga is born. Naina is Saraswathi and Preeti is Durga. But When Rama died, my half soul died. I felt that I have lost myself. Naina's responsibility was in Anand and Bela's hands. Rama did that purposefully as during her labour, she had known that she won't survive. She called me and got a promise that I should bear a child and called Anand and gave the responsibility. Only for Rama, I gave birth to Paralay after so many taunts from relatives. Even the name Paralay was her wish. You all think I'm bad but not. I want everyone to be safe and secure. Even the alliance was so good. So, I bought that for our girls. Sorry for hurting you all.
Preet, Naina and Arjun hug her and cry. Anand and Rakesh also hug her.
Bela: Bhabhiji, we never considered you like that. Please don't speak such things hereafter. You are our running force. We respect you a lot.
Beena cries.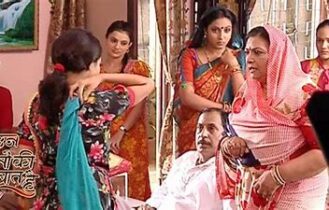 She then gives a Ganapathi idol to Naina.
Beena: Naina, this is your mother's. I gave this when she came into this house for first time. Now I'm giving this to you. Keep it safely. Ganu bappa will protect you from all the dangers.
Naina hugs Beena.
All smile and get emotional!!!!
!!!To be Continued!!!
Author's note:
P.S: I have uploaded this episode as a long one due to the delay. This is somewhat a sentimental episode. Comment on this guys. And even I'm planning to include Rakesh and Shanti teacher's track. Give your feedback on that too. If anyone is interested in making posters and cover pics, please do msg me. I need your help. Next episode is on Sunday.