Angels and Suitors ft. Mishibir, Kuhukunal, Samaina and Mineil – Episode 11
Hi all!!!!
Scene 1
Kuhu-Kunal's wedding.
Pandit: Bride's parents come to mandap for kanyadhaan.
Varsha and Sahurya go and does kanyadhaan.
Varsha gets emotional thinking of childhood of Kuhu. She thinks about Shaurya's affair with Sneha and how Kuhu was born and also how baby Kuhu's smile changed her heart and accepted her with happiness. Kuhu sees Varsha crying and hugs her.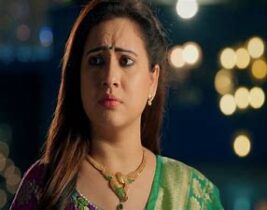 Kuhu: Mummy, you are the best. I'm happy and blessed that I came to you.
Varsha caresses her face.
Ananya does the ghantbandan.
Kuhu-Kunal take vows and rounds. Kunal ties mangalsutra around her neck and fills Kuhu's maang with sindhoor.
All blesses them. Mishti and Abir hug Kunal and Kuhu. Neil and Mini wishes them.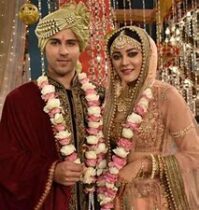 All take pictures with bride and groom.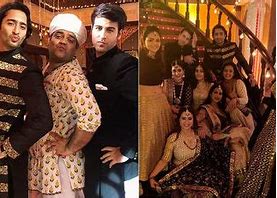 Meenakshi: Let the bride and groom have dinner. We have to start bidaai ceremony at 10 pm.
Varsha, Rajshri worry hearing bidaai.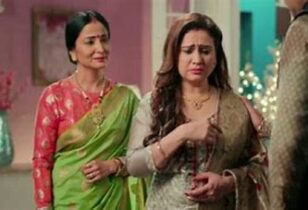 Mishti: Kuhu and Kunal, you both be here. I will bring dinner for you.
She goes. Abir too follows her.
Kuhu: Kunal, here is my phone. Go and click my pic. I'll pose.
Kunal: What????you are ordering me???
Kuhu: Yes, officially you are my photographer, driver, assistant, etc etc….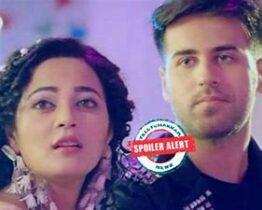 Kunal laughs…
Kunal: You are well known for this weirdness.
Kuhu: Thank you my sweet hubby. Now go and take pic.
Kunal: But why are you clicking in phone. We will get good pics from marriage photographer.
Kuhu: That will come later only. I need to post it now. Gooooo
Kunal smiles and clicks her pics. She gives poses.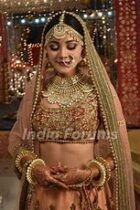 Naira: Arey, Kunal give me the phone. I will click both of you.
Kunal gives her and poses with Kuhu.
Kuhu: Thanks Naira di. You are the best.
Naira: I know you will be doing this only. You and your social media craze.
They laugh and click selfies.
Mishti takes food.
Mishti: Abir, it's good you came. Take this plate and take the food too.
Abir: I came to romance with you but you are giving me work.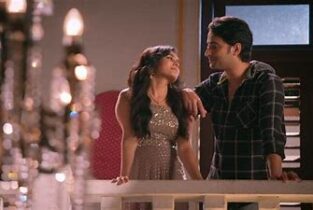 Mishti: They need to eat nah? Take this. It is for your bro.
Abir: I will take this if you give me a kiss.
Abir laughs.
Mishti: You are becoming naughty now a days. Come let's go.
Abir: No, first kiss. Then work.
Mishti: Hey bhagwan…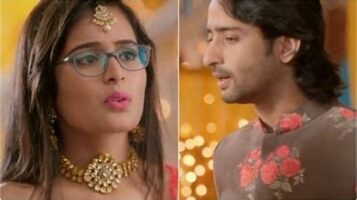 Abir: He won't come to kiss me. You need to kiss me.
Mishti: Yes, he will come. Your Krishna has come.
She calls Neil. Abir worries.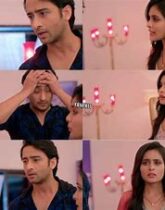 Neil: Abir, what are you doing here?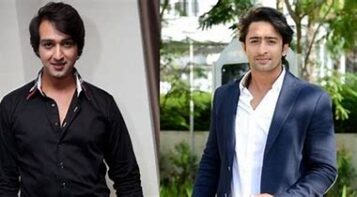 Mishti: Neil bro, he is torturing me too much. He needs a kiss from you itseems. He is asking me to tell this to you.
Abir: No neil. She is making fun of us.
Neil understands their drama. He laughs and ask them to come soon and bride and groom are in hunger.
Abir thinks he will get his kiss from Mishti.
Kuhu – Kunal have dinner.
Abir drags Mishti to terrace.
Meenakshi sees them and smile.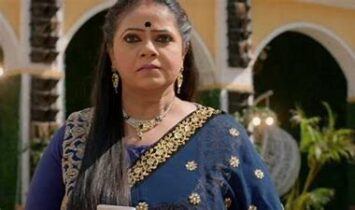 She sees Neha enquiring about Abir and going to terrace. She goes behind her.
Mishti: Abir, you are becoming naughty now-a-days.
Abir: I'm becoming naughty with my girl. What a big deal in this?
Mishti: Achaa….
Abir pulls her towards him holding her waist. Mishti blushes…. They both have an eyelock. Later they have a lip lock.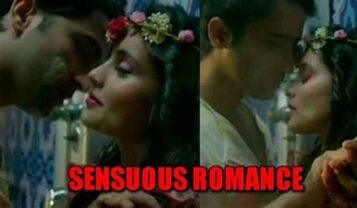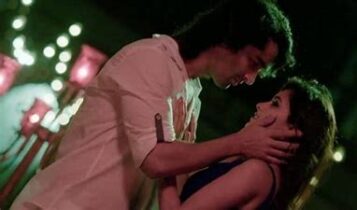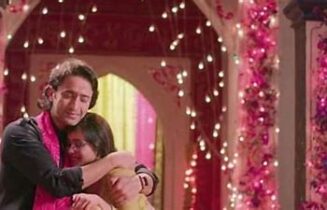 Neha comes to terrace and sees them kissing and get startled for a moment. She feels sad and turns to leave. She sees Meenakshi.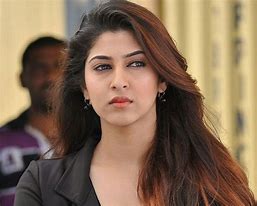 Meenakshi: Neha…
Neha hugs her and cry.
Neha: Aunty, it will take time for me to completely forget Abir. Even I'm telling myself to stay away but sometimes when I see such things I feel more.
Meenakshi consoles her and takes her away.
Meenakshi thinks that she has to find a groom for Neha as this obsession and feelings of Neha could turn into a hatred.
Scene 2
Bidaai ceremony.
Kuhu does the bidaai rituals. The Maheshwari family cries. Mishti and Kuhu cries more hugging each other.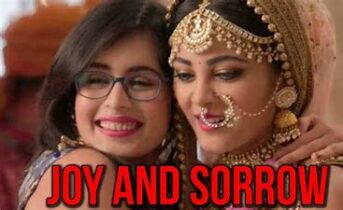 Abir: Everyone please don't cry. I'll give you a vow now. I will take care of Kuhu like my sister. She is my baby sister from now.
Kuhu hugs Abir.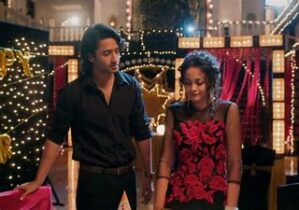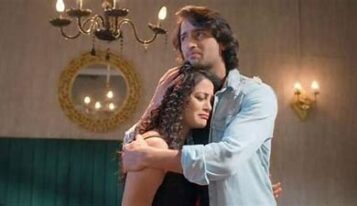 Varsha and Rajshri thanks him. Mishti sees him smilingly.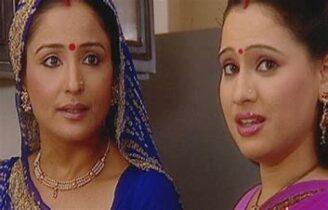 Kuhu leaves with Kunal. Maheshwari family sadly leave to their house. Naira gets a call from her MIL stating that Kairav has fever and ask her to come soon. Naira, Karthik, Naksh and Keerthi leaves in a hurry. Ananya too leaves.
Kuhu comes to Rajvansh house.
She does the rituals and Meenakshi gives her shagun.
Kuhu and Kunal play finding ring in milk.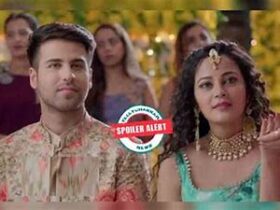 Nidhi: Kuhu you should win.
Abir: Kunal will win.
The family cheer for both Kunal and Kuhu.
Kuhu wins.
Meenakshi: Ketki, take Kuhu to you room and make her get ready for suhagrat. Abir, you take Kunal to your room and make him ready.
Ketki takes Kuhu.
Meenakshi: Neha you come with me.
Neha goes.
Meenakshi: Neha do you remember Prithvi?
Neha: Aunty, you are worried about Mishti and Abir right? You think that I will make their lives hell. So, you are planning to get me married soon.
Meenakshi: Neha, it's not like that. You are my responsibility.
Neha: Thanks aunty. But I'm not interested in getting married now. I have lots of work to do to better my career. So please don't start my marriage plans now.
Neha leaves.
Meenakshi feels sad.
Scene 3
Suhagrat
Kunal comes to the room and sees Kuhu in bed.
He goes and removes her dupatta.
Kuhu: Kunal shall I tell you something?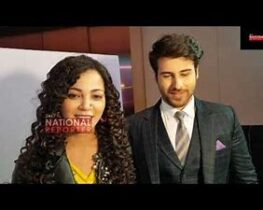 Kunal: Yes…
Kuhu: Everyone inclusing ma and mishti told me to blush and behave as a typical bride like those in T.V and Movies. But I couldn't keep blushing for this long time.
Kunal laughs….
Kunal: Only now my Kuhu is back. Be like this forever. Don't change. I fell for you only seeing this crazy side of you.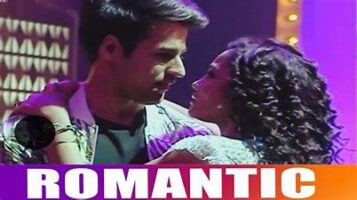 Kuhu hugs him. He makes her lie on bed and removes her jewellery. He gently kisses her and turns the lights off!!!!
Scene 4
Bela sits sadly.
Naina sees her and come to her.
Naina: Chachi, why are you sad?
Bela: Nothing beta.
Naina: No, something is there. Tell me.
Bela: Tomorrow is karva Chauth.
Naina: That's your favourite occasion nah? Then why are you sad?
Bela: Tomorrow, you are your chachaji are leaving for Mumbai, right? This is the first time I'm going to miss this with him.
After saying this, she goes. Naina thinks…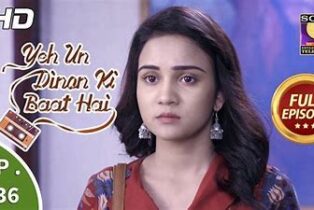 She goes to Anand.
Anand: Naina, you didn't sleep? It's time. Go and sleep.
Naina: Chachaji, shall we leave Mumbai day after tomorrow?
Anand: Why?
Naina: Tomorrow is karva Chauth and it is a special occasion for chachi. She is sad as we both won't be here tomorrow and I can't see her like this.
Bela gets emotional. She hugs Naina.
Bela: Naina, it's ok. No problem. You leave tomorrow. If you leave day after tomorrow, then you will get tired on next day. You cannot write exam properly.
Naina: Chachi, I won't get tired. If I leave tomorrow, I'll be worrying about you and won't study. So please….
Anand agrees….
Naina gets happy.
Preeti sees her.
Preeti: Did you do this for ma?
Naina: Ha then for whom?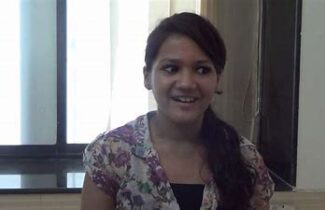 Preeti: I thought you were doing this for jejaji. If he come tomorrow, you can see him before leaving nah?
Naina: How did you find?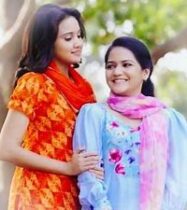 Preeti: I'm your sweet sister. I know what you think.
Naina: Actually, I did this mainly for chachi. And also little for myself.
Preeti hugs her and they both sleeps.
Scene 5
Ashok brings food for Mita in hospital. Mita gets well.  
Mita's mom: we told you not to come. Then why did you come here?
Ashok ignores her and goes to Mita.
Ashok: Mita, I'm sorry for behaving like that. I was worried about Mini. And your questions triggered me. Please forgive me. Have this food.
Mita cries and have food.
Ashok hugs her!!!
Scene 6
Bela and Beena wake up early and eat the sweet.
Arjun wakes up hearing noise and come to them.
Arjun: What are you eating?
Bela: Beta, this is like prasad. We should eat this before sunrise. This has to be given by MIL. For me Bhabhiji gave.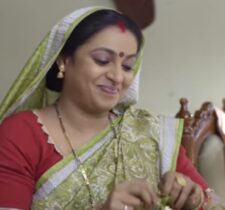 Arjun gets and idea.
After eating, Beena leaves. Bela too goes to do work. Arjun sees the sweet.
After sometime, Naina and Preeti are tensed and they get connects with conference call with Swathi, Kamya, Pandit, Munna and Sameer.
Pandit: Sameer, when will you come here? We are bored without you.
Sameer: Don't worry. I'll come today eve. Mom and family will come tomorrow.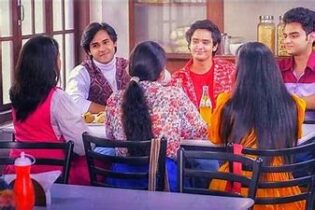 (I didn't get con call pic)
Munna: Oh, you are coming for Naina???
Naina laughs…
Naina: My boyfriend is coming for me. Why are you grudging?
All laughs!!!
Preeti: Still how more minutes for result?
Swathi: 15 minutes.
All open their laptops and wait for the result.
After 15 minutes, all see their results.
Naina sees Sameer's first.
Sameer scored 80% in exams which surprises everyone.
Preeti scored 75%.
Preeti: Jeju, you cheated me. You scored more.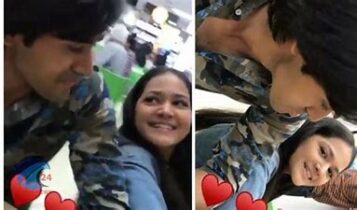 Naina: I'm happy. Love you Sameer.
Pandit: Naina, this is conference call. Control your excitement.
Naina and Sameer blushes.
Munna and Pandit score 60%. They get excited as they passed the exam.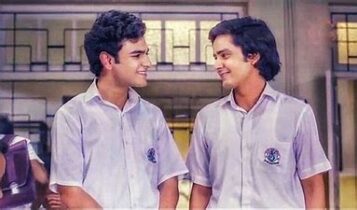 Kamya is 85%, Swathi is 88%. All are happy.
Sameer: Naina, what is your result?
Naina sees her result. She scored 93%.
Preeti: Asusual she topped.
The friends' chit chat for some time and disconnect the call…
Preeti: I'm relieved now.
They go and tell everyone the result. All are happy.
Bela: Naina, we are going to temple. We will come now. Are you both coming with us?
Preeti: You go mummy. We will spend time together as she leaves tomorrow.
The elders leave.
After sometime, the girls hear noise in kitchen. They see Arjun taking the sweet.
Naina: Preeti, this is ritual sweet which is eaten by married ladies.
Preeti: Yeah that is leftover of mummy and taiji after eating. But where is Arjun bhaiyya taking it.
They silently follow Arjun. He goes to Shefali's home.
She welcomes him.
The girls hide near a window and see them.
Arjun: Shefali, have this?
Shefali: What's this? The aroma is good.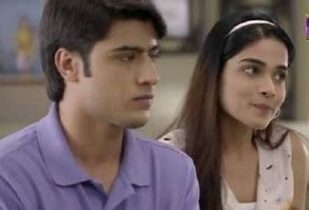 She eats. Naina and Preeti are shocked.
Shefali: Arjun, this is great. What sweet is this?
Arjun: Shefali, this is eaten by married ladies before keeping vrath on karva Chauth.
Shefali gets shocked…
Shefali: Then why did you made me to eat?
Arjun: Because I love you. I want to marry you. So, I thought to make you use to our customs….
Hearing this, Naina, Preeti and Shefali are shocked to the core…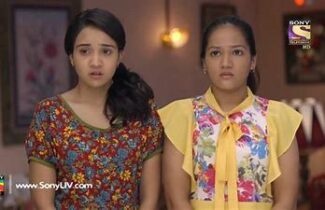 Scene 6
Meenakshi thanks Babita for making delicious food in wedding and gives her cheque. She leaves.
Mini and Neil come to her and tell her that they should go to Isha to settle everything.
Babita is shocked.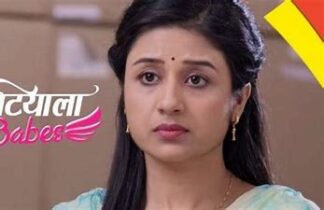 Babita: Mini, I can't allow you. Hanuman ji will get angry. Let Neil go and complete everything.
Mini tries to convince Babita but it goes in vain.
Neil: It's ok Mini. No problem. Neha, Abir and Mishti is coming with me. We will leave tomorrow.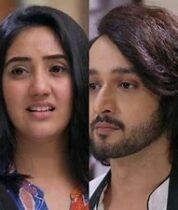 Mini then gets convinced. She thanks Abir, Mishti and Neha.
Neil and Mini hug. Mini then leaves to Patiala with a heavy heart!!!!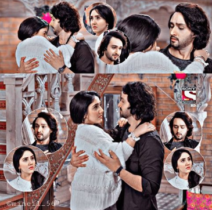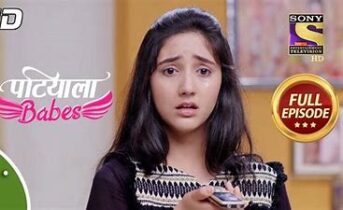 !!!To Be Continued!!!
Author's note: Next Episode – Saturday. Many exciting surprise characters are introduced!!! Stay tuned….