A Love Rekindled (A Swasan FF) (Epi-5)

Warning: A non-numeric value encountered in /mnt/nfs/home/ftpusers/tellyu/public_html/wp-content/themes/publisher/includes/func-review-rating.php on line 212

Warning: A non-numeric value encountered in /mnt/nfs/home/ftpusers/tellyu/public_html/wp-content/themes/publisher/includes/func-review-rating.php on line 213

link for previous epis
Sanskar: come with me
Swara : where
Sanskar: to that pani puri shop
Swara : which shop is open at this time sanskar
Sanskar : ranjan bhaiya, dont you remember
Swara : but dad and dadi
Sanskar: are you little kid , when you were 16 you did not need your father's permission , you used to take your cycle and come with me
Swara : and my sister used to go and complain to my dad
Sanskar : see one day i am going to take revenge on her by leaking all the details of her love story to your grandmother
Swara: what do you mean , ragini loves somebody
Sanskar : presently nothing is confirmed , i just feel ragini and laksh are in love
Swara : omg i missed  so many things in life , and laksh omg i just cant believe , they are two different people
Sanskar : yes they are , but laksh is always roaming around ragini only
Swara : i will ask about that to ragini  sanskar , let me ride your bike no , please ?
Sanskar : swara please yar , you are wearing a saree , i  will let you ride tomorrow please
Swara : ok , fine , you are letting me ride your bike tomorrow ,,ok ?
Sanskar : ok , now sit  , let us go
Swara and sanskar went to the shop
The shopkeeper(ranjan): omg , you both , i cant believe my eyes , you are sanskar and swara right , you always used to come to eat panipuri together
Swara smiled : ranjan bhaiya you remember us
Shopkeeper: so you guys are married
Swara laughed
sanskar was shocked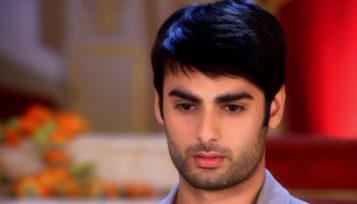 Sanskar : no no no you have misunderstood us , we are not married
Shopkeeper: sorry , you always used to roam together , now also you came together  , anyways , sorry
Swara : its ok bhaiya
Swara and sanskar enjoyed the panipuri , suddenly swara started coughing , sanskar was concerned
He ran and took the bottle of water and fed swara water . swara was surprised the way sanskar still cared for her so much , she remembered their old times when sanskar used to bring water for her the same way
Swara : lets go to the icecream shop at the street end
Sanskar : swara its really getting late yar , you need to go home
Swara : oh please , what if it becomes late ?
Sanskar : swara , i feel like my old swara is slowly coming back , that that cute , funny . lively , that swara who could to anything to keep herself and others happy
Swara realised what she was missing in life , 20 minutes with sanskar ,she was back to her old self, but in two years with siddharth she had never been so happy
To be continued…

Warning: A non-numeric value encountered in /mnt/nfs/home/ftpusers/tellyu/public_html/wp-content/themes/publisher/includes/func-review-rating.php on line 212

Warning: A non-numeric value encountered in /mnt/nfs/home/ftpusers/tellyu/public_html/wp-content/themes/publisher/includes/func-review-rating.php on line 213