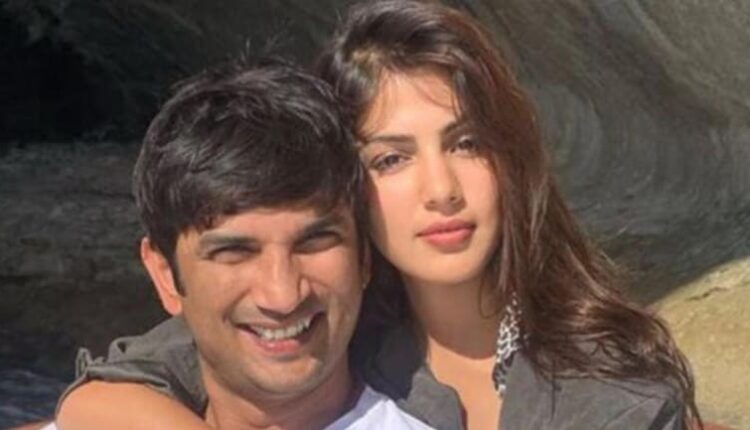 Sushant Singh Rajput's death investigation is turning murkier every single day. With CBI initiating a probe into the matter, new things are being revealed and now they are all hinting toward Sushant's death being a murder.Now, India Today reportedly procured series of WhatsApp chat between Rhea Chakraborty and Sushant Singh Rajput's former business manager Shruti Modi. The chats have unveiled a drug angle in Sushant's death case. And it's as shocking for us as it is for you.
To everyone's surprise, Rhea reportedly tried to get Sushant to quit marijuana.
According to the India Today report, the chats are from the time of January 2020. The chats also narrate an incident where Sushant cried during a meeting followed by a message that says the actor would seek treatment immediately.
"He was to completely stop weed and he said he quit it since yesterday. He has gone off to sleep I am leaving for the day," two messages, from a contact saved as Shruti 2, read. Furthermore, the text messages also suggested that despite constant medical care, Sushant was 'still not healing' and that his doctor should be consulted about further treatment.
Meanwhile, another Times Now report unveiled text exchanges between Rhea and Sushant's house manager, Samuel Miranda, and a woman named Jaya Saha, hinted at discussions about banned substances such as marijuana and MDMA.
Times Now stated that these messages are all about them consuming narcotics. A message sent by Jaya Saha to Rhea read,  "Use 4 drops in tea, let him sip it …. Give it 30-40 mins to kick in." According to the reports, in the messages 'him' is being presumed to be Sushant Singh Rajput.
Here's a list of 7 chat messages accessed by Times Now:
Message 1: 'Incase we speak about hard drugs, I haven't been doing too much. Tried MDMA once' – Chat between Rhea & Gaurav (Alleged to be a drug dealer)
Message 2: 'You have MD?' – chat between Rhea & Gaurav (Alleged to be a drug dealer)
Message 3: 'I have asked him to coordinate with Shruti & reach it up' – chat between Rhea & Jaya Saha.
Message 4: 'Thank you so much' – Rhea to Jaya Saha & Jaya replies saying 'No problem bro, hope it helps'.
Message 5: Hi Rhea, the stuff is almost over, Miranda to Rhea.
Message 6: 'Use 4 drops in tea, let him sip it …. Give it 30-40 mins to kick in', Jaya Saha to Rhea.
Message 7: 'Should we take it from Showik's friend? But he has just hash & bud', Miranda to Rhea.
Meanwhile, Rhea's lawyer has slammed the reports saying, "Rhea has never consumed drugs in her life ever. She is ready for a blood test," in a statement.
Responding to the messages, Vikas Singh, the lawyer representing Sushant's family, said that it was 'highly illegal' for drugs to be administered to the late actor without his knowledge.
What do you think of this case? DO you think Rhea has a role to play in all of this?