LINK FOR THE PREVIOUS PART IS HERE 
https://www.tellyupdates.com/you-are-the-start-and-you-are-the-end-love-season-raghvi-two-shots-shot-one/
RaghVi was getting close with each other. Their eyes spoke a lot though they both didn't opened their hearts to each other. The farewell day has beenarriving Raghav met Pallavi.
Pallavi : What's that in your hand Raghav ?
Raghav : I have penned lyrics and composed a song. This one is specially for you.
Pallavi : Really !! Show me that one.
Raghav : Not now. I will sing this in today's farewell day and I hope you will listen it.
Pallavi : Rockstar !! Finally the talent in you has awaken . I am so happy for you and I am eagerly waiting for it.
Raghav : Pallavi you are the one who find the talent in me. I was simply humming two three lines when we were in school. But you was the person who first called me as Cute Rockstar.
Pallavi : I realized that day itself about your hidden talent. And that's why I called you like that. And definitely you will become that one.
Raghav : Why you added cute before it ?
Pallavi : Because you was damncute those days.
Raghav : And now ?
Pallavi : Now also you are cute .
Raghav : Will you call me this even if I gets old too ?
Pallavi : Of course Raghav. For me you are always my cute rockstar.
Raghav : You know whenever I hears this from you I feels an unknown kind of happpiness at my heart. I won't lie Pallavi that day while riding bike when you was lying at my back I felt something special in that .
Pallavi : Raghav I wasn't asleep whole time, in between I opened my eyes but I saw in bike's hand mirror a cute smiling face of yours. And unknowingly even I too smiled and I kept my hands little more tightly rounding your body.
Raghav : Pallavi!!
Pallavi looked his eyes with a sweet smile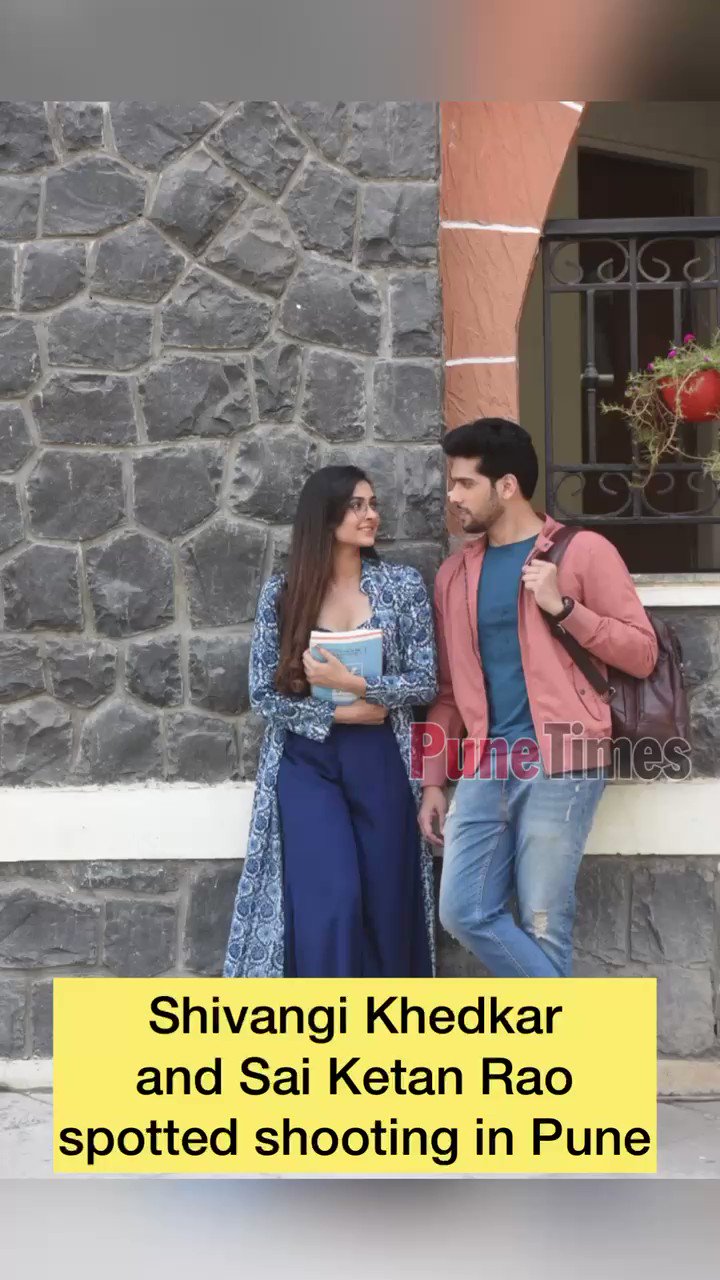 Pallavi ; Please meet me at the library after the programmes. I will wait for you there.
Pallavi ran away from there shyly , Raghav smiled and took his guitar.
Raghav gets ready for singing the song which he specially penned for Pallavi .
Raghav : I want to dedicate this song to the person who is the start and who is the end of my love. I never realized what is love because being an orphan there was no one who showed me love. Like other children in Aashram I also grown up but in between I got immense friendship and care from some one when I was 13 years old. It was not just friendship rather than it was a beautiful bonding of two painful people. One who has family is desperate to get little piece of love from any one and other one who doesn't knows anything about parents who didn't get any sort of love from any one started caring each other. That special person uplifted my talent and called me Cute Rockstar.
Pallavi and Raghav looked each other's eyes
Raghav : I will sing only first stanza today because the second stanza is specially for that lovely girl who changed my life. I will sing that part only before her.
Pallavi's face blushed in red like roses
Raghav started singing
Mudhal nee mudivum nee
Moondru kaalam nee
Kadal nee karaiyum nee
Kaatru kooda nee
[You are the start and you are the end
You are the three manifestations of time
You are the sea and you are the shore
You are the wind too]
Manadhoram oru kaayam
Unnai ennadha naal illaiyae
Naanaga naanum illaiyae
[I was hurt at the heart when you went away. But there is not even a single day
at which I haven't remembered you]
Vazhiyengum pala bimbam
Adhil naan saaya thozh illaiyae
Un pola yaarum illaiyae
[There may be lots of images
But I won't get a shoulder to lie down
No one is like you]
Raghav finished song looking at Pallavi.Meanwhile other students were asking to sing whole his eyes was on Pallavi. Without saying anything Pallavi walked away from there. Raghav followed her. Pallavi hide at a corner in library. Raghav entered inside library . Suddenly some one pulled him to a side. It was Sia.
Raghav : Hey who is that ?
Sia didn't give a chance for Raghav to say anything. She quickly grabbed him and pecked a kiss on his cheek. Pallavi gets shocked seeing this
Pallavi screamed : No
Raghav : Pallavi!!
Sia : Oh Pallavi!! So sad ,he had crush on me.
Raghav : What's wrong with you  ? Why you did it to me ?
Sia : Sweet heart, you forget everything. That day we were so intimate with each other. I am Sia.
Raghav : Sia!! Kaun ? I don't know you.
Sia : Raghav we went for dating . There you was so romantic and we crossed all levels and then we started getting intimate.
Pallavi : Stop it, just stop it.
Raghav : Pallavi don't believe this girl.She is uttering non-sense.
Sia : Really !! Then see this pics
She showed a pic before Raghvi.
Sia : Our lips were ready to do it. But you soon became the ideal guy telling that you can't do this to Pallavi. I am your crush and she is your girl friend hey naa ?
Meanwhile many students were surrounded at the outside of library.
" What yaar ? You and Pallavi were together and how could you cheat her ? We thought you will propose her today . "
Pallavi's eyes went teary
Raghav : Pallavi don't believe in any of this.
Pallavi : It's over Raghav. I can neither be the start and nor be the end of love. You proved it today. Till now what we carrying was the precious feeling and today you proved that like other guys girls are puppets for you. I hate myself for …..
Raghav : Pallavi please
Raghav came forward to held her hand
Pallavi : Don't touch me with these dirty hands. I really hate you .
FB ENDS.
"Sir which song you have selected for today ? "
Raghav : Mudhal nee mudivum nee
"Sir I have always seen at every year during this day June 4th you will sing this one only. But sing it as incomplete . Why ?"
Raghav : That was the last day when I saw her .
" Oh!! Hope you will meet her again, sir. Please rock the stage ."
Raghav came forward for performing. He looked the orphan kids and remembered his childhood days with Pallavi. I wish at least today I could see a glance of Pallavi.
Raghav started singing Mudhal nee mudivum nee. Suddenly he saw two familiar eyes in the crowd. He realized that it was none other than Pallavi only.
Raghav stopped singing and rushed towards her. Pallavi wasn't able to look at his eyes
Raghav : Pallavi!!
Pallavi : I am sorry Raghav.
Raghav : Where were you ? You know how much madly I searched you these three years ? Pallavi trust me in my life you are the one and only girl.
Pallavi : I know it Raghav. But I realized it much later.
Raghav : What do you mean ?
Pallavi : I didn't give a chance to you for giving an explanation. In anger I blindly trusted that Sia. But I came to know truth very later. Sia is a victim of acid attack.
Raghav : What ?
Pallavi : Sia used to play with feelings of many people, not just you and me. Whatever pic she shown was fake. It was a morphed picture only. But one day a guy came who said that he was serious in relationship with her . Like the way she used to do break up of so many people she is not supposed to do that with him. She humiliated him with harsh words and in anger that guy throw acid at her face . She was under treatement for many months and one day she called me and I went to meet her . She told everything and appologized . I would have come and met you but now you have become a celebrity. . You became successsfull singer in film industry and there was a feeling in me that whether you will talk with me like earlier ? Because I broke your heart that day and now you have reached heights in your life which I can't even touch. I felt why should come back ? But it was your P.A. who told me that you used to visit this place every year at that day . And I came here just to see you again my cute….I am sorry , I have no rights to call you that.
Raghav : Pallavi
Raghav cupped her face
Raghav : I am still that one . Please say it .I missed hearing it a lot.
Pallavi : My Cute Rockstar !!!
Raghav : You are the start and end of my Love , Pallavi. Without you love has no meaning at all.
Pallavi : I want to hear the second stanza . Please…..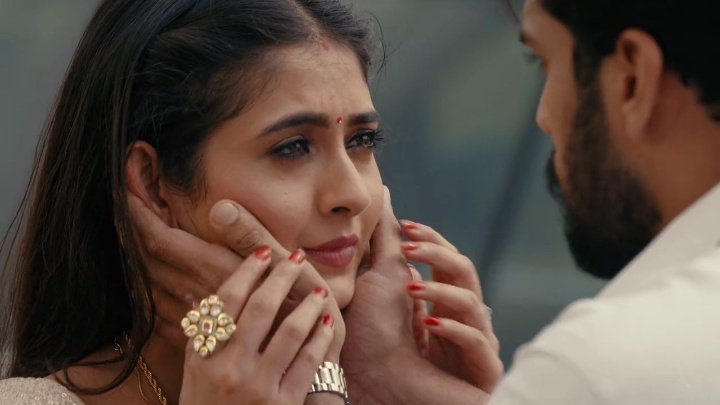 Raghav : Anything for you, your wish is my command .
Raghav started singing second stanza
Mudhal nee mudivum nee
Moondru kaalam nee
Kadal nee karaiyum nee
Kaatru kooda nee
[You are the start and you are the end
You are the three manifestations of time
You are the sea and you are the shore
You are the wind too]
Nagaradha kadigaaram
Adhu pol naanum nindrirundhen
Nee engu sendraai kannamma
Azhagaana aridhaaram
Velipaarvaikku poosi konden
Punnaigaikku podhum kannamma
[Like a clock that stopped beating I was standing as an idol
Where did you went away my girl
I wore a beautiful mask
For those around who are watching me
With a fake smile I lived dear ]
 Nee ketkavae en padalai
Un aasai raagathil seidhen
Un punnagai pon minnalai
Naan korthu aangaangu neidhen
I made this song for you to hear
This is composed at your desired rhythm
I gathered all your golden smiles
And have strung and wove them every where]
Mudhal nee mudivum nee
Moondru kaalam nee
Kadal nee karaiyum nee
Kaatru kooda nee…..
Raghav finished singing and looked Pallavi. Pallavi too looked him.
Raghav : Pallavi I have opened my feelings to you through this song . Please say something.
Pallavi : You have already captured my heart . I told you in childhood itself nothing can separate us , Raghav. If I am adamant to come again at the city, at the college for you , even after breaking up also I can love you in hatrence , If I can come again and tell you that you was innocent  and tell you to sing the second stanza of that special song then what should I tell now ? Raghav I madly love you not from college days but from childhood too . You told you got love from me only at the farewell day even I too also got love from you only Raghav. I am sorry for blaming you that day , but please don't hate me . Whatever I did was may be a stupidity or may be my possesiveness. Because I can't see you with any other girl my rockstar. Do you get it ?
Raghav : Pallavi I always said you my life has no meaning without you. I started loving you from childhood too that day when you was leaving telling your dad 's transfer my heart was paining. You held my hand before leaving , you remember it?
https://www.youtube.com/watch?v=Tk25e25fGgU
Pallavi recalled that moment again and her eyes went teary
Raghav :  Please don't leave me again. I can't bear that pain.
Pallavi : I can't live without you Raghav. ….I love you a lot…..
Raghav : I really love you. You are the start and end of my love……
Pallavi : And you also, Raghav.
They both hugged each other passionately
AN : THANKS A LOT KRITS FOR SUGGESTING ME RAGHVI. SO GUYS HOW WAS THIS STORY ? THE SONG MUDHAL NEE MUDIVUM NEE IS SO CLASSY AND ROMANTIC. IF YOU HAVEN'T WATCHED THE ORIGINAL SONG THEN KINDLY PLEASE WATCH IT GUYS. AND THE SCHOOL DAYS SERIES IN YOU TUBE TOO. STAY HAPPY. WILL MEET WITH SECOND STORY OF LOVE SEASON FEATURING SHUBH AND SHAGUN . KEEP READING.