Ye Ishq Nahi Aasan… #14 The Real First Meet
Hello guys… here is the cover i used… I won't be using it… It doesn't fit properly…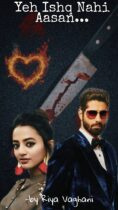 A man has been following Riddhima since she left the hotel… The man is… (hold on to your hearts!) It is… (I won't tell you!)
You all wanna know? Then everyone has to comment! I want a minimum 30 comments! Only then, I will reveal in the next part who he was…
Just kidding! Here you go!
The man was Kabir. He was tracking her movements. He knew that she was Deep Raichand's daughter and that her mother had died in an accident. He had fallen in love with her the instant he saw her. (Being the cheeky little girl that I am, I won't reveal anything else about RidhBir as of now!) He had covered his face with a mask (Lol! Masks Everywhere!) and was wearing a hoodie.
Vansh took the same route as Riddhima. He was walking behind Kabir. He noticed that Kabir was maintaining the same pace as Riddhima as if he was following her. But he ignored it thinking he might have come for a walk (Like you!)
Then, Riddhima looks back once, and notices Kabir. She feels uncomfortable and walks faster. Kabir continues the same pace because he does not want anyone to doubt that he is following her. Noticing that Riddhima had started walking faster, Vansh catches up with her. He nods at her as if saying 'hi' and she nods back. She removes one of her airpods and hands it to Vansh offering to listen to the songs. Vansh, not so fond of music, decides to try out new things. They both walk listening to songs, not saying anything. (Poor Kabir! He must be getting so jealous!) As they are walking, the Raichands come there as the roads join. Riddhima sees them and is shocked. She pauses the song. Vansh looks at her. 'Papa!' she sharply whispers with wide eyes.
She catches Vansh's hand and runs before they notice them. He is shocked at her sudden move and looks back to see what she saw and said 'Papa' . He is very shocked to see Deep there. He is still in daze when they stop running.
Vansh (panting heavily) : He is your father?
Riddhima: Shhh! He might be here!
Vansh: How can he? We ran so much! And anyways, why are you running if he is your father? I heard he is a good and intelligent man… he won't assume me to be your boyfriend and even if he does, he won't kill me, right? He can, though! He is a big businessman! He can murder me and hie it very easily…
Riddhima: Shut up! He is a very good man! And how dare you accuse him like that!?
********* (Won't tell you what they are talking about!)
FB ends… (Thereby! I have finished presenting to you, the most boring first meet ever! *claps*)
Riddhima comes back to reality first.
Riddhima: Vansh! Let's go! It's already seven… Ma and Dad will be worried…
Vansh: Okay! Let's go!
He drops Riddhima to the Raichand Mansion. As she leaves…
Vansh: I wish Riddhima! I could tell you… that the lady whom you are giving the place of your mother… is the one who killed her…
10 PM
Riddhima gets a text message from Kabir…
Come meet me at the park near the orphanage… You won't believe what I have! Fast!
Riddhima goes there, knowing what he has.
Riddhima: What happened Kabir? Why did you call me here at this hour?
Kabir (fake crying): Vansh has murdered my sister! Look!
He shows her a picture of Vansh pointing a gun at Ragini. Riddhima acts shocked.
Riddhima (acting like crying): Vansh is a murderer!? I will break my engagement right away! Kabir, give this proof to the police! You yourself are a policeman! Do something!
Kabir: Riddhima… it is not that easy! I need concrete proof… this photo only shows Vansh pointing the gun at Ragini… there is no proof that he fired the bullet… which is why i called you here… i need your help, Riddhima! I need you to collect proof against Vansh… Actually, I don't love anyone else… I just left you so that Vansh would befriend you… so that you could gain his trust… Riddhima, please don't misunderstand me… I already told you… there are two things most important to me… my loved ones and my country… Vansh is a threat to both! Please help me Riddhima! Please!
Riddhima: I know, kabir, i get your point of view… I know what you must have gone through… I will help you Kabir… now I will marry him and get proof against him! He will bever doubt me!
She (acts like) consoles a (acting like) crying Kabir.
Riddhima: Kabir, now I need to go… someone might start doubting.
Kabir: I understand! Good luck! (You need that! Not her!)
Riddhima sits in her car and calls someone.
Riddhima: The fish is in the net, Papa! (For those who assumed it to be Vansh or anyone else… 'Shock laga! Shock laga! Shock laga! Laga!' Laga?)
Deep: Good job! Beta! How easily he thought he could manipulate my child! So foolish!
Riddhima: I am coming home Papa… tell Vansh that we cleared phase two.
Deep: Yes Beta! I will… come home soon!
Precap: Riddhima to Vansh: "Finally! It was such a tiresome day!" Vansh to Riddhima: "Aww! Sweetheart! There is still a lot left!" Riddhima: "Vansh! Please! Not today! I am exhausted!" Vansh: "I am hearing no excuses! I have a brilliant surprise for you! Go get fresh and wear some comfortable clothes! Rush!"