Hai friends..here is the next episode. Thank you so much for your support. Please keep supporting.
Episode starts. Kartik and Naira are in the kitchen. Naira's phone rings inside the bedroom
Naira: Kartik..I'll
Kartik: It may be from our family go and take it I'll take care of the food here
Naira goes inside and is excited to get the call of Ruhi
Ruhi: Hai Naira
Naira: Ruhi…
Ruhi: Something very good has happened right
Naira: How did you know
Ruhi: Your voice tells it
Naira: Acha actually I'm getting late and I want to tell a lot of things too so I'll connect on speaker
Naira connects the call on speaker and gets ready
Ruhi: Acha tell me what's the good news
Naira tells her from the producer and Kaira's conversation to Naira waking up in Kartik's embrace
Ruhi: Oohooo Naira ..Dheere dheere pyar ..without Kartik knowing the truth
Naira: Arrey chup..nothing like that
Just then Naksh and Adi come to the call
Adi: So happy Naira we never
Ruhi: Trusted her love hena
Adi: Not like that
Naksh: We were concerned for our sister
Adi: When we knew that Naira is madly in love with Kartik that's why Naitik uncle and Manish uncle wanted them married
Ruhi: Correction after they knew that Urvashi and Kartik weren't together anymore
Naksh: Haan..Haan…Naira marrying out of love and Kartik marrying for his Dadi are different right
Adi: Yeah…when we knew that our sister is married to someone who loves someone else how can we not be concerned..that too when she loves him since childhood
Naira: Arrey chup…your concern is never wrong bhai
Adi: You too proved that strong love can win over anyone
Naira: Bhai..I don't want to win over anything..for me Kartik and his happiness are important
Naksh: We know that if not will you cry for Kartik and Urvashi's breakup
Naira: Acha I'll cut the call..it's on speaker..I don't want Kartik to know this and feel guilty. Even if he doesn't confess his love till eternity I am happy only. This moment being Mrs.Naira Kartik Goenka is enough.He has given that pride to me and I'm satisfied with it.
Naira disconnects the call and goes to the cupboard to take Kartik's clothes for the day.
Kartik is all tears as he is standing outside the door.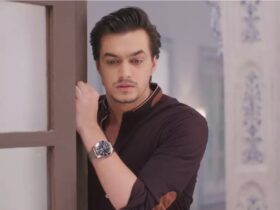 Flashback:
When Naira connected the call on speaker Kartik had come there to inform her that the breakfast was ready. He stopped and waited out as Naira was talking about waking up in his embrace.As they were talking about Kartik not knowing the truth he stays out to listen.
Reality:
Kartik wipes his tears as he sits on the couch
Just then Naira comes out
Naira: Kartik..your clothes are ready..
Kartik is still lost in thoughts
Naira: Kartik…Kartik
Kartik: Huh…
Naira: What..tensed again
Kartik nods
Naira: Hey you will be rocking everything don't worry.
Kartik gets up and hugs her.
Kartik: Thank you Naira. Thanks for coming into my life..if not..I would have been a Devdas in the streets.
Naira: Arrey Kartik..what happened to you..go get ready..it's getting late
Kartik goes inside. The episode freezes.
PRECAP: URVASHI IS BACK TO KARTIK
HEY GUYS DO TELL YOUR VIEWS ON THIS EPISODE IN THE COMMENTS BELOW.