Woh Chaand Toh Mein Hoon – ROMANTIC NIGHT (EP73)
Episode starts
Anika and Shagun come home.
Anika: Muma Shivaay will be coming tonight only
Shagun: Tell him in person and dont make it late
Anika understands what she meant and hugs her.
*************
Kartik and Naira reach the resort in mount Abu. Kartik carefully takes Naira to their room. Naira gets excited seeing it.
She hugs him
Naira: Its beautiful Kartik. I love it. Thank
Kartik: Shsh..dont say Thanks in the beginning itself. Aage dekthi jaayiye zaalim haseena
Naira: Iska matlab yeh bas shuruwat hai…you have planned lot more right?
Kartik: Of course..its a our babymoon Naira. How can I not do it?
Naira kisses him.
He blushes
Kartik: Today Im receiving kissy after kissy
Naira: What to do love is overflowing
Kartik kisses her
Kartik: See my love is overflowing too. Now just take rest. You will be tired after the journey
Rhea reaches the same resort and gets their neighbour room. She catches a glimpse of Kartik as he collects the luggage and locks the door not noticing Rhea there.
Night 8 pm Oberoi Mansion 
Shivaay gets inside with a tired face. He is surprised to see the house decorated with all teddies and baby toys.
Shivaay: Anika…Anika where are you?
He does not get any response and walks further
On the way he notices many beautiful lights and flowers
Shivaay: Anika kya hai yaar..why are you making me yearn?
Shivvay's eyes search for Anika and he doesn't notice the stool before him and he stumbles. Anika holds him
Anika: Shivaay careful…what will I do if my baby's papa gets hurt
Shivaay is shocked at it
Shivaay: Baby's papa?
Anika blushes and bends down. Shivaay cups her face and looks into her eyes
Shivaay: Anika..that means we…we…are becoming parents
Anika : Haan shivaay
Shivaay lifts her in his arms and enjoys the moment with her
Mount Abu Resort
Kartik takes Naira out with him
Naira: Where we going Kartik?
Kartik: Ill tell you soon. First you wrap this shawl
He wraps her with the shawl and takes her to the garden
. Its lit with beautiful lights
Naira: Kartik yeh sab…
Kartik: For my wife and my daughter
Naira hugs him.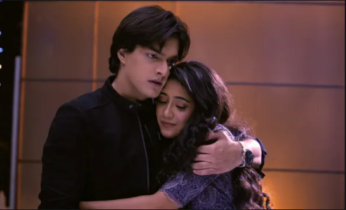 He goes on his knees and kisses her baby bump.
Naira makes him stand and he cups her face
Naira: You are the best. How do you manage it?
Kartik: Dont think that Im a romantic hero in movies alone…Im more romantic in real life babe
Naira: Babe?
Kartik: Oops sorry..and yeah I forgot it. Its too chill. Wear these first
He gives her a beautiful caps of rat and rabbit
Kartik: Which one do you choose?
Naira: Rabbit…because I cant be a rat
Kartik: As you order your highness
They wear the caps
Naira: Ek selfie
Kartik: Why not?
They click a selfie

Kartik: Ill post it now
Kartik posts it and the he hugs Naira
Naira: Kartik what will we name our daughter ?
Kartik: Hmmmm Kaira?
Naira: Kaira?
Kartik: Arrey yaar Kartik and Naira becomes Kaira
Rhea creeps in and watches them. Her dirty mind plans to lure Kartik
Rhea in mind: When you leave mount Abu Kartik…would have proposed me
Naira  kisses Kartik

He becomes a tomato  Kartik kisses Naira
breaking Rhea's thoughts
Rhea: Why are you loving her like this huh? Whats less in me? Im more beautiful than her
Her mind starts to play games
PRECAP: SHERNI DOSE (MOST ASKED ONE )