Hai Friends So happy that you are all enjoying this ff. Please keep supporting. As many wanted a whole flash back with real life scenes it will be done in the same way. Let's go to the episode now,
Kaira are in the flight.
Kartik is wearing his headphones and is listening to music. Suddenly he feels something on his shoulder and turns to see that Naira is asleep with her head on his shoulder.
Kartik in mind: I must not move and disturb her. Let her sleep peacefully .
Kartik turns his body slightly towards her so that she gets comfortable. Despite his efforts to stay awake Kartik too sleeps. Their heads are touching each other as they sleep peacefully.
O more saiyan
Raina na beete bane
O more saiyan
Naina na roothe mane
Tere hi saaye mein
Khwabon ki baahon mein
Apni kahaani likhun
Hanste huve pal mein
Rote huve pal mein teri zubaani bahun
Aisa naata kya rishta kehlata
Bas teri banke rahun
O more saiyan
Raina na beete bane
O more saiyan
Naina na roothe mane Plays in the background as the scene freezes.
Scene shifts to their Mumbai Apartment. Kartik makes Naira do the Grahpravesh rasam on the supervision of Swarna through video call. Once Naira gets inside she starts to explore the house
Kartik: Naira..it's just a small house
Naira: That's actually good Kartik..we are just two people here. Moreover you will get busy with shoot and I'll be busy in office only this house will be easy to maintain.
Kartik smiles at Naira being so supportive. He slowly goes to his cupboard and takes few diaries to throw away
Naira: Kartik..what's that
Kartik: Few things which I want to forget…(his eyes become wet) Everyone know that she left me..but no one knows how…how.
Naira makes Kartik sit down and sits near him.
Naira: I didn't ask till now as I thought it might hurt you but..now..if you want to share it tell me Kartik I'm all ears for you. Relive those memories for one last time before you  throw it away
Kartik: Do you.know..where we met
Naira: Yes at the auditions na
Kartik: Haan..that's when I met her. We started to talk to each other and then shared numbers to recommend auditions. Few meetings later we became good friends. Then one day she proposed me.
FB: Urvashi: Kartik..I really love you
Kartik is surprised by that..as he too liked her a lot he accepted her proposal.
Reality
Kartik: We started to spend lot of time together. I started to make her dreams as mine..you know something Naira..my dream is to become a good actor but Urvashi always wanted fame , the luxury  that comes through cinema.

Kartik: I..I thought it's her nature..I also thought she was dreaming all those luxury for us..but…one day she got selected in an audition of the movie Zarurat of Ishaan..I guess it's been a year now.  I got excited than her even though i was rejected in my audition.
Kartik starts to weep as he is unable to tell more. Naira starts to console him.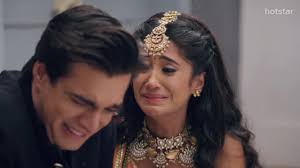 FB: Urvashi starts to ignore Kartik after her first day of shoot. As per their plan of getting married after anyone of them gets chance Kartik sells his bike and buys a ring for her.

He rushes home and is devastated to see Urvashi with Ishan in their bedroom.

She throws him out of the house.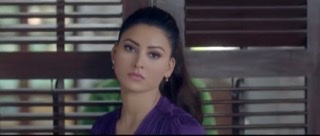 Kartik is sitting on the streets weeping.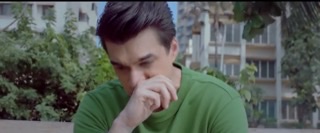 Reality: Naira..I didn't share this with anyone..I told that I broke up with her as i didn't have courage to accept the reality that Urvashi had cheated on me..just..for fame…she always wanted luxury for herself and those dreams weren't for the us I thought of..I don't know how but I actually fell for her. I was deeply in love and that's when my heart was broken. Do you know I haven't attended any audition for the past one year. I was just doing odd jobs that's why I was able to afford this house. And that's when Dadi fell ill Papa  came to call me..then our marriage talks went on…
Naira is listening to him while caressing his head.
Kartik: Do you know how much I missed my best friend during this one year. I ..didn't want to spoil your first day here but …some …kind of feelings asked me to open up everything to you..as you are my one and only friend and a person with whom I can talk without being afraid of being judged.
Naira wipes his tears and: Kartik now how are you feeling..I mean after sharing your heart out
Kartik: I feel light
Naira: Then take rest because tomorrow is an important day
Kartik looks at her questioningly. Naira shows him a message calling him for an audition the next day
Kartik: I didn't apply
Naira: It was me who sent your portfolio. Kartik one year is too much to be wasted for someone who doesn't deserve our love or life. You are going to rock this audition and get casted in this new movie. So now throw away all the bad memories and sleep.
PRECAP: NAIRA's SURPRISE FOR KARTIK. WHAT HAPPENED AT THE AUDITION.
HEY GUYS PLEASE DON'T FORGET TO TELL YOUR VIEWS ON THIS EPISODE IN THE COMMENTS BELOW.