Woh Chaand Toh Mein Hoon – MOONLIGHT AND PAST BITS (EP 54)
Hai everyone here is next episode
Episode starts
Kartik pulls Naira away from the crowd .
Naira: What are you doing?
Kartik: Wait…wait…
He takes her to the pool side of the function hall . There is the bright full moon in the sky.
Kartik: Hayeee
Naira: What happened?
Kartik: What Im admiring my moon in the moonlight. You look gorgeous . Thu thu thu
Naira blushes and Kartik hugs her.

Meanwhile Abhishek comes to wish Aliya and Adi
Abishek: Thankfully you recovered Mani sir
Mani: Thanks to you to have captured Tej and Jai
Flashback
After capturing Tej , Abhishek sets out to investigate the cause for Mani's coma and To find out Jai. On inquiring Tej he finds the reason for Mani's coma
Mani reaches Mumbai for a medical conference. He gets late after the conference and driver takes a short route to the airport. On the way he notices Priyanka who is running for her life. He stops the car and decides to help her. But Jai hits him with an iron rod and the driver runs away in fear. He sets up a fake accident and makes Mani a part of it.
On learning this Abishek files a case on Jai for attempt of murder on Mani in addition to Shivaay and Priyanka. Search orders are made and Jai is captured
Reality
Raman: Really Thank you so much Abishek
Abishek: Arrey its my duty . By the way I need to introduce someone to you
Raman: Who is it
Abishek: Mihikaa…
Mihika walks in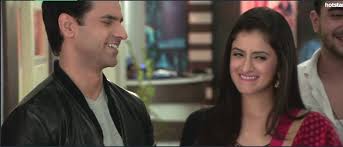 Abishek: She is my fiancee. We are getting married. Thought of introducing her in such a good occasion
Ishitha welcomes her.
Ruhi goes to the pool side and sees Kaira hugging each other
Ruhi: Arrey arrey love birds…
Kartik and Naira move away
Ruhi: If your romance is over can I take Naira with me?
Kartik nods and Ruhi takes Naira with her. Ruhi teases Naira and they have a cute moment.
A Cafe
Siddarth is getting his mocha when Kevin walks in
Kevin: Hey bro
Siddarth: Who are you?
Kevin: Uhmm Im Guru. I need your help
Kevin tells something to Siddarth and shows him the picture of Kabir and Riya to him.
Siddarth is shocked
Kevin: Siddarth Can you help me with it?
Siddarth: Oh sure Guru. You are such a caring friend of her. I'll definitely help to cure her
Kevin walks off with a smirk.
City Hospital Udaipur
Kartik and Naira are at the hospital for her sonogram.
Naira: Kartik Im nervous
Kartik: Haan Even Im nervous
Naira: What? How can you say this?
Kartik: What..means? Even Im new to this.
Naira: Phir bhi you could say na dont worry Naira Im there with you
Kartik: You know na Im there with you
Nurse: Mrs.Goenka
Kartik and Naira walk inside
The sonography is done while Kartik sits there with Naira
He faints in tension. Doctor shows the baby on screen to Naira
Sometime later Kartik wakes up . Naira shows him the report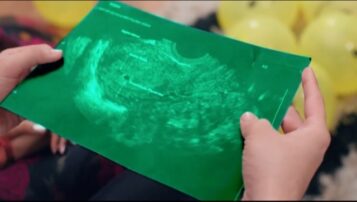 Kartik: Naira where is our baby in this?
Naira points at the dot
Kartik: Woah this is our baby Naira…the soul born as a symbol of our love
Naira: Haan Kartik
He clicks a picture of the report in his phone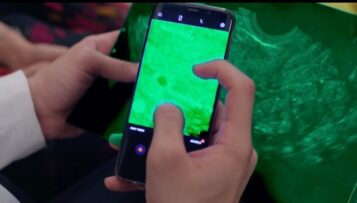 Kartik: From now my baby will be my wallpaper. Ill see my baby every minute
Nurse: Sir Can I get a selfie with you
Kartik: Why not?
Naira pulls him
Naira: No need of it. Then you will leak the matter out along with Kartik fainting in fright
Naira drags Kartik
Kartik: Was it essential to tell about my fainting? I feel embarrassed
Naira: Achaa so you weren't when you fainted. Dar pok. Film mein toh bade hero bante ho na
Kartik: Arrey Naira woh.
Naira: You fainted for a sonogram how will you accompany me to the labour room. I guess I must go alone
Kartik: Definitely not. I will come with you for sure. Promise
Naira: Lets see
Kartik: Now please dont get angry. Its not good for your health my jaan
Kartik lifts her in his arms
Naira: Kartik..
Kartik: I have no issues if someone sees.
He takes her to the car.
PRECAP: SIDDARTH STALKS RIYA. KARTIK GIVES AN INTERVIEW IRKING NISHANT. NAIRA HAS AN ACCIDENT.