Woh Chaand Toh Mein Hoon – ENGAGEMENT (EP 53)
Hai everyone here is next episode.
Episode starts
Morning 6 am
Naira slowly wakes up , looks at the clock and is startled to see the time
Naira: Baap re Its engagement today. I must get ready
She jumps off the cot thats when she realises that she must not do it
Naira: Naira…you are pregnant dont do this. Thank God Kartik did not see it. Where is Kartik by the way? Is he ready already? Naira you are getting late. Get ready soon
She rushes inside and then walks down in a beautiful lehenga
and is shocked
Naira: Maaa…Dadi….Maaa
Swarna and Dadi rush there and they are shocked
to see Manish and Kartik sleeping in the couch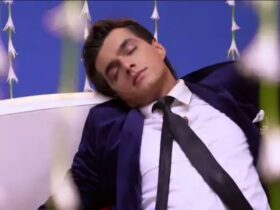 Swarna: When did this happen?
Dadi: Both of you did not notice their absence?
Naira and Swarna look at each other
Dadi: Now wake them up. We are getting late
Naira: Kartik…Kartik uto
Kartik: 5 minutes more Naira..please
Dadi: Its already late..Kittu
Naira: Just a minute Dadi… Ouch…Kartikkkkk (She acts to be hurt)
Kartik jumps in fright. Manish too wakes up
Kartik: What happened? Are you alright? Lets go to hospital
Naira starts to laugh
Kartik: Why are you laughing?
Swarna: Best technique Naira
Kartik realises that he was pranked.
Kartik: So you made fun of me huh?
Dadi: What else. Now go and get ready or else instead Adi and Aliya's engagement we will go for Aliya's godh bharai
Naira: I will get your sherwani done
Kaira reach their room. Meanwhile Keerthi is in her room talking to Naksh
Naksh: You look awesome in the dress
Keerthi blushes
Naksh: Keerthi…if you blush you look more beautiful . And yeah I forgot to tell something
Keerthi: Whats that?
Naksh: I love you
Keerthi: I love you too
Kaira room
Naira: Kartik..get ready soon..arrey kya hua? Why is your face like a chola bhatura
She plays with his cheeks
Kartik: You are making fun of my care huh…to bad Naira
Naira: Sorry mendak. That was to wake you up.
Kartik: Are you irritated now itself my jaan?
Naira hugs him
Naira: How can your concern irritate me? But now if you get late we will be screwed. Go
Sometime later Kartik comes out in a white sherwani.
Naira: Hayee
Kartik blushes
Function hall 
Romi and Riya are busy taking care of the arrangements. Suddenly they see Kevin amongst the workers. Riya starts to shiver
Romi: Why do you fear him my sweetheart. Till Im here he cannot even touch your shadow
Romi takes Riya with him to meet Kevin
Romi: Hey bastard what are you doing here?
Kevin: Im learning my living. What other job will I get after being released from a jail
Romi: If you even dare to look at the direction of Riya then you will not be hale and healthy like this. Mind it
Kevin nods
Romi hugs Riya in front of his eyes.

Just then Ishitha and Raman come there with Abishek.Seeing them Kevin walks away
Raman: Is everything set Romi?
Romi: Haan bhai
Ruhi comes there looking gorgeous with a stunning Vihaan.
Romi: It is not your engagement sweetheart
Ruhi: Chachu…
Riya: Look at the celeb couple and the newbie lovers
Kartik Naira
and Keerthi Naksh
walk inside.
Ruhi: Wow !!!!!! You look dapper my dears
Akshara : Where is the groom?
Ishitha: Just a minute…Shagun…
Shagun brings in Adi
Ruhi: Papa Bhai had been counting hours from yesterday lets call bhabhi soon.
Romi: Let Anika and Shivaay come
Shivaay: Did we hear our names
Thus walk in Anika and Shivaay
Ruhi: Lets call bhabi now
Ishitha: Why not?
Aliya is brought in
Adi: Arrey an engagement without dance and songs so boring
Keerthi: When we are here why is it boring?
Naira looks at Kartik with a puppy face.
Kartik: Naira no…let me dance instead
Oh… haaye..
Do nain sitaare hai chand sa mukhda
Kya kehna uska.. Afreen!
Daawat mein jaise ho shahi tukda
Uske jaisi na koi nazneen
Shaahi joda pehan ke
Aayi jo ban thann ke
Wahi toh meri Sweetheart hai
Sharmaaye si bagal mein
Jo baithi hai dulhan ke
Wahi toh meri Sweetheart hai
Kartik dances around Naira and at the same time pampers her
Kaise main kahun shukriya
Uska mujhpe ehsaan hai
Naacheezon ki basti mein wo…
Jo banke aayi mehmaan hai
Shivaay and Anika dance happily 
Lagta hai shaadi ghar mein

Uske aane se jaise
Chalke aayi hai khushkismati
Saari mehfil ki woh jaan bani hai
Kya kehna uska.. Afreen!
Muflis ke dil ka armaan bani hai
Uske jaisi na koi nazneen
Naksh gives a rose to Keerthi and they have a cute moment 
Shaahi joda pehan ke
Aayi jo ban thann ke
Wahi toh meri Sweetheart hai
Sharmaaye si bagal mein
Jo baithi hai dulhan ke
Wahi toh meri Sweetheart hai
Dadi: Muhurat is on Ishitha
Ishitha: Ji Maaji
Adi and Aliya exchange the rings in a cute moment
Adi in a whisper: Naan unnai kadhalikiren (I love you in Tamil)
Aliya is surprised to hear Tamil from him and is thoroughly impressed by it
Just then Kartik goes on his knees

and proposes Naira with a ring. She is surprised
Kartik: This is for you my Sherni. Will you accept this and my love?
Naira nods and gives her hand to him. Kartik wears the ring on her finger.
She has tears in her eyes. They both forget others around them
Kartik sees the tears and hugs her
Kartik: Please dont shed tears. I know that I spoiled our engagement with those idiotic breakup thoughts. So we have now got a chance to enjoy every occasion hereafter.
Naira : I love you
Kartik: Love you too
Ruhi : Uhmm uhmm
Realising the situation they move away. Naira closes her face with her hands is shyness. Ruhi hugs her.
Naksh pulls Adi and Kartik's leg
Aditya: You crashed my engagement Kartik
Kartik: Woh Adi
Adi hugs him laughing.
Adi: Arrey my pyari behen deserves more than this
Raman: What a sister love
Kartik: Aliya….
Aliya hugs Naira
Aliya: She is really a sweet girl ans deserves all happiness
Shivaay hugs Mani
Shivaay: Sorry uncle because of
Mani: Its ok Shivaay. He is in jail na
PRECAP: THE SECRET OF MANI's ACCIDENT IS REVEALED. KEVIN INSTIGATES SIDDARTH. NAIRA UNDERGOES HER SONOGRAM.