Woh Chaand Toh Mein Hoon – ACCIDENT AND STALKING (EP 55)
Episode starts
Kartik and Naira reach home. Kartik is surprised to see his PRO there
Kartik: Bhatia?
Bhatia: Sir..I know that you did not want to be disturbed but a famous magazine wants the photoshoot and interview of the award winners and you …
Naira: He will come sir
Kartik looks at her shocked
Naira: Kartik everyone is here with me, I'll be alright
Kartik: I dont want to miss anything of the…
Dadi: Kittu…you go and come. We will take care of your Naira
Kartik: When is the flight?
Bhatia: In 2 hours sir
Kartik: What?
Naira: Ill help you pack. Come
They go to their room.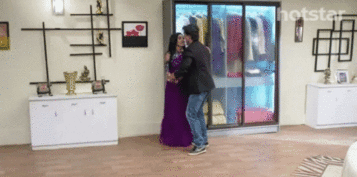 Kartik: Naira…this is all
Naira: Your dream. I know that you always wanted to feature in that magazine Kartik and when that moment comes you cant lose it
Kartik: But our…
Naira takes him to the mirror. She places his hand on her belly
Naira: Neither me nor our baby will be a hindrance in your growth. You are going to Mumbai thats final. Just a matter of 2 days na. Go and once you are back the sangeet celebration will start.
Kartik: Im going as you say okay?
Naira kisses him
Sometime later Naira waves to Kartik and he is unable to leave her. As he walks towards the door he keeps looking back at her. She gives him a flying kiss.
Kartik turns red. He gives a kiss through the air.
Riya's office
Riya is working in her cabin. She feels as if she is being watched and peeps out but sees no one. Thinking it as a hallucination she gets back to work. As she settles back Siddarth comes out of hiding.
In sometime Riya gets out to the cafeteria for a coffee . Siddarth follows her and avoids being seen by her.
Mumbai  a day later
Kartik gets ready for the photoshoot. Nishant who comes there to meet his friend is irked by the attention got by Kartik.
Interview begins after the photoshoot
Question 1: Hello Kartik..how does it feel to feature in this magazine ?
Kartik: I feel overwhelmed. This has been one of my greatest dreams which has become real now. I have know words to describe the happiness
Question 2: You were talking about someone who ditched you when you got the award. Any words to her? Can you say who it is?
Kartik: Sorry I dont want to point her name. She is in a good place in this industry let her be. I just want to say that 'Kya cheez gawa di hai tumne ye sochke so na paogi'
Question 3: Nice lines. Words about your future projects
Kartik: Im working on  a few projects which are due to be released soon. Time will reveal their details from the respective banners
Question 4: You were paralysed for sometime. Tell about it
Kartik: Yeah I was …that was an effect of an accident and internal hemorrhage . When I lost the confidence on me it was my wife who never lost her confidence and made me get on my feet again
Question 5: Words about Mrs.Goenka
Kartik: She is my life , strength and support.Without her I wont be able to reach the place I am in now
Nishant is irritated by the way Kartik is being treated. Kartik ignores his rude remarks behind his back and walks to his car and leaves.
Udaipur
Naira is driving her car. Kartik calls her and she parks her car on the side and attends the call.
Kartik: Naira..where are you?
Naira: On the way home
Kartik: Why did you drive on your own?
Naira: Kartik Im pregnant not ill. I can drive
Kartik: You get dizzy , have vomits then how can you manage?
Naira: Arrey pati dev Im nit driving 1000 kms just I went to the lab to collect my reports
Kartik: Thats why I said I wont come here
Naira: Shut up your tar tar mendak. Im alright.
Kartik: Any way …
Naira: Your flight is in an hour. You will be here then what
Just then the car is knocked down and Naira's head rests on the steering. The horn is pressed by that.
Kartik hears that and panics. He disconnects the call and tracks Naira's location. Immediately he calls Naksh and gives him the location
Kartik's flight is on board and he sits in it with panic. His heart is with Naira.
Sometime later he reaches Udaipur. Driver awaits him and he rushes to the hospital. On the way he could hear his heartbeat. He curses himself for going to Mumbai leaving Naira here. He literally jumps off the car when it enters the hospital premises.As he walks in he sees that the entire family is gathered there infront of the Emergency care.
Kartik rushes his steps and goes there to see Naira inside lying unconscious.

Kartik : Papa..what happened to Naira? Is she fine? Is…baby..?
( Guys initially I thought to stop it here but as an apology for not posting tomorrow I will reveal it here. I dont want you guys in suspense This is for all those dear readers of mine)
Manish: Dont worry both are safe.  Naira had a small head injury thats it. She will be discharged soon.
Thats when Kartik gets his heartbeat to normal. He feels as if he started to breathe now only. The duration of flight and the time from landing till the previous moment were like hell to him.
Kartik: Can I see her?
Manish: Yes you can
Kartik walks in and sits near Naira. She slowly regains consciousness as if she was waiting for him to do so. Kartik holds her hand
Kartik: Are you feeling better now?
Naira: Haan..woh..someone.. I parked it properly only
Kartik remembers Manish's advice and carcasses her head and in his mind: I should not show my fear to her. But from now I will take extra care.
PRECAP: HEY GUYS YOU VERY WELL KNOW WHAT THE LAST SENTENCE MEANT RIGHT…KARTIK WILL TAKE EXTRA CARE 😉POOR NAIRA…