Hai friends 👋🏻 Thank you so much for not getting angry with yesterday's small and even a shocker episode. Your comments showed your confidence on the storyline. With that in mind let's go to episode. It will lengthy as promised.
Episode starts
Kartik looks at Naira while he is still hugging Urvashi.
Naira walks out with tears.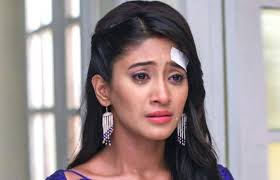 His gaze follows her as she walks away. Suddenly Naira is lost from his sight .He gets tensed.
Meanwhile Naira is standing near the edge of the mountain roads on the outskirts of the sets. Her eyes are filled with tears and she is shocked.
Maine socha bhi na tha
Aisa din bhi aayega
Mera saaya bhi mujhse kabhi door jayega
Mann mein kaisi hulchul hai
Bikhra bikhra har pal hai
Dil ko deepak ki tarah wo jalaata hai
Yeh rishta kya kehlata hai.. Plays in the background 
Kartik comes there running and stops on seeing Naira. His eyes are filled with fear and tension for her
Kartik: Naira….
Naira turns back to see him
Kartik: Naira..what are you doing here..do you even know how unsafe this place is
Naira wipes her tears and: Woh…I came to give your lunch..I saw that you are busy that's why I came here to get some fresh air
Kartik goes to her and wipes the drop of tear still sticking to her cheek
Kartik: Acha..then tell me the reason behind this
Naira: Dust Kartik..that's it
Kartik: Naira your acting sucks..because only your mouth is saying you are alright but your eyes convey something else
Naira: Acha
Kartik: Haan…
Naira: Kartik..people will be waiting for you..go and be with them
Kartik: Achaa..so you are feeling disturbed as I hugged her
Naira: Why Would I …you have got back your love …I …feel happy Kartik (brings in a fake happiness in her voice)
Kartik: Naira I already told you that your acting sucks and moreover what are you saying….I got back my love..
Naira: Haan..Urvashi is back to you right
Kartik: Do you think I still love her
Naira is puzzled. Kartik holds her shoulder and shakes her
Kartik: Bolo Naira
Naira: What do you mean
Kartik: You know actually I was a fool who wasn't able to differentiate love from drama..true love never demands ..and it is your love which is true
Naira: My love..what are you saying
Kartik: Naira..I know why you married me..it's not because of family ..it's because you love me..Mein Gadha thaa..true love was always in front of me but I was never able to identify it and was searching it somewhere else
Naira is surprised by this and is able to resist her feelings. She breaks down . Kartik is unable to stand her break down and pulls her into a quick but a tight soulful embrace. Rain starts to pour down.
Kartik: Naira…you made me realise how much a person can love someone and what true love actually does..I even know the reason for not sharing it with me…but true to confess I knew the reason behind our marriage after I heard..sorry overheard your phone conversation but trust me Naira…that's when I sat and thought of the previous few months of our marriage…I thought something as friendship but when I started to contemplate I understand the love hidden in your every move..I don't complain of you not confessing it to me …as you knew that I …I was a tubelight. Naira I have not only realised your love but also realised my love for you.
Naira looks up at him with tears in her eyes.
Naira: Kartik…
Kartik: Let me talk Naira. I thought that I can love only Urvashi in this world…but now her memories are a deep wound in my heart…it's your thought which brings love.From the day ypu entered my life as my wife you have always wanted my happiness that's  why you …..
Naira: If you don't love her then why did you hug her (she holds his collar)
Kartik: Acha..you are possessive
Naira: Haan..Kartik..I love you and it is natural to feel possessive about someone you love more than your life.you may think me as selfish but when I saw her…in….your……embrace my heart was broken…previously I was sad as you broke with her but now…
Kartik: Naira…I don't need justification….I got what I wanted
Naira looks questioningly at him
Kartik: You have confessed your love…that's enough
Naira realises that she blurted I love you in the flow of conversation and blushes
Kartik holds her face and
Kartik: I love you too
Naira: Then I give you a warning..(fake anger) If you get close with any other girl after the director says  cut then I'll not spare both of you.
Kartik: Baap re…You sound like a Sherni🦁
Naira: Mein Sherni Hoon..Toh tum na mendak ho🐸
Kartik: What
Naira: Humesha tar tar karte rehete ho…
Kartik: Aaj se Ye tar tar is only for you
Kartik lifts her in his arms.
Naira: Kartik..
Kartik: Got some romance at last..I don't want to lose it…
Naira giggles
Naira: How did you know I came here..huh
Flash back:
Kartik sees Naira walking away and gets tensed when she disappears from his sight..first he in confused why she walked away..and looks down to see Urvashi in his embrace and realises the situation. In a reflex he pushes her away
Urvashi: Kartik..
Kartik doesn't respond and runs out. The assistant director is sitting in his chair . Kartik goes to him
AD: Sir..
Kartik: Did you see where my wife went
Kartik walks in the direction he pointed
Reality
Naira: Itna concern tha so why did you hug her
Kartik: Arrey I didn't…she herself
Naira stares at him
Kartik: Sorry..this was last..actually she got cheated so I just gave her shoulder to cry
Naira: Hereafter you need not give shoulder to anyone else..you are only mine
Kartik: Of course..Kartik Naira Singhania…
They burst into laughter. Naira feels happy to be in his arms while Kartik has Atlast found his true love ….he is in a bliss.
PRECAP: BRRR…ITS COLD…NEED SOMETHING HOT ❓❓
HEY GUYS SO..THIS WAS THE SURPRISE FOR YOU….HOPE YOU GUYS LIKED IT….DO TELL IN THE COMMENTS AND FROM NEXT EPISODE KAIRA ROMANCE WILL BE PREDOMINANT SO DONT HESITATE TO TELL WHAT KIND OF SCENES  AND TRACK YOU PEOPLE WANT..ILL ADD THEM ASAP.