Woh Chaan Toh Mein Hoon – OVERPROTECTIVE MR GOENKA (EP 52)
Hey all here is next episode. Happy that you liked the previous episodes. Please keep supporting
Kartik and Naira reach Udaipur. Ruhi rushes to Naira and hugs her.

Ruhi: Congratulations..m
Ishitha nudges Ruhi as cameras approach Kartik and Naira
Kartik and Naira pose for them
and proceed to the car guided by Naksh and Aditya.
Kartik: So Groom sir whats going on?
Naksh: Romance what else…like you guys
Kartik: Are Jija ji our romance is old one yours is the fresh one
Flashback
Weeks after confessing their love to each other Keerthi and Naksh decide to inform their families
Keerthi: Naksh..how can we…?
Naksh: Let us confide in our siblings Keerthi. They will understand us better than anyone else. They will help us informing the families
Keerthi calls Kartik while Naksh calls Naira. Kaira are surprised to get their siblings call at the same time
Keerthi: Kartik..
Kartik: Haan Keerthi
Keerthi: Kartik it may sound ridiculous but…I am in love again
Kartik: It isnt Ridiculous Keerthi…even I fell in love for the second time after a failed one. But now I am really very happy and I have realised that we sometimes have to fall in love with the wrong one to find the right one.
Keerthi: Im sharing this with you as I knew that you very well understand my situation and thankfully you did it too
Kartik: By the way who is my jijaji?
Keerthi: …..(A long pause) Naksh
Kartik : What?
Meanwhile
Naira: Bhai…
Naksh: Naira am I disturbing you?
Naira: Why are you so formal bhai. Tell me na
Naksh: Naira woh….Like you I too loved someone from childhood and now I have proposed her too…after she had a sour relationship we are together…I thought that no one other than you will be able to understand me and this situation thats why
Naira: Im so happy for you bhai..who is my bhabhi?
Naksh: You know her well…ummm….
Naira: Acha I know…bhai..please no suspense tell na
Naksh: Ummmmm…Keerthi
Naira: What?
Kartik and Naira take the phone aside and look at each other.
Naira: Bhai and Didi love each other
Kartik and Naira hug
Kartik: Lets surprise them
They exchange their mobile
Kartik to Naksh:  Hai Jija ji…
Naira to Keerthi: Hai bhabhi
Naksh and Keerthi who were anxious after hearing The What leave a sigh of relief.
Reality
Naksh: Without you,,.
Kartik: Oh come on Naksh we did not do anything great. Our families are always super sweet. They never object true love..I mean true because They never supported my love for Urvashi or Keerthi's love for Aditya as they knew that it was not true from both sides. But when Naira's love was know Dadi took her side and did drama for us to get married
Ruhi: Oh fo Kartik stop these emotions na..its engagement tomorrow and we all must have super fun
Kartik: Definitely
Goenka House
Naira is walking with the bags when Kartik runs to her. He gets the bags from her
Kartik: Whats the need for you to carry them Naira? I would have come or else staff would have come na
Naira: Sorry Kartik woh…
Kartik: Naira you need to be careful nah…
Swarna: Kartik dont scold her. She is just now pregnant…still 10 months are there for the baby to come. If you restrict her from day one it will be too difficult
Naira: Haan maa from the moment he knew my pregnancy he has started to command me and do you know he has ordered many books related to pregnancy
Kartik: I want to read them and
Swarna laughs
Kartik: Why are you laughing?
Swarna: Your proving that you are Manish Goenka's son. When I was pregnant with Keerthi he was behaving in the same way. Chalo Naira I will give you something to eat you will tired
Swarna and Naira spend some time while Kartik is not in Naira's vision
Sometime later Naira walks up to their room. She is shocked to see the room with bubble papers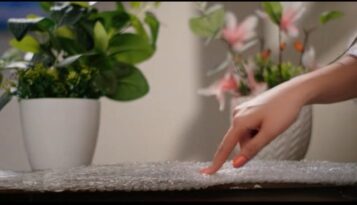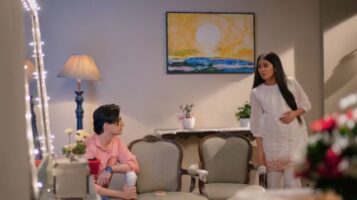 Naira: Kartik…
Kartik: Haan
Naira: These bubble papers…?
Kartik: Baby proofing my jaan. The room has been made baby proof and now the entire house here and our Mumbai house will be made baby proof
Naira: Huh…
She makes a confused  face
when Kartik hugs her
Kartik: Jaan..its all for you and our baby
Naira: Kartik..Im just now pregnant still 10 months to go
Kartik: I know but I…
She gives him-a peck on his cheek
Naira: My mendak loves and cares for me a lot. So dont justify it
Kartik lifts her in his arms and takes her inside the room.
Midnight Kaira room 
Naira is sleeping peacefully when Kartik wakes up in the middle. He notices that Naira is sleeping peacefully
Kartik : I am not getting sleep thinking about the new responsibilities but Naira is sleeping well thankfully. Will I be a good dad? Oh God Is this all normal..who can answer me…
He realises the answer to his question and runs to Manish's room and knocks it. Manish is scared and opens it in an urge
Manish: Kartik..what happened? Is everything alright? Are you alright? Is Naira alright?
Kartik: Papa..papa..everything is alright woh I wanted to talk something to you
Manish: Haan tell me
He gently closes the door and both of them reach the living room.
Kartik: Papa I am not able to sleep
Manish: Worried about the new responsibilities right?
Kartik nods. Manish carcasses his head
Manish: Beta a man is sleepless in two occasions for sure. One is the night before marriage and the night when he learns he will be a dad. That's because two big responsibilities are on them
Kartik: Ladies too have the same or even more responsibilities and troubles even na then..
Manish: But they are mentally very strong. Thats why they are not afraid of it. But every strong woman will start to panic during the later months of pregnancy thinking of the delivery pain. So what I say is let Naira enjoy herself as much as she wants till the fear and mood swings start to creep in. Dont forget that she will want to enjoy in early months but morning sickness may trouble , in all those times you should be there for her. So mentally prepare yourself and dont forget that you should never put your stress on Naira. Learn to control your anxiety and fears. In front of her you should always be a strong Kartik because that is what will give her strength
Kartik: Papa…you have cleared everything now..how?
Manish: Arrey Kartik I have crossed this phase too..but at that time I did not have anyone to tell me. I troubled Swarna a lot during Keerthi's time. But once I saw her in labour I realised all my fears were nothing in front of her fear and pain. And I corrected myself during your time
Kartik: But papa I care for her and people restrict it too
Manish: Kartik beta I understand that you will be excited and protective too. I never told you to stop it. All I said is whatever you do make sure you keep Naira happy ultimately and not unload your stress on her
The conversation continues and they both sleep on the couch itself
PRECAP: ADILIYA ENGAGEMENT. KARTIK's GESTURE FOR NAIRA. ROMI AND RIYA WARN KEVIN.