Will you still prefer me? Part 3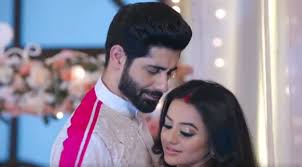 Scne shows Riddhima and Vansh fallen on the track.
Riddhima got up and saw Vansh , he was aching in pain, tears were falling from eyes of the two. Vansh was trying to control them, Riddhima was shedding them freely. Riddhima looked at his arm, his hand was completely turned in blood pool, even his muscles were visible. She got scared too much.
Riddhima : Why you..do you really have your own money?
Vansh stared her in anger.
Vansh : If your are not believing?
Riddhima stayed queit. She was small enough to know about belief .
Vansh : Then leave from here if you think I am lying.
He got up with difficulty and started moving. Turned after some moments and found her walking behind him.
Vansh : What now. (Screaming) I said na leave.
But she didnt. She moved a little bit forward and kissed his hand by which he was holding his broken arm.
Riddhima (crying hard): Mumma used to say that kiss heals pain when she kissed me. Your pain will too heal.
Vansh felt his heart aching by her sweetness.
Vansh: I have 4000 rs. Last month, I had my stall in school competition and earned it there.
Riddhima smiled a bit.
Riddhima: Then we have to reach city fast. We will get your hand treated .
Vansh: No.
And they started going towards city by track taking care every moment that no train come from back.
Riddhima: Vansh please …your hand …please we have to go to doctor.
Vansh: We have to arrange for home first.
Riddhima was continously insisting but Vansh was adamant to first find a safe place for them.
Vansh managed to see a shelter.
He signed Riddhima to stay out as he didnt want to risk her life.
Before going inside he turned to see Riddhima once.
Small wavy hair, which had got stick to her forehead by rain, long ponytail, which had bent low by all day struggle, red weak eyes, which had cried enough but were still wet, baby pink frock which had a lot of mud,pink cheeks which had clear marks of tears.
Vansh smiled a bit to make her calm. She was too ..strong. she smiled back.
Vansh got inside nd asked for a room.
But there too
They insulted him.
They were drunkards. Pushing Vansh not caring of his wounds and innocent eyes they made him out.
He held Riddhima's hand and started moving to find new one.
But , stray dogs.
They sorrounded them.
Vansh and Riddhima ran , but Riddhima fell . Her knees got hurt. Having no option left, with his broken arm, he lifted Riddhima, she continously denied him to left without her, but he rushed with her. And more fastly rushed his blood from his arm, and made Riddhima's frock red.
When they reached safe place…were exhausting,crying.
Vansh swirled Riddhima to make her smile.
12 years later.
Grown up Vansh is shown swirling Riddhima…both were laughing , enjoying the moment to the core of heart.
Precap: Vansh and Riddhima are remembering their past.