Vansh "you don't like roses"
Ridhima: yeah!! I don't like this drama….these things are not of my standard…
.
.
.
Vansh: I thought you are angry because you were not ready to marry me but I have never thought you are doing this behind me…
Ridhima: just look at you vansh who will going to love man like you….
.
.
.
.
.
.
Ridhima: vansh we are already divorced so announced this news to your family as I am going to become mother so I want to celebrate this moment with my love?
.
.
.
.
Vansh: I know ridhima what is reality…so there is no need to do all these things….this baby is mine too so I will take care of it…..
Ridhima was hurt but just smiled…." I wish I would have given one chance to him…allaass…"
.
.
Ridhima: vansh who was she?
Vansh: she is my employee.
Ridhima: I thought friend.
Vansh smiled and went from there…"if she is not his friend then why were she sticking to him…." Suddenly her expression changed and thought about things once he saw her with him…then how he must have felt….
" Yes!! Have you ever thought how he would have felt when he come to know about you….how he would have felt when you made fun of him in front of your friends and played with his feeling….no man will going to tolerate those things that you have done with him….think once you use to feel ashamed being with him…now you are not liking him with his employee…i wish you would have realised these things earlier"
.
.
.
.
.
.
"Will you still love me"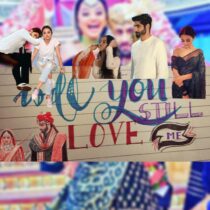 Pahale bata de rhi hu 3 chapter hoge….no more extension…..