White lilies for stranger (OS)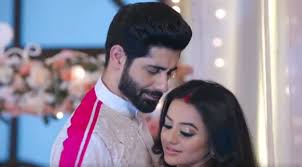 Scene shows Riddhima bringing flowers,white lilies,on a grave,and keeping them there,she was ,all dressed up,in a white bautiful dress,her face,showed the beauty of a realfairy,but her eyes,they were so gloomy,that anyone diving in them would find,only pain
She got lost in flashback,
Scene shows a house,well decorated ,as it was the wedding ceremony ,of Sejal,
Scene shows entry of Sejal's friends ,all gathering for full fun,
it was Sia,Ishani,and Riddhima.
All the girls met as sisters,as they were ,really sharing the relation of sisters.
Sejal's family wished to keep the marriage simple,so there were,just her three friends and some really close relatives invited.
Then all the girls were in fullcelebration mood,enjoying the different atmosphere of wedding bells, and just continousy chatting,
Riddhima,was fun loving,chirpy,but she ,used to speak less,she was just ,enjoying there talks,and then suddenly ,felt a different breeze ,she felt something ,different.Suddenly her mind,was withdrawn ,from al the talks ,and she moved towards the main door,but found no one on street,so thought to went inside,but then saw,a kitten,she loved everything around her,moved to it and carased her lovingy,she was just lost in her play ,when her eyes got fixed at the person standing over there,
he was tall,fair,but scars over his face,and the null expresions ,all gloomy eyes,she felt ,pain seeing his condition,but then gave him ,a soft smile,
he was standing with milk bottle,Riddhima understood ,that he might have got that for kittne,so she forwarded kitten to him,he took it and let.Riddhima was just standing over there,lost in him,that how,he seemed to be ,robotic,feeling less first,but then ,showed his pure side too towards that speechless being,she felt a grip on her hand,it was Sejal.
Sejal: What are you doing here?
Riddhima: Nothing I just…
9Sejal saw Riddhima seeing The guy,)
Sejal: You talked to him?
Riddhima signed no.
Sejal: Riddhi…he is mad.Stay away from him till you are here,don't know why he live in this locality, you just stay safe..come inside.
Riddhima was innocent,so everyone used to care for her like a kid,they all knew that her heart is really pure,full of love ,for everyone.
Then it was the engagement function,still Riddhima was not getting any interest in anything,she had thught ,that she would be enjoing too much in functions,she was even doing,but the scene of that man,was just ,flashing in her mind again and again,the pain in his cold stare ,was making her restless to know about him,still she knew,that no one,especially Sejal ,would not allow her,so just covered up her dilemma with her beautiful smile .
In the evening when all the girls were just getting ready,
Riddhima was standing near the window's dressing table and wearing little jewellery,when her gaze stucked on the samme man,standing in the street,he was ,watering the road side white lilies,Riddhima felt as if she had got relief,she wished to rush to him,but what excuse will she give to all…so she just dropped her one earring..
Riddhima: Guys ,I actually…my earring got droped from window.
Riddhima: Guys..actually my .earring fell down..should I go and see?
Sia: You won't get it now…have another set…
Riddhima: Noo..I mean,let me see once,and so she rushed,she was scared,but still,the dilemma in her was forcing her,she inched towards the guy…inside the house was all festive atmoshphere,and lights,which Riddhima loved the most,outside it was,just dark,stepping from lights to dark ,was the worst dream she had thought of,she was ,very scared of dark,still,was desperate to ,talk to him once.
Riddhima: Hii
He didn't turn,and was just caring lilies.
She came more closer,
Riddhima: I am Riddhima,I want to talk to you..
He turned towards her,this time he didn't give her cold stare but glared her.
She got more scared.
She thought to talk more,but he started moving,she went behind him,trying to talk more,but he broke glass bottle in his hand on road,leaving all the shattered glass pieces all over the road,it was an indication to her,from his side,to stay ,away .
He left,she was there for few moments,till he,didn't become invisible in dark,and then returned back.
After engagement ,and all night talks ,till 3 at night,when they all got slept,Riddhima was still awoke,to know about the ,mysterious personality she met.And so ,her curiosity to know about his pain,to know about him,made her ,got up,and to move to him,his house,in the ,dark night.
She woke up Ishani,told her to lock house from inside,as she has to go somewheere.
Riddhima: ishani,I will be just back,,stay here at the door.Take care,,,you know..
Ishai was sleepy …and Riddhima left,leaving the responsibility of gate on the shoulders,of most careless Ishani,who jut carelessly went back to sleep,following which ,some people entered the house.
Riddhima was moving through the street,thinking how to fin his house,when found ,a yellow light ,enlighting the backyard of a mansion,and a voice was coming from there,she moved to that backyard,shivering ,all scared,and found that ,that man was breaking glass bottles,some in his hands too….that scene terrified Riddhima,how can someone give that much pain to his ownself?
She slowly moved to him,going through the name on name plate,
" Vansh Rai sighania"…
She was to reach him,when heard some noise,and rushed back,only to find,everyone awoke at Sejal's house,it was a robbery over there,all the jewellery of Sejal's wedding were stolen,
Blame was on Riddhima,that where she left,leaving the gate open at that night,to which everything,including ,Riddhima's Sejal's friendship,just ended,and Riddhima too,,payed them money,by her all earnings,and via some jewellery that her ,late parents had kept for her,still ,the broken ties didn't relieve,Riddhima had to left,net few days,were tough for her to manage,all her earnings had went,she was just managing,but that night,terriying scene,forced her to return back,to the same locality,only to find,that Vansh had,committed suicide.
After going trhough some investigations,she found that ,he was innocent ,still blamed for murder,in his teenage years,and when ,returned back from priosn,after getting clean chit of his innocence,it had been late,his mother had died,leaving him all,in depression,an he ,finally had lost to the battle of life.
Riddhima,having no relation with him,
no ties with him,
———
Out of the flashback,was still there ,for keeping white lilies on his grave,to which ,no one ever visited.
Riddhima: I had,no idea,of who,you were,still,you are,in my heart,and I assure you,I will be there,always here,to care for ,your lovely kitten and lilies,till I am alive.