WHERE IS MY DESTINY?- Episode 3
hi Everyone!!.iam back with 3rd episode…hope you all like it😊😊.
party hall:
aryan and sahana are sleeping in the bed still and suddenly sahana wakes up and sees aryan sleeping near her and starts shouting….
Sahana: aaaaaaaahhhhh….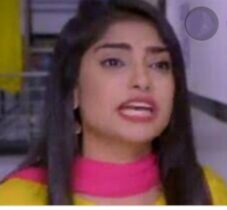 hearing her scream aryan too wakes up..
Aryan: what happened? Why are you screaming sahana?
sahana looks him angrily…
Sahana shouts: why did you sleep near me?
Aryan: iam sorry… actually you was holding my hands during your sleep so in order to not disturb you I sat near you thinking to wait till you wake up but suddenly I too fell asleep without my knowledge atself….iam sorry for that….
sahana glares him angrily white Aryan notices her…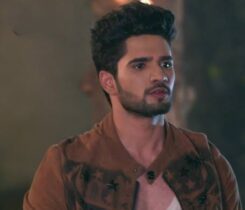 aryan: don't look me like that then I will fall for you…
Sahana: what??
Aryan: I me..mean..I will get scared seeing you….
sahana laughs..
Sahana: then you are scared of me right?
Aryan: no. If you look me differently then I will get scared whether you went again to baang's effect like today…
sahana gets shocked…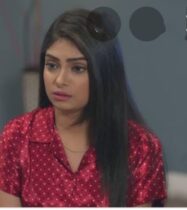 sahana: what?? Did I drink alcohol today??
Aryan: yes…
sahana is shocked and cries…
Sahana(in crying tune) : how did I do such kind of cheap work? Iam not a bad girl…how did I drink it ??
aryan sees her crying and he holds sahana's face and wipes her tears and consoles her…
Aryan: you dint drink it intentionally…you would have drunk mistakingly so don't worry…
Sahana: did I do anything wrong in baang's effect?
Aryan: no..you just danced with me…
sahana is shocked…
Sahana: what?? Did I danced with you??
Aryan: yes…
sahana becomes upset…
Sahana: iam really sorry….
Aryan: for what?
Sahana: for making you dance with me…
Aryan: it's okay.…
sahana becomes happy and hugs him happily where aryan too becomes happy and hugs her back…
Aryan: I think you are feeling happy now..
Sahana: yes.. because you are really good friend for me..
Aryan: you too…
sahana smiles while Aryan notices her cute smile and gets mesmerized and looks her continuously without even blinking eyes…
THE SCENE FREEZES
A girl who took video of Aryan and sahana gets happy seeing that video….and suddenly someone comes behind her and calls her…
Voice: hey siya..what are you doing?
Siya: actually I took video of my friend sahana…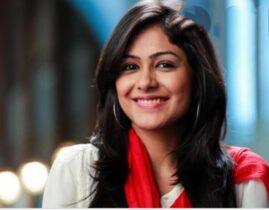 siya friend: why did you take her video?
Siya: because I knew that her friendship with aryan is more than that so I thought to help her to get her into love with aryan…
Siya friend: how will you help her with this video?
Siya: you don't ask me questions and better just watch what I do…so that you will understand easily….
Siya friend: ok…
telling this both goes away from party and while going siya's friend goes in other Direction while siya goes in opposite direction and while going siya's dupatta gets stuck with some men and she stops….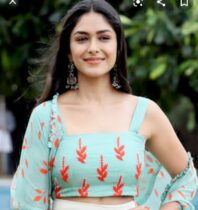 siya: excuse me…please stop..my dupatta got stuck with your watch..I will remove it…
the man stops and he is seen turned in other Direction…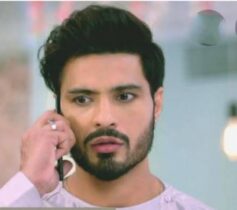 the man is none other than purab…
Purab POV: who is this? I have heared her voice before I think….
thinking this he turns towards siya and gets shocked seeing her….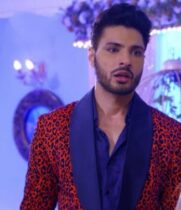 purab: bulbul…
Siya: what? Did you say anything.
Purab(in shocked voice): no…
Siya: iam sorry…my dupatta got stuck mistakingly…
purab is shocked and sees her continuously…while siya takes off her dupatta and sees purab watching her…
Siya: excuse me sir…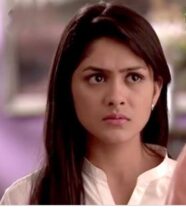 purab comes out from his strange..
Purab: iam sorry..I saw you as I have feelings of I saw you before also and that's why I was thinking about it…
Siya: it's okay…and iam sorry too
Purab: it's okay…
Siya: ok..I will leave now..
telling this she was about to leave but purab stops her…
Siya:sir..is anything do you want?
Purab: what's your name?
Siya: iam siya.
Purab: what's your parents name?
Siya: sir..I don't know about them but my ashram aunty used to say that iam xerox copy of my mother and now iam living with my friend sahana.
Purab: ohh…
siya thinks for a while..
Siya: sir..why did you ask me?
Purab: because I feel strongly that I have seen you somewhere and that's why I asked you so that I can recall where I have met you….
Siya:ohh..but I don't feel that I have met you before…
purab gets shocked…
Purab POV: if she is bulbul then she would have looked aged but she iss looking young but why is she looking exactly like my bulbul? I have to find out about this girl…
Purab: ok thank you for giving information…
siya too thanks purab and leaves while purab looks her emotionally and recalls bulbul and his life…then he thinks to find details about siya…
THE SCENE FREEZES ON PURAB EMOTIONAL FACE…
factory:
ranbir searches for aryan and sahana and he finds no one on his side and so he decides to go and ask prachi whether she found them onher side and he goes and sees prachi too missing….
Ranbir POV: where did the prachi went? She told me that she will be searching here only but where did she go??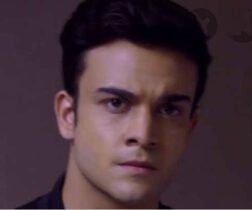 ranbir then starts to search for prachi and he searches her for about 5 hours but he couldn't find anyone and sudden someone comes near him…
Voice: excuse me sir are you searching anything?
ranbir turns and sees a stranger asking him..
Ranbir: actually iam searching my friends…they came with me but suddenly they got disppeared…
Stranger: shall I help you in your search?
ranbir looks stranger with furious..
Ranbir: no thanks…if you come and help me then you will also go missing then I should find you also…
stranger looks him confused…
Stranger: what do you mean by that?
Ranbir: I mean whoever is coming with me they are getting lost so if you come with me then you too will get lost… that's why I told…
stranger look him confused but somehow ranbir chases stranger and he searches for prachi…
while prachi is seen tied up and she is left alone in a room and she tries to cut the rope by moving here and there but she couldn't and then somehow she cuts the rope which is tied in the hand by taking her hands to a sharp area and making her hand slide on the sharp area which cuts the rope finally….
Prachi POV: somehow I managed to cut the rope now I should remove this leg ropes and I should escape somehow…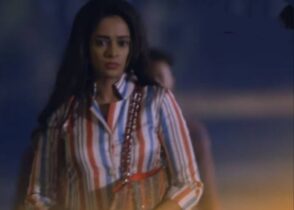 somehow she removes all the ropes and she runs from there and while running two goons sees her and starts chasing her by taking knife…
prachi finds that goons are searching her and she runs fast and tries to hide under a table when she finds the way closed but suddenly a goon sees her under the table and pulls her outside and stabs her from back….
prachi's eyes becomes red due to pain which they stabbed and tears starts coming from her eyes and she recalls her moments with ranbir, abhi, sahana, aryan and whole family…the goons leave her and they go while prachi is left stabbed in her back..
prachi cries by falling down and the blood flows from her back while she cries…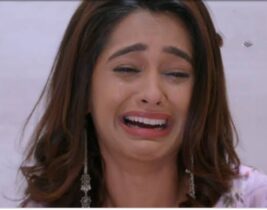 prachi POV: is this my end? I don't want to die..please someone save me…ranbir..please come fast..it's hurting me…
prachi slowly stands up with much effort and she starts walking slowly and finally she comes out from factory with much effort and she sees ranbir standing opposite and he too sees her and gets happy…while prachi moves towards him slowly, ranbir runs towards prachi and hugs her and doesn't notice knife stabbed on her back….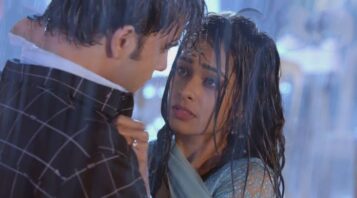 ranbir with smile: you know I was scared like world is going to end..I was really scared for you.. thank god nothing happened to you….
prachi sees him emotionally and cries thinking about her stabbed…while ranbir notices her cry and wipes her tears…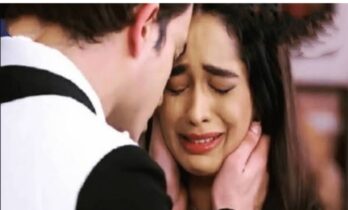 ranbir: don't cry..iam there for you…I know you got scared…but iam here now so don't cry…I will protect you…
prachi feels dizzy and she falls while ranbir holds her shocked and he finds knife stabbed on her back and gets more shocked…..
ranbir's heart is broken into pieces…ranbir can't see her in that condition and he starts to cry his heart out …
ranbir cries and takes her in his arms and goes towards hospital….
THE SCENE FREEZES…
prison:
avni is crying in the prison thinking about her mother….
Avni POV: how will I save my mother now??…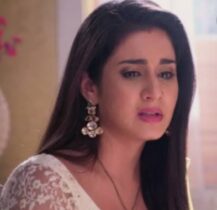 suddenly yuvraj comes there carrying food and he gives her food through a small opening in prison while Avni refuses…
Avni: sir..I am not hungry so I don't want it…
Yuvraj (in anger): this is not your house to choose your decision miss.criminal..
Avni: iam really sorry sir..I don't want the food…
Yuvraj: don't make me mad…just eat it…if you are not hungry also you have to eat it….you are freed only when you go from here….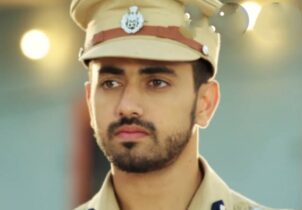 avni takes the food from him and she starts eating and yuvraj sits opposite to avni's prison as his place is there only  and suddenly avni's phone rings…
Avni POV: I think it's vidyut….
before she attends the call yuvraj comes there and grabs her phone..
Yuvraj: iam sorry…the phones are not allowed here…
avni becomes upset and also worries about her mum…
Avni POV: I don't know what that vidyut will do now…he gets Angry if I dint take phone and I don't know what he is going to do…
avni gets scared of what vidyut is going to do for not attending the call as she in jail and she prays her lord…
Avni POV: please god..please keep my mum safe…iam very much scared for her now…please save her from vidyut….(Avni eyes gets tears and she cries)
yuvraj sees her praying and crying…
Yuvraj: excuse me miss.avni…do you pray?
Avni: yes sir..
Yuvraj: why you are praying?
Avni: sir..it's our duty to serve our god…
yuvraj laughs…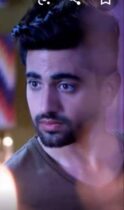 yuvraj: what's the use of your prayer??
Avni: sir…
Yuvraj: god will only accept pure people's prayer and not black heart people's  prayer…
avni feels bad as she is ashamed even though her heart is good and she cries…
Avni: sir…iam not really bad but..
Yuvraj: you changed into bad right?
avni feels heartbroken while yuvraj leaves outside….
suddenly Avni feels pain in her shoulder and neck and she goes and stands before a mirror which is kept inside her jail and she removes the dupatta which she have covered her shoulders due to vidyut's bad behaviour….
avni sees red marks on her neck and shoulders…and she cries thinking how vidyut behaved rudely with her…
FB IS SHOWN:
vidyut holds Avni and he scratches her neck and shoulders for not bringing exact 1 lakh  and he tears her sleeves….
avni immediately covers it with her dupatta…and she cries…
FB ENDS…
avni slowly touches her injuries and checks and she feels heavy pain which she couldn't bear….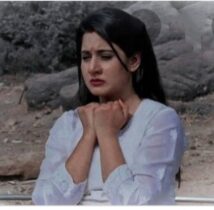 avni cries and starts shouting in pain…while yuvraj comes in which Avni doesnt notice him and yuvraj is shocked to Avni without dupatta and he is more shocked to see her sleeves torn and he sees red marks all over shoulders hands and neck and he feels bad….
Avni keeps her forehead on mirror and cries and shouts…
Avni shouts: why lord why??there are 1000 bad people's in this world and why you don't punish them? Instead you are punishing good ones…I did lot for you but you are punishing me always….you yourself see here(she touches her red marks). You know this right?? You know how vidyut harssed me..you know how vidyut pored wine on my mouth and you know how he torn my sleeves….and he made me to steal by blackmailing me….what else worse than this lord? Atleast please take my life..I don't want to live….please take my life…(Avni cries harder)
yuvraj is shocked…while Avni turns slowly to take her dupatta and she sees yuvraj and gets shocked….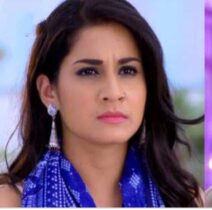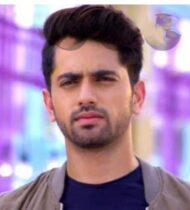 THE SCENE FREEZES…
calcutta:
rhea, priya and Sarita behen are shocked to see pragya fallen down and they immediately runs to her…while Rhea sits near her mother and tries to wake her up….
Rhea: mom…please wake up…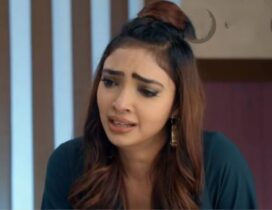 rhea tries hard to wake her mum but she dint wake and so everyone take pragya to hospital…
Rhea: doctor please check her fast…
Doctor: don't be hurry mam.we will check her and inform you…
doctors take pragya in and examines her and they get shocked…and they call any one person in doctors room and Rhea goes…
Rhea: doctor is everything fine for my mom?
Doctor: no…she had 1st attack..
rhea is shocked…Rhea
Rhea: what?
Doctor: 1 mean 1st heart attack..
rhea is shattered to hear and she starts to cry before doctor..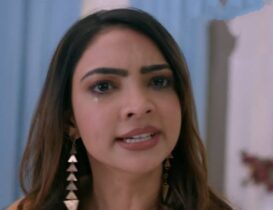 doctor: mam… don't cry..she will recover soon but there is a need for her…
Rhea: what?
Doctor: she have a small problem in her heart veins so she have to be treated for that alone and if it is treated then she will be fine…
Rhea: then treat her fast….
Doctor: sorry mam…that treatment is available only in new new delhi…
rhea gets shocked…
Rhea POV: mom told that new delhi snatched every happiness then how will I take her there?
Rhea: is there any other option?
Doctor: no….
rhea is heart broken…
Doctor: okay..you wait outside and I will call you after 5 minutes to your mom's admitted room..
Rhea: ok..
rhea goes outside crying and she goes in front of lord and prays cryingly…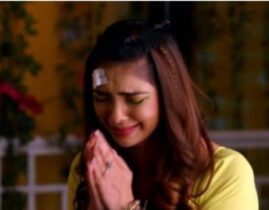 THE SCENE FREEZES..
precap: Rhea helps prachi.kunj leaks question paper through twinkle's phone.yuvraj finds the truth. Rehaan is shown…purab finds about siya's detail and gets shocked….