When Love Turns Dark Part 1 ArDeep SS

Warning: A non-numeric value encountered in /home/ftpusers/tellyu/public_html/wp-content/themes/publisher/includes/func-review-rating.php on line 212

Warning: A non-numeric value encountered in /home/ftpusers/tellyu/public_html/wp-content/themes/publisher/includes/func-review-rating.php on line 213

When Love Turns Dark Part 1
Payal woke up from the bed yawning.
Suddenly she saw a note next to her:To my dearest wife.
She smiled.
She continued reading:I want to say that I love you a lot.
Payal blushed:I love you too my sweet hubby.
Payal came out of the room.She saw her husband opening his arms with a smile to accept her.She ran into his arms.
He:Happy wedding anniversary Payal.
P:Same to you my dear hubby Deep.
They smiled at each other romantically.
He showed her the table where there was a cake.She was surprised.
They both held hands together and cut the cake.He put cream on her face.
P:Deep…you are so naughty.
He laughed.
They fed the cake to each other.
He puller her closer and took a selfie.


He gave her a cover.
P:I know that it's a saree and you want me to wear it.How can I not dress up for my romantic hubby?
He went to capture her lips.But she moved away blushing.She moved towards his cheeks.She bit his cheek in a seductive manner.
Deep:I can't wait till night to celebrate our wedding anniversary with passionate love.
She blushed.
P:Where are you taking me to now?
He held her closer:We will go to beach.There is nothing more romantic than a beach.Right?
P:Wow..thank you so much Deep.
She embraced him.
Deep-Payal went to the beach and had romantic time walking along the sand holding hands together.

He removed his over coat and exposed himself to the cool wind.Payal pecked his cheek.
He smiled.
Deep:That was very sweet.
She blushed.
Slowly they moved to the waves.Both of them got wet completely.Seeing her wet Deep got tempted and moved towards her with burning passion.She closed her eyes.Suddenly they got interrupted by the people around.
P:We have become so shameless that we forgot that there are people around us.
They both giggled.
They both went home.
Deep:Payal..wear what I gave you.We both will go out to party.I have booked a room in the star hotel.
P:Wow Deep…I am so excited.Before that I want to go to the beauty parlour.Tonight I want to look the best.
Deep:There is no need of make up for my wife to look beautiful.But still you go as it's your wish.
P:Ok.
Payal got ready and drove the car to the beauty parlour with a blush thinking of her romantic moments with Deep.


Suddenly she saw a girl lying on the road.She took a sudden brake and got out of the car to see who the girl was.She was shocked to see the girl who was unconscious on the road.
P:Arohi!
Payal struggled hard to take Arohi to the car and drove back home.
Deep came:You are back so soon.
P:Deep…Arohi…
Deep:Arohi?
P:Yes..I found her lying unconscious on the road.So I brought her here.
Deep was shocked:What the!Why did you bring her here?
P:Then what else should I do?I don't know where she stays.So I can't drop her to her house.So I brought her here.Please help me to take her to the bedroom.
Deep:Oh no..
Deep took Arohi from the car
Deep:She is really unconscious.
P:Yes,that's why I brought her here.If anyone harms her in her unconscious state…
He carried her to the bedroom.
He placed her on the bed.


He kept looking at her face.Suddenly she held onto himself.He tried to move away.But in deep slumber Arohi held his shirt.He was stunned.
Slowly he removed her hand off him and moved away.
Payal called the doctor.
The doctor came and checked her.
Dr:It's due to starving that she fainted.Why did'nt she eat anything?
P:I am sorry Doctor.I did'nt know that she had'nt eaten anything.
Dr:She has to be given drip.
The doctor called the hospital and they brought the facilities home.Arohi is given drip.
Dr:After some time she will regain consciousness.After some time the nurse will remove the drip.
Payal:Thank you doctor.
The doctor went.
Deep:Payal….let us go to party.
P:What are you saying Deep?Arohi is alone here.
Deep:She is not alone here Payal.The nurse is there with her.
P:But still..
Deep:For Arohi are you planning to spoil our wedding anniversary?
P:Nothing like that Deep.But when Arohi is in this condition how can we go out?
Deep:So our wedding anniversary is spoiled.
Deep walked to the bedroom angrily.
Payal followed him:Deep…don't get angry at least on our wedding anniversary.
Deep:It's you who spoiled our happiness.


Payal cupped his face in her arms.
P:Deep..we love each other.And loving each other is the best wedding anniversary celebration.Right?So to love each other should we have to go to a hotel?We can party here.Right?
Deep:You are defeating me with your tongue.Ok..your wish.
Payal smiled:I will wear the saree you gifted me.
He smiled.
Payal wore saree and ornaments and came to the room.The room was decorated with lit candles by Deep.
Payal was surprised:Deep!It's so beautiful.
Deep came towards her pulling her closer:Is'nt it romantic my wife?
P:Yes..of course…It's romantic like you.


Deep:Payal…though we are married till now we have not lived like a husband and wife.
Payal:What to do Deep?Panditji had warned us not to be one,if s either one of us will die.
Deep:I don't believe in such superstitious things.But since you are very superstitious I just supported you as I didn't want to make you upset.
P:I trust him as whatever panditji had predicted has come true.
Deep:But panditji had told us that on our wedding anniversary we can come closer.Now the right time has come Payal.
Payal blushed.He moved towards her lips passionately.She closed her eyes.
Suddenly the door was knocked.They moved away from each other.
Payal opened the door.
Nurse:The drip is over.The patient has opened her eyes.She is asking where she is.Since my job is over I am going.
P:Ok thank you.
Deep got irritated:Now itself Arohi had to wake up?She spoiled our romance.
P:Relax Deep.One whole night is there for that.Now we will go near Arohi.
Deep-Arohi went to the room.Arohi looked scared.
AROHI:Where am I?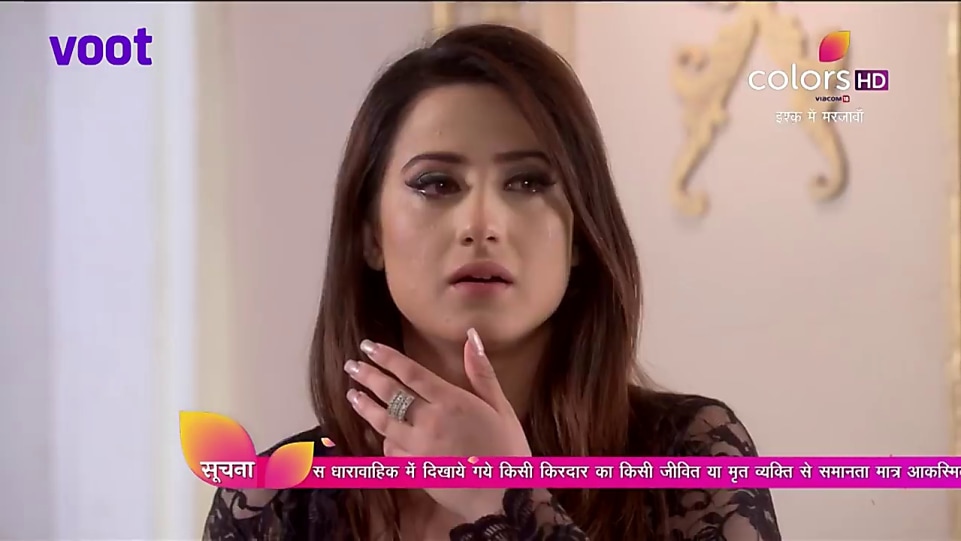 P:Relax Arohi..you are here.
Arohi looked at Payal-Deep and got surprised.
AROHI:Payal..Deep…

Warning: A non-numeric value encountered in /home/ftpusers/tellyu/public_html/wp-content/themes/publisher/includes/func-review-rating.php on line 212

Warning: A non-numeric value encountered in /home/ftpusers/tellyu/public_html/wp-content/themes/publisher/includes/func-review-rating.php on line 213