WHEN I LOSE YOU : ISHKARA OS {PART E}
LINKS FOR PREVIOUS PARTS ARE HERE : https://www.tellyupdates.com/when-i-lose-you-ishkara-os-part-d/
KINDLY READ ALL PARTS AND DROP YOUR VALUABLE VIEWS …..THIS ONE IS A VERY SHORT EPISODE , PLEASE BEAR ME FOR IT AS I AM NOT GETTING ENOUGH TIME FOR UPDATING MADE THIS UPDATE IN HURRY …. AND YOU WILL GET LOT OF QUESTIONS WHILE READING THIS…PLS KEEP READING AS I NEED MORE TIME TO OPEN ALL TWISTS…….THANKS A LOT FOR ALL YOUR SUPPORT AND LOVE…..NOW LET'S MOVE TO STORY
Continuation from last part …….FLASH BACK CONTINUES……..WHOLE OBEROI MANSION IS EXCITED FOR THE ARRIVAL OF PRINKU'S BRIDEGROOM RANVEER
Pinky : Shivaay, there is a problem….
Shivaay : Everything is going well, Mom…
Pinky : Not at all….Jethji and Sakthiji are not here, Maata raani knows why they haven't reaches till ???
Shivaay; Mom, relax……Bade paapa and Paapa have went to meet their old friend cum business partner Mr. Ramesh Bhatt only, they may be on the way….I will call paapa..
Jhanvi : Shivaay, Maaji, pinky and I have tired after calling them continuously, they are not picking calls….It's strange , tej told that there is nothing official in it and he isn't answering my calls…..
Shivaay : Is it ?? May be they will be discussing about our pending project…I guess…..
Anika : Pending project!!! Shivaay, what's that ??
Shivaay : Anika, Om Rudra……Stay here only with prinku…..I need to go office …..
Omkara : What ?? Shivaay you're going office, you know naa ranveer's family will be arriving soon …
Shivaay : Om, I know it…..
Anika : Shivaay ? What's the problem ??
Rudra : Haan bhaiya, why are you leaving in middle ?
Shivaay : Listen, I can't explain in detail now…….It's related to oberoi business, relax…..[Shivaay wears his glasses] Khanna, Come with me…….
Prinku : Bhaiya!!!!
Shivaay : Prinku, don't worry…….Juts 10 mnts,I will be back with bade paapa and paapa…..Okay??
Omkara & Rudra : If you find any thing fishy call omru……..
Shivaay : Guys, I can handle it…
Omkara : The Great Wall of SSO, we are just reminding you that you're not alone…….
Rudra : And bhaiya, come soon…….
Shivaay nods his head and smiles… SHIVOMRU hug each other and says "DIL BOLE OBEROI"
After few minutes Om recieves a call …… Omkara : Hello Mukesh
Mukesh : Are you trying to trap me, Omkara ?
Omkara : Trap!!!
Mukesh : Police team has arrived at the gallery and they are enquiring about sticker
Mukesh : They are telling a sticker  has been find from gallery and ….I didn't get what they wants to know….
Omkara : Sticker !!!! Mukesh, pls make me to talk with inspector…
Mukesh : Not the inspector, you can talk with ACP, he has directky arrived here as part of investigation……One minute….[Mukesh handovers the phone]
Ranveer : ACP Ranveer Singh Randhawah here
Omkara : Ranveer!!!
Ranveer : I am sorry my brother, Omkara…..
Omkara : What are you doing at the gallery ?
Ranveer : I want to know the secret of sticker …
Omkara : Now what's this new word "sticker" means ?
Ranveer : The code word which was used by you before an year……You've hardly used it thrice and now you've stopped it…….
Omkara : How you came to know it ?
Ranveer : Come on, I am a police officer…….
Omkara : I agree, but ranveer pls don't bring this truth to my family…….And priyanka…..
Ranveer : Don't worry……..This is just part of my duty only…….So chill and within 5 mnts I will be there…..
Scene shifts to Oberoi Mansion's Hall..
Ranveer makes a heroic entry and smiles……
Om stares him ……
Dadi : Puthar why you came alone ??
Ranveer : Actually dadi, as part of duty, I went some where and I was not very sure whether I will be able to come this day itself……
Pinky : Oh My Maata!! We thought beta you'wll bring your parents and thought to make further proceedings also….
Ranveer : What's that ?
Jhanvi : We can't wait much, beta…….I think we should quickly arrange engagement ceremony and fix marriage date as early as possible……
Pinky : Shaadi-vaadis will go ahead, first let the love birds chirps!!!
Rudra : Chirps!!!
Pinky : Rudra, birds sounding is called as chirpings only, you don't know that ??
Every one laughs…… Ranveer and Prinku look at each other's eyes……
Omkara : Ranveer, I need to talk with you……
Pinky : Om!!!
Ranveer : I think Om bhai has to say so many things……Shall we  do one thing…….Om bhai, let's go to room and we can discuss everything in detail……[Ranveer pats Om's shoulder…….]
Dadi : But ranveer !!
Ranveer : Prinku, pls bring two cups of coffee for your bhai and me…….Okay?
Scene shifts to Om's room
Omkara : Ranveer, If you want to take any action against me then of course,I am ready….But after prinku's marriage….
Ranveer : Om bhai, I know some times you simply chooses that way as if you are running from yourself……
Omkara : I prefered drugs earlier and it happened because of my so called dad's  ….From past 9 months I am not taking drugs…..
Ranveer : I know  it as from priyanka I have heard about what all things affected the relationships…Now there is no space for a mistress like swethlana in your dad's life and moreover for the illegal deeds she is been arrested now…… I know now I won't get any single puff of drugs either from your room and art hub……..I just want to know the source, from where and how you get them ??
Omkara : What ?
Ranveer : They're highly dangerous and many youngsters are losing their valuable lives because of it…….Om bhai, if you can say anything about it, then it will be really helpful for us…..Pls…..
Omkara : You're a brave police officer, as you reached the tag sticker, then you can find it yourself…….So just skip it here
Ranveer : Why don't you understand , Om ? It's really very important to find them……
Mean while prinku knocks the door…….
Prinku : Om bhaiya, ranveer…..
Omkara : Yeah, prinku come inside…
Prinku : I am confused……Ranveer you came here to see me or bhai ?
Ranveer : Mmh…..I was just asking which one is his favorite paintings or writing poetry ?
Prinku : OMG!!! So now you are getting interested towards the area in which you're ZERO…….
Ranveer : Who told like that ?? Ask Om bhai , he will tell what all things I asked….
Prinku : Really ?
Omkara : Well…….Coffee…..Ranveer…Have it…..
Prinku : I swear my bhai can never lie before me and I know ranveer you didn't discussed any artistic thing with him……
Ranveer : You're right…..He can't lie, but his silence speaks a lot…….
Omkara and ranveer stare each other's eyes……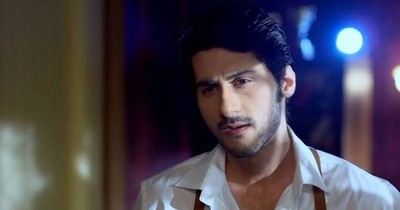 Meanwhile shivaay arrives there….
Shivaay : What's going on here ??
Priyanka : Shivaay bhaiya !! [prinku hugs him]
Omkara : Paapa and chote paapa !!!
Shivaay : They are at office only…..I told them but…….Om, come with me…….Let prinku and ranveer talk with each other……Come …..[shivaay holds om's shoulder and they leaves the room]
Scene shifts to shivika room
Omkara : Shivaay , any problem ?
Shivaay : I don't know exactly what's happening…..When I went there I was restricted to enter inside the cabin…..
Anika : Oh Bete Ki!! Shivaay singh oberoi is prohibhited to enter his own office's cabin, but why ?
Rudra : If it's a business meeting then how can they ignore shivay bhaiya ?
Shivaay : Khanna is there…..And he will find what's cooking up there…….
Ishana turns the page to read further…..But finds that rest of the pages have been removed from the diary………She gets shocked…….Ishu opens the door and rushed outside….. Khanna was about to leave the entrance…..Ishu stops him ….
Ishana : This diary is incomplete…..
Khanna : What ?? [khanna opens and finds the same] I don't know who has done this…….
Ishana : What happened then ?? How will I find it ??
All of a sudden security alarms of the hospital raised high, ishu and khanna rushed inside the hospital……
Scene shifts to Room
Nurse : An unknown girl came here , her face was covered with a scarff…..She tried to stab the patient….
Ishana : What ??
Omkara : It's prinku only…..
Ishana : Are you sure, Om ??
Omkara : While the knife was moving towards my chest , I suddenly hold her hand and she was trying to release her hand from me ….She dropped the bracelet which was gifted by shivaay, rudy and me on her birthday …..
Khanna : I will make security arrangements …..Omkara sir
Omkara smiles……. Ishana sits near Omkara….. Ishana : Om, what's happening with you ?
Omkara : It's my fate that my own sister tried to kill me 4 times during these 3 years, but everytime she is been caught and she has to run from this task….S
Ishana : I can't belive this……..
Om shuts his eyes and started twirling blanket tightly……..His legs were shivering again and again…..
Ishana : Om, Om, Om!!!
Om raise from bed and stared ishu ………Omkara : I am getting dizzy……..I need drugs……..
Ishana : Om, calm down……[ishu hold his palm] Om pls……Om…….
Om's eye pupil started getting rolled, he raised his head upwards and with much strength he released ishu's hand……..Om moved from bed and ran inside the bathroom…… He opened the shower in it's maximum speed and stood down it…..He started hitting his forehead on the wall …….Ishana was worried to see Om like that……She rushed near him and hugged Om……
Ishana : Om, stop it……..
Omkara : Ishu, go from here…….Just go…..  am hurting myself to get rid off from hallucination……This pain will be the heal for me to over come drugs, do you understand…..Just leave….
Ishana : No……
Om pushed her outside and locked door from inside…..
Ishana knocked the door and started screaming….."Om,om only"
Ishu rushed to the doctor's room ……..Doctor : What's wrong with you ?
Ishana : If you can't save my Om, then pls say it frankly…..I can't see him suffering pain per day per minute like these…..Pls do something…..
With the help of guards bathroom's door got opened from outside…..Ishu find Om been seated at the floor….His forehead was wounded in blood…….Ishu rushed near him…..
Doctor : So what do you think by doing these ?
Omkara : This can help me to convert myself for fighting with hallucination…..
Doctor : If we made you to admit in a rehab cell, it's just because you're a mad addict then will you run away ?
Omkara stares ishana ……..Omkara : I want to Live my life, I am tired of running…..
Doctor : Then from tmrw we can start treatement , you have to undercome an operation ……It's for ..
Omkara : [interrupts] I don't want to know why you're doing it……But I really want to live my life back at least one day without any stress, without any pain, without any fights……But with my heart to it's fulliest way….[om cups ishu's face] With my love……
Doctor : Mr. Omkara, if this becomes successful then many people will find life is worthy, you can't miss it…..[doctor smiles and leaves ]
Ishana : Om!!
Omkara : I am sorry, I was worried at my madness whether I will attack you again like what I did earlier…….So I did this……
Ishana : Om, if you don't mind shall I ask you something ?
Omkara : Of course !!!
Ishana : I got your diary and find some pages are missing, I want to know what all things you missed ……
Omkara : I have burned them and there is nothing called better in them…..
Ishana : Why prinku is behind you ?
Omkara : I am her culprit!!!!
Ishana : Om , I learned upto ranveer's arrival only…….What happened then, you have to tell me…..Tumhein meri kasam!!!
Omkara : That night paapa and chote paapa arrived home ……Paapa came with swethlana and my mom questioned this…..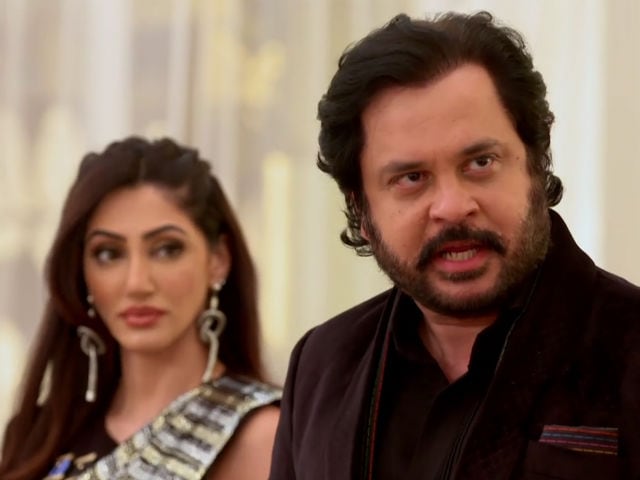 .He answered that swethlana is his wife and jhanvi singh oberoi has to become his ex-wife…….Dadi slapped paapa for this deed , but nothing stopped him…..He straightly went inside the room and started throwing my mom's things, dresses and broke the photoframe of mom……And what he did with rudy, I will never forgive him for that…….Om's eyes fumed redish in anger….. Ishana gets shocked….
PRECAP : THE OCEAN HAS TWO SHORES, BUT SKY HAS NO END