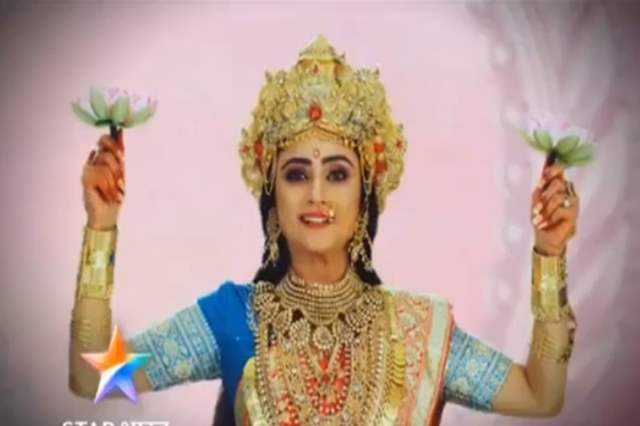 WATCH PROMO; Star Bharat's new show Jag Janani Maa Vaishno Devi

Warning: A non-numeric value encountered in /home/ftpusers/tellyu/public_html/wp-content/themes/publisher/includes/func-review-rating.php on line 212

Warning: A non-numeric value encountered in /home/ftpusers/tellyu/public_html/wp-content/themes/publisher/includes/func-review-rating.php on line 213

Mythological shows are a big trend and people do appreciate the creative narrations of the stories which are very close to their hearts and their cultures too. Star Bharat is now gearing up to bring in a new mythological show Jag Janani Maa Vaishno Devi. Actress Madirakshi Mundle and child artist Maisha Dixit will be seen essaying the lead roles.
A few days ago the head honchos revealed the first look where in we saw Maisha dressed up as Goddess Vaishno Devi in a red sari, wearing traditional jewellery. She is attacked by a Lion who is roaring at her but she manages to control him with her divine strength.
Now the promo of the show has been released and we can see Madirakshi along side Ishita Ganguly, Hrishikesh Pandey, Toral Rasputra playing the three goddesses Saraswati, Laxmi and Kali. Have a look:
Did you find the concept interesting?

Warning: A non-numeric value encountered in /home/ftpusers/tellyu/public_html/wp-content/themes/publisher/includes/func-review-rating.php on line 212

Warning: A non-numeric value encountered in /home/ftpusers/tellyu/public_html/wp-content/themes/publisher/includes/func-review-rating.php on line 213