Walking together through the memory lane(Samaina FF) – Episode 16
[Past Conversation – Normal Font
Present Conversation – Bold + Italicized]
16. Fights and Misunderstandings grows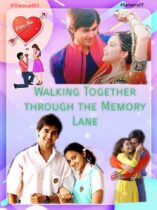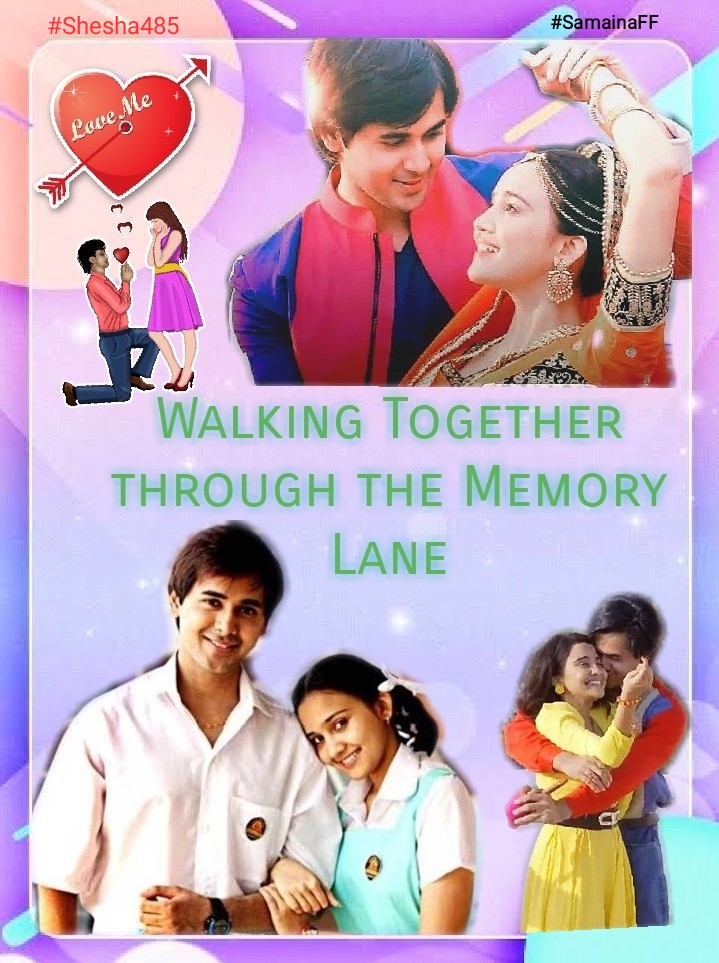 After Naina gave his password to Sameer, they had a bitter sweet relationship because of Sameer's insecurity. Sometimes Sameer get anger with no reason. Even though Naina was addicted to his conversing with him, she felt it was so depressing because of his mood-swings. While speaking fluently, Sameer's mood change and he would cut the call and then after some minutes, he himself would call her and if she didn't attend, again he would start to yell. Naina couldn't share that to Preeti or Swati also. Her family members thought that she was speaking to her friend and no one aware of Sameer.
Naina scored good marks in her higher education.
Then, at August 2015, Naina joined college under the course of Fashion Designing along with Swati. As it was first year, Naina used Message Pack to message Sameer as she wsihed to concentrate on studies than FB. [Message Pack means, per day we could able send exactly 200 messages from our phone] Sameer too did the same for messaging Naina. Naina almost never entered Facebook at those months. Sameer also started to do Part-Time jobs. Sameer's insecurity increased a bit as she joined college and she may speak to boys.
Sameer: Then, I did the shameless thing that time. Now, I feel guilty of that…
Naina: What thing? I could not get…
Sameer: I would count messages…
Naina: Oh god! How could I forget that!
Arjun: Means? We are also here, tell us clear…
Naina: Actually Sameer would count how many messages I have sent.. For example, If I send 199 messages to him and couldn't send him more.. I would call him and inform that I could not send messages… I may send it to chachi or Swati… But…
Sameer: During that time, I would ask her that she had sent only 199 messages. To whom did you send the one message?
Naina: During that time, it would be like Dilwale Puchde Na cha…(sings in a funny tone)
Sonakshi, Arjun, Sameer, Shefali laughs…
Bela: It may be look funny now but at that time, Naina burst like Pressure cooker….
Naina try to convince Sameer but he didn't get convinced… Then he himself get convinced at times. Otherwise the nights would be horrendous with no sleeps.
Months passed,
Sameer asked Naina to come Facebook. Naive Naina agreed to that. He actually asked to come as he wished to see to whom she was chatting. This time, he had an updated setup. Sameer opened his account on Phone and in Laptop, he opened Naina's account. And he would check whether messages from him are going to her well or not and to check her chatting history also. Naina forgot about password exchange that time…
During that Naina was chatting with her friend Swati. Sameer look at it. And the chat is,
Swati: Naina,  you won't come FB so easily? Whats the reason?

Naina: Sameer called me to FB to chat.

Swati: Is he getting angry even now? (Sameer understands Naina discussed their fights with Swati)

Naina: He is always getting angry at me even now. Even as a friend, he is getting angry like this means, if I am his lover, I am completely dead… Seriously, I thought of reducing my time with him. Practically, no one could live with Sameer as a friend…

Swati: You're right at your point. Try to make him understand and if not, move away from him…
After seeing this Sameer, Sameer is shocked. He try to realise how his protectiveness (actually overprotectiveness) affected Naina emotionally. Now he again think, how to convince Naina. He know if he speak good, Naina would get convinced easily… Then they had a chat. After speaking random things,
Sameer: Naina, I could understand how you felt because of my anger issues. I just want you to be at safer zone. Not all boys would see in a normal manner. Some are crooky as your a beautiful girl with good heart. I like you so much thats why I am protective.

Naina: Ok, Sameer. But why were you doubting that, I would run away with someother boy and fall in love with him or I am relationship with other boy. Understand Sameer, I already get ten to twenty minutes in my whole day, I always wished to spend that with you. But you're spoiling with your anger issues and scolding. Just be peace….
Somehow they sort out everything and everything was started to go smooth for some days.
One day, Naina was going to tuition. Her phone rings and it was Sameer's number. She attends and to say Hello but before that, "Hello" from the reciever leave her shocked. It was the same voice who spoke harsh and mean to her one and half years ago. The same Vishaka Maheshwari is on the line… (FB: Vishaka take Sameer's phone to call a relative and see a number saved as 'Naina', as she don't know the new name, she called the number..)
Naina was horrified and again made her voice sweet and spoke… After hearing her voice, Vishaka recognized that it was the same girl whom she scold last year (During that time, Vishaka didn't know her name as number was not saved as Sameer memorized Naina's number)
Then she started to yell at Naina with a heavy words. Naina was already angry with Sameer for these much issues though they sort it out and Vishaka's words ignite it more… At point, she also started to yell…. Aunty, how much times should I tell that we are not loving… Please understand… Your son only coming behind me not I am going behind him… Please just control yourself and analyse everything before you speak….
Vishaka too give some counters and again Naina repeat cusses out of anger. At last, the call gets cut. Sameer comes to the room after bathing but everything was finished…
Wheras Naina was sitting at the roadside and crying… Why was his mom always targeting me? At least now I get free from that Sameer… Hereafter I never speak to that moron…. At the other side, she was again feeling that how could she be there without speaking to Sameer…
Now at the Sameer's house, Sameer was again caught. Vivek don't have much problem as it is common to talk with girls at a limit. But Vishaka couldn't contain her anger. How could he disobey her advice of not speaking to that girl… They both didn't talk to him…
At night,
Sameer came for eating dinner.
Vishaka: Oh, you are thinking about her, right. She must have said to eat at time. So, sir is obeying…
Sameer gets irritated and moves…
Vishaka: Oh, because I ordered him not to speak with her, my son is not eating… What spell has she casted on my son. Running behind her always..
Again he was irritated. If he eat, she taunts. If he leaves, she taunts. He was like burning without knowing what to do..
The same dialogue repeats for sleeping and continues the next day….
Sameer: At that point, I could able to understand how Naina undergone my anger issues with her..
Naina: Better late than never…
Sameer: Then, I thought to convince Naina again so, I go to PCO and called her.
Naina; I attended and he asked sorry. But now I was not convinced.. Mom would at night and son would convince at morning. Sometimes, I doubt the whole family was playing with me… I spoke with attitude…
Sameer: Even I spoke with attitude.
Naina: That day, I was determined to hurt him… I had remembered somethings that time. When I would cut the call, I would say some reason to cut the call like to eat. From the next day to next month, he would cut the call saying that he had to eat. I know he was pointing at me… That time, another irritation come along the way.
Naina was in tuition road and speaking to him. One boy was following her to propose. Naina too know that but she was not at all interested so she would neglect him but he always follow her. Same happens that day also. Naina too saw him. At one side, Sameer  starts to yell because of her harsh attitude and at another side, one boy was waiting behind her… In phone, Naina try to maintain decency as a boy is near her. But she eventually lost her cool. She switch on the speaker in her phone
Naina to the boy: Hi, May I know who are you?
The boy: I am Prateek…… (stammers)
Naina: Don't worry. I won't angry. Speak..
Prateek: I love you…
Naina: I also love you….We can go outings. You're so sweet. I don't like people who are doubting others…  We can go honeymoon after marriage.  We can meet at tuition. (waves bye smiling and Prateek leaves)
Sameer hears everything.
Naina: See, I am in relationship with a boy. He won't like if I speak with anyother boy. So,just end  this relationship…. Say to your mom too… Don't call me hear after.  Bye…
Sameer: Before she cut, I cut the call with some attitude.
Naina: I spoke so sweet to that boy just because to hurt Samer. I didn't think about Prateek's feeling that time… I don't know what will happen later. 
Sameer: Unlike other soup boys, I go to home. I try to convince myself  to smile but eventually I was broken…
Sameer was sitting dull.. Vishaka came to know that he has gone to PCO to speak with Naina (just a subtle prediction)
Vishaka: Has everything get well? All lovey doveys… Loves, kisses, flirts, etc etc….
Sameer: Ma.. Don't irritate.. I am upset already… Please
Vishaka: Oh, see. That girl made my son not to speak even with his mom…
Sameer: Stop it ma.. She break up with me. She got commited to another boy and they are going out tomorrow.
Vishaka: To whom are you lying? I know you're going to go out with her. If you step out of the house, I'll just break your legs… Ok, come to eat…
Sameer: I don't want to eat…
Vishaka: Why? Has she said not to eat his mother's food?
Sameer: So what is your problem? Why are always creating problem whenever I speak anything… So, what should I do to make you calm…
Vishaka: Better you die…..
Vishaka regret not to utter such a word but her anger overpowered her words….. Sameer saw the surrounding and see a All-out liquid (that vapourizer to get rid of mosquitoes) and drinks it.