[Flashback Scenes – Normal Font]
21. Pandit gets caught
[August 12, 2016]
Pandit gives the letter to Preeti and she receives it with a smile. She winks waving bye, Pandit smiles. Munna stands confused. Pandit looks at the way where Preeti goes till she disappears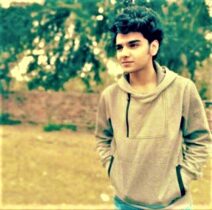 Munna – "From when these things are happening, Mr.Pandit?"
Pandit – "What happening…"
Munna – "Don't cook any stories with me.. Coming to the point, why are you giving letter to Preeti? She is winking at you like you're her best friend".
Pandit – "Woh Pandit…"
Munna hold his neck and says – "You say, otherwise I'll ask Preeti directly.."
Pandit – "Preeti is just my friend…"
Munna looks at him – "I know that, Even if you love any girl, she will give you slipper and go".
Munna laughs while Pandit stares at him.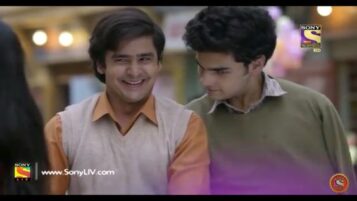 And the screen freezes.
[August 15, 2016]
Independence day celebration is going on in Sameer's college. Debate is going on the stage wheras the students are sitting passively due to their too literary talks and fights. Pandit stands up and goes to the college cafeteria as he gets a college to avoid noise disturbances while speaking. Pandit attends the call.
Pandit – "Han, have you reached the college?"
From the reciever end – "Yes, Pandit"
Pandit – "Preeti, tell me exactly where are you standing…"
Preeti – "I don't know… It seems like a room with different costumes and a small stage.. Even there are dance rings".
Pandit – "Okay, you are at the dance room".
Preeti – "Come soon, idiot… Hey, hang up… Someone is coming here.. Let me hide".
Preeti cuts the call wheras Pandit goes anxious and runs to the dance hall. He reached the hall and confirms that there is no one including Preeti.
Pandit messages Preeti – "Where the hell are you now!"
Meanwhile, Pandit gets a husky sound calling his name… Pandit slowly identifies from where the sound comes. He goes the near the wardrobe and looks at the box where Preeti stuck and trying to come out but she could not…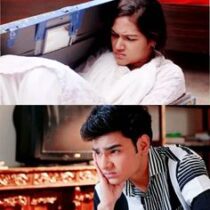 Pandit looks at her in that state and gives a tired look,Preeti pouts in return.
Pandit – "This is why, I am saying not to eat too much in the morning, see you are so passive and you couldn't come out of the box".
Preeti – "Oh! Just shut up and help me to get out of the box. My leg is sprained and my knee bumped into the steel box. Then you mock me…"
Pandit – "For this work, I have to eat some more plates of healthy food"
Pandit stops laughing and helps Preeti to get out of the horizontal box after struggling much. Pandit hold her hand and makes her sit on a chair. He kneels down.
Pandit – "Which leg have you sprained?"
Preeti points at her right leg and he held her right leg on his thigh.
Preeti – "What are you doing to do?"
Pandit presses her feet and moves from right to left once. Preeti shrills and feels the cure of sprain.
Pandit – "Are you okay now, Preeti?"
Preeti nods with a smile and Pandit reciprocate a smile. Wheras three faces from the door of the dance hall is looking at what Preeti and Pandit doing. They are Sameer, Naina and Munna who were giggling seeing those dramas.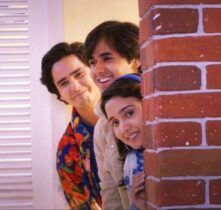 Sameer – "Never thought, Pandit would be a romeo".
Munna – "Even I, but it looks like he is a better lover than us, Sameer".
Naina – "I too wonder, Preeti fell in love with Pandit and she is coming secretly to college to meet."
[FB: After Pandit and Munna leaves from the shop after giving letters, Munna said about Pandit to Sameer. Sameer informed to Naina and left her surprised. Naina normally asked Preeti this day where was she going. Preeti told the name of the college where Pandit studies but she didn't mention the reason. As Naina knew it was the same college where Sameer studies and said to Sameer regarding that. Sameer asked Naina also to come college to see the results live]
Naina – "Boys, we should not come to a conclusion like this, it maybe a friendly gesture too…"
Sameer – "Seriously, then why he gave letter to Preeti under the pretext of giving letter to you. More than that, we are writing letters now.."
Naina – "Yeah, Sameer. That whole letter was blank".
Munna – "So, you both were fooled by Pandit… Fools".
Naina – "You just keep quiet and let us watch the scene now".
They start focussing on Preeti and Pandit.
Pandit – "Preeti, do you love me?"
Preeti – "Yes, Pandit. I love you".
Pandit – "What is the first thing you are going to do? A kiss…"
Preeti – "No… a slap…"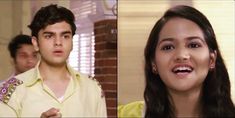 Pandit – "What"
Preeti takes a paper from her beg and shows it to Pandit.
Pandit reads by – "Not every flower can say love, a rose can. Not every plant survives a thirst, but a cactus can. Not all the fool can read this, but you can. Not everyone could love you, but I can. Not every girl is non-human, but you are. I love you, baby… Please accept me…"
Pandit looks at Preeti who stares at him. Pandit – "What happened?"
Preeti beats him saying – "You're saying me as fool, non-human lady… Nonsense"
Pandit sees Sameer, Naina and Munna standing at the door. Preeti becomes shy and Pandit gives a embarrassed look.
The three comes near them. Naina holds Preeti's ears. Munna and Sameer holds Pandit's ears.
Pandit and Preeti – "Fools, leave us…. What happened? Why are you holding our ears?"
Sameer – "You didn't tell when did you find you Laila, Mr. Majnu".
Naina – "How many days these are going, Ms.Laila ?"
Preeti releases her hold from Naina and so Pandit.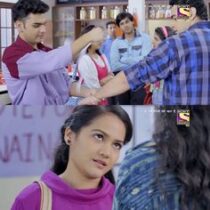 Preeti – "Right from the day, we left the carnival".
Pandit – "We already shared our phone number to each other"
Preeti – "He called me after I start to go college. We both are similar and our first call itself proved that…"
FB:
Munna – "Why didn't tell us, Mr. Majnu?"
Preeti – "I asked him not to tell".
Pandit – "She wished to tell to you guys on my birthday that is coming ten days later. But the surprise is spoiled".
Munna- "Let it be,Whatever can happen when fool writes a love letter and a fool reads it".
Preeti and Pandit stares at Munna and they break into laughter.
Naina – "Okay boys, let me and Preeti leave… "
Naina and Preeti leaves the college after waved byes from the three boys.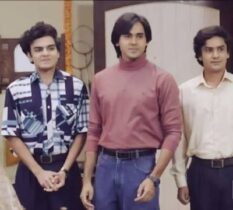 In Naina's house,
Arjun is hearing songs in his headset in the balcony. He saw Shefali coming through the way hiding something. Arjun calls Shefali – "Hey, come her, Shefali".
Shefali didn't give him attention and gets exasperated. Arjun calls her again. Shefali – "First of all, you don't disturb me. Please, I want privacy, Arjun". She goes with anger and goes upstairs. He follows Shefali.
After seeing him, Shefali gets nervous and her hands shiver.
Shefali hides the thing at her back as much as he neared her, she moves back and laid on the wall. She looks down.
Arjun – "What are you hiding, Shefali?"
Shefali – "Arjun, leave me… Otherwise I'll slap you".
Shefali is about to run from his gaze but held back as he locked her by placing both his arms on the wall.
Arjun – "You could not escape now . What are you hiding?"
Shefali stares at him – "Arjun, if you didn't leave me, I won't speak with you hereafter".
Shefali takes the thing from her back and it is rolled with newspaper. Arjun gets that from  Shefali.
He moves from her and wonders – "What is this? This doesn't seem like termite to hide"
He removed the newspaper cover and sees pad.
Arjun – "Why are you hiding your pad, Shefali?"
Shefali remains silent..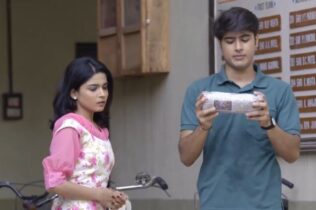 Arjun – "So this is the reason, you are getting mood-swings and pads. I could understand that, Shefali and you can say that to me directly. Even you can ask me to buy pads na, why are you straining too much? Where are your parents? Why are you hiding this as if you are doing crime?"
Shefali – "Sorry Arjun. Dad and Mom are left for marriage. I thought I have sufficient pads already but to my luck, there is none… Thats why I go to shop. And about newspaper, you don't ask me that".
Arjun let her go inside as she is not comfortable.
After few hours,
Arjun is washing his car using pipe.  Naina and Preeti are sitting there and Naina teases Preeti and they have a funny conversation.
(Yun Ri Hai Plays till the end)
Shefali from her house looks at Arjun.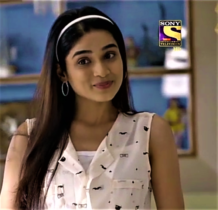 Arjun accidentally looks up seeing Shefali. Shefali gestures heart and asks sorry holding her ears for behaving rude. Arjun holds the pipe and gets lost in her cute gesture.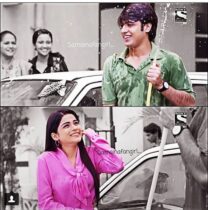 Suddenly, the water from the pipe goes upward and fall on his him leaving drenched. Arjun come back to his senses and looks his wet shirt. She signs him to change his shirt. Arjun looks at her again.
Preeti – "See, Romeo and Juliet romancing even while washing car."
Naina – "Bhabhi, come down and romance…"
Shefali stares at Naina – "Wait, I'll get a proper time. I handle you then…"
Shefali gets inside and Arjun blushes.
To be continued…
Precap: Naina and Swati had a fight in phone conversation. Swati and Munna had a break up. Swati and her mother goes to Chennai. Munna, Pandit, Sameer, Naina and Preeti goes to Chennai. Swati was kidnapped and she was locked. Swati cries. Naina and Preeti dances covering their faces with masks.