Walking Together through the Memory Lane – Episode 28 (Samaina FF)
[Past Scenes – Normal Font
Present Scenes – Bold + Italicized ]
28. Sameer's surprise for Naina
Sameer holds Naina's hand delicately and come out of the hotel and they both sit on Sameer's bike. Sameer has bought the bike for rent since this is one of the most favorite bike brands of Naina. Naina was happy to see the bike and she held her hand on Sameer's shoulders. Though Naina questioned where they are going, Sameer refused to answer the same. Naina covered her face with her dupatta for public safety.
Sameer rides the bike smooth looking her eyes through rear view mirror and Naina's enjoyed the evening breeze and they come to an area full of trees and plants.
It is more or less a forest. Sameer, now blindfolded Naina's eyes. The breeze was really soothing. Naina circled Sameer's waist with her hands and lie on him. Whatever is the gift, but the travel is more memorable.
Finally, they reached the destination. It's a small tent. Sameer and Naina get down from their bike.
Sameer asked her not to go anywhere while Sameer get inside and did some last minute decorations. Naina is wondering what is inside the tent.
Sameer comes out of the tent  removed her blindfolds.
(Imagine the climate to be quite humid and bright as the time is around 3 pm and ignore the people in the picture)
Phir se Khuda plays
Dil se ki thi maine dooriyaan
Sunni na thi uski sadaa
Naraaz hoye alfaaz mere
Socha tha kade na
Karungi sajda
Hoo….
Fancy lights are coiled around the trees and it glows. The light dark climate increases the brightness of the light. There is a small tent arranged up and at outside, there are set up for making foods and some snacks are stacked up there.
Naina looked inside the tent, accompanied by Sameer. There are few balloons with 'I love you' statement and there is a laptop.
Sukhi si Ishq E daali the
Phir patte tune diye sajja
Hai Karam ke Taqdeeran da
Hai Khel lakeeran da
There is a small jar which is filled with Naina's favourite chocolates.
Slogans related to love are pinned on the tent's cloth. There is a bedsheet and few pillows with a small table fan. Naina looks at the place with awe while Sameer smiles at her happiness …
Jana Nai Si Jinn Raaha Te
 Wahan Le Aaya
Phire Se Khuda
Phire Se Khuda
Phire Se Khuda
Naina jumps in joy and screams.
Barkha Ishq Ki Barsi Aisi
Bheeg Gaye Tan Dono Ke Hi
Pehle Jo Ukdhe Ukdhe Thi
Ek Hue Mann Dono Ke Hi
Music….
Naina – "Wow, Sameer. The place is looking just beautiful …"
Sameer – "Of course it is .."
Naina – "Sameer, I thought it was going to be a gift and I never thought that you'd arrange a date. Its an afternoon date after all. The climate is so good, Sameer."
Sameer – "If you didn't create drama, I would have knelt down and proposed you with a rose."
Naina laughs and hugs Sameer tightly.
Jaane Hui Dosti
Kab Pata Na Chala
Hone Lagi Hain Humein
Hun Teri Parvah
Hauli Hauli Tune
Dil Vich Ki Jagah
Chahun Hun Tujhse Hi
Ho Meri Har Subha
Lagte the tu sache
Lagne lage tu ache
Tera na Hona
Dil ko hai akhala
Naina – "Let it be, Sameer. (Laughs again) How did you do all this and when did you plan? I really wonder whether you have brain to think such ideas?"
Sameer – "Don't underestimate the power of Sameer, Naina. I have been planning this since two days and thought to execute on today. Actually the surprise hasn't ended. There are two more surprises .."
Naina broke the hug and opened her mouth in awe. While Sameer took the first gift which is wrapped. Naina slowly removed the wrappers and got amazed while seeing it.
Sukhi si Ishq E daali the
Phir patte tune diye sajja
Hai Karam ke Taqdeeran da
Hai Khel lakeeran da
It is a pencil-art picture of Naina.
(Hats off to the creator)
Naina – "Sameer … Its so beautiful …"
Sameer – "Did you like it?"
Naina – "Of course Sameer. Who would dislike such a beautifully drawn pencil art of mine. Its looking exactly like me. Are you the one who drew it?"
Sameer nods with a blush.
Naina – "Wow … Sameer …."
Jana Nai Si Jinn Raaha Te
 Wahan Le Aaya
Phire Se Khuda
Phire Se Khuda
Phire Se Khuda
Naina jumps in joy and screams.
Barkha Ishq Ki Barsi Aisi
Bheeg Gaye Tan Dono Ke Hi
Pehle Jo Ukdhe Ukdhe Thi
Ek Hue Mann Dono Ke Hi
Music…. (Choti Sardaarni)
Naina hugged Sameer and cries.
Naina – "You must have worked hard work it, right? You're so great, Sameer."
Sameer smiles while thinking how he spent sleepless day and night to draw it to look realistic.
Sameer breaks the hug with a smile and looked at Naina's eyes. Naina turned away her face with a blush. Sameer wiped the tears in her eyes and take her inside the tent and closed the door wrap.
Sameer – "You're a fan of Emraan Hashmi, aren't you? So we are going to watch is movie Tu Mile, one of the most romantic movies of him? Aren't we?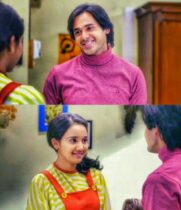 Naina nods emotionally.
Sameer – "Actually the fact is, Naina has changed her ship from Emraan Hashmi to Sushant Singh Rajput after Kedarnath."
Naina – "But, still I do love the movie, Sameer. More than movies, it is all about YOUR hardwork."
Pandit – "I can remember the day when Sameer go outside without informing us and would come back very late. He didn't even share the surprise matter to us too. Very cruel Sameer."
Munna – "What about you, Pandit? You were sharing letters with Preeti since long and only when we found Preeti in a box, we saw the romeo side of you."
Pandit pouts – "Preeti, if you haven't fallen in the box, I would have enjoyed fooling Sameer and Munna for some more time."
Preeti – "Okay, leave it. Some things happen and it will happen … But it is too much to put the blame on me, Pandit. Wait, I'll get a chance soon."
All had a laugh.
Sameer and Naina watched the movie and they had a romantic eye lock and naughty talks in the middle of the movie. Then, later Sameer left Naina at the hotel and both are back to their respective houses.
Preeti – "Then, after a week post Pooja's brother-in-law's marriage, we all left to Ahmedabad."
Naina – "Even we gave Sonakshi's number to Dev jiju too after making him suffer for days …"
Naina, Preeti and Swati laughs.
Naina – "Then later, we thought not to hide the things for long from our parents. So I decided to say about Sameer to chachi ji and Taiji. Even I told everything about him like I talk to him for years and now we started to love each other. "
Sameer – "Naina thought a disaster would outburst in the house but the situation is different. Chachi ji and Tai ji didn't have any problem with her love but they were upset that Naina had hid such thing for long from them."
Naina – "Yeah, they are so friendly with us and they expected that we share everything with them but they couldn't accept that I hid about Sameer. So, they didn't speak to me for about 20 days. I felt so guilty of it and they just pass the food plate to me and turn their face away and I'll eat with embarrassment. But they didn't reveal further to my father or Chachu and tau ji … "
Preeti – "But later, they accepted Naina's choice and decided to give her a chance to prove that her choice is correct. Then, Naina took this as a challenge to prove that Sameer would be her forever love."
Naina – "One day, my mom and Taiji spoke to Sameer through phone and very sooner they bonded very well through phone. I don't know what Sameer speak to them but he impressed both a lot. In fact both of them can talk to each other without my too knowledge. "
Sameer – "That is my talent, Naina …"
He pull up his collar with pride while other shouts' Oooo ….
December 4 2016,
Naina and Sameer are speaking through phone. Sameer is happy that it is the grahpravesh of his his house and having sweet conversations regarding the new home. Suddenly, Vishaka has asked Sameer to take bath once for a pooja. Sameer told this to Naina and cut the call saying that he would after a few minutes.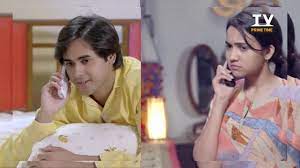 He charged his mobile in the plug.
Sameer took the towel and entered bathroom. Suddenly Vishaka called him again. So he wore the dresses again and come out of bathroom.
Sameer – "What mom?"
Vishaka – "Sorry beta, I forgot to buy milk for pooja … Please buy it from the dairy …"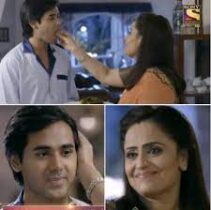 Sameer took the money from her and walked fast to buy the milk. He also have to call Naina soon otherwise she would call him anytime. So he is conscious to buy as soon as possible.
Sameer bought the milk, gave it to Vishaka and entered bathroom.
While Sameer's phone rings but Sameer couldn't hear it from bathroom. Vishaka entered the room and looked at the screen and it is Naina.
Vishaka attended the call and said, "Hello …"
Naina's spine was chilled when she heard the voice.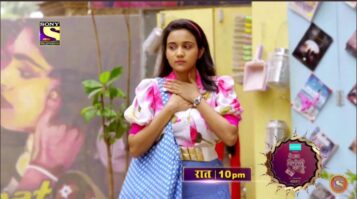 She could still remember Sameer's mom's voice when Vishaka confronted Naina for the very first time. She cursed herself for not waiting for Sameer to call and she called him. She don't know how to reply. If she cut the call, it may increase the suspicions … All were going smooth in their relationship but suddenly she didn't expect this … She has brought courage and words somehow to reply … She tried to make her voice extra humble and sweet …
Since there is no reply, Vishaka asked, "If anyone is on the line …"
Naina – "ji … Aunty …"
Then there is no reply from the other side … Naina too lost the courage again and didn't speak anything further. She knew for sure that Vishaka recognized her already since her number was saved.
Vishaka – "Sameer is bathing. Call him later ma …"
Naina is extremely surprised that Vishaka didn't scold her or yell at her again … Also Naina cursed Sameer that how much hours will he bath … Naina is about to ask how is she and other but the call was cut.
Naina was utterly disappointed as she cut the call. But at the same time, she felt happy that Vishaka's hate for Naina is reduced abundantly so that she is talking polite.
Naina and Sameer must decide what to do so that the dynamic of Naina-Vishaka relationship would sweeten.
To be continued …
Author's note: Do give your opinions on Sameer's surprise. Did you enjoyed it? Do give some song choices in comments which would suit Samaina well.