[Flash back scenes – Normal Font
Present Scenes – Bold + Italicized]
22. Swati in a dilemma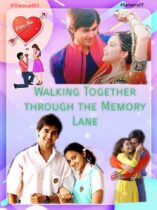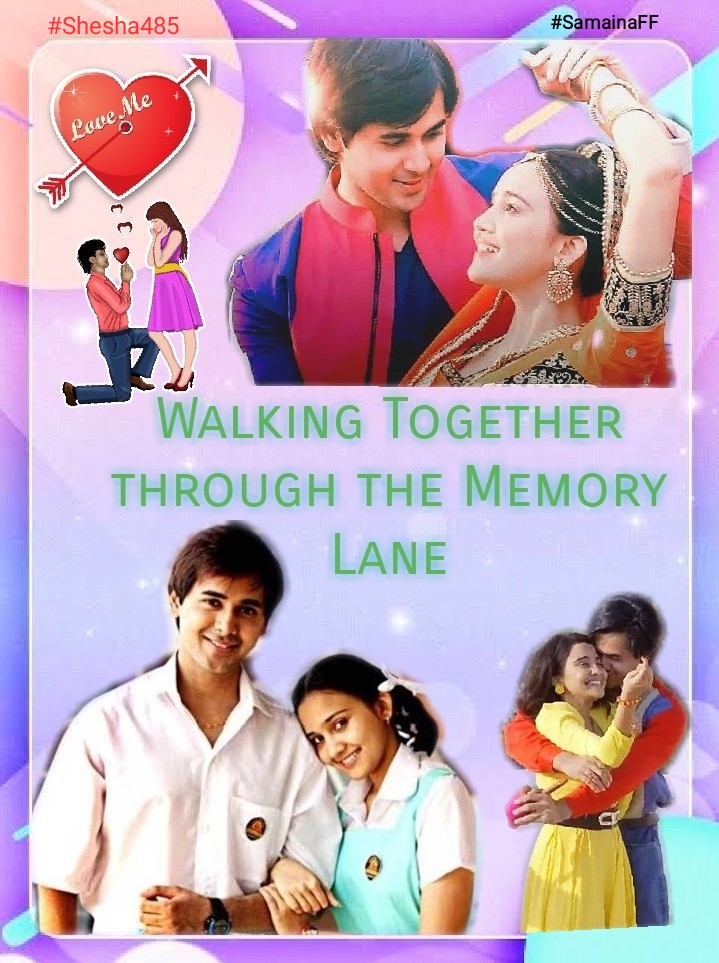 Shefali: Enough is Enough!
Shefali is repeating it for several times within an hour. Where as other girls are so interested in mocking her. Naina, Sonakshi, Shefali, Swati, Preeti are sitting at the dining table, are making fun of Shefali about Arjun. The boys are out for their respective commitments. As the story discussion part is halted for some few days, they are pulling Shefali's legs.
Naina: Its ok, Shefali. You made Arjun Bhaiyya into Sherjun Bhaiyya. Wonder how he was shouting to papa.
Shefali: Ha…Haan… So what, you are in terms with Sameer since 7 years. It was the oldest relationship of our family.
Preeti: But the irony is, Swati and Munna got hitched earlier than her; Me and Pandit got hitched earlier; Still Sameer didn't propose Naina.
Sonakshi: You're right, Preeti. Even though I am the most studious creature of you girls, I got commited earlier than Naina.
Swati: Sona didi… How can we forget our Dev jiju! Chennai Trip was memorble all the couples except me…
Preeti: Oh really! You are the reason why we came to Chennai.
[October 10, 2016]
Evening 5'o clock,
Swati, Munna and Pandit are at local market. Swati is looking at some bangles. Wheras Pandit is murmuring to Munna – "Did you  bring me to watch your romance and bangle selections. If Preeti knew this, she too will ask me bangles"
Swati – "No problem, Pandit. I shall say this Preeti. Better select a gold bangles for Preeti".
Pandit – "She made me stand in streets within a single night".
Swati and Munna laughs.
Swati – "Do you remember Pandit? One day, after school, Munna and You were standing at bus stop and I was standing some distance far from you both."
Pandit – "Wait, I have met you only at carnival. Then how come you know about me in school days itself?"
Munna – "I have said about you and Sameer to her and you and she have already seen each other"
Pandit – "Means…"
Swati – "On that day, you're not so well in terms of health… So Munna got a tablet from me and he gave you."
Pandit – "Yeah, I could remember. But was that you? Munna said that you are his tuition mate. But I could not even recognize you".
Munna – "No problem, she gave you tablet and saved your life that day and now you are getting as we are shopping here."
FB pic:
Pandit – "Hello, don't link this topic and that one. If she didn't give tablet, I won't land in coma at all.  Woh, Munna! I will break your nose na".
Swati and Munna stares and then laughs.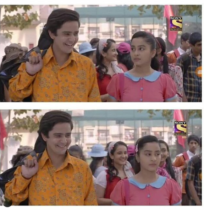 Pandit – "Okay, I have to go home by now as mom needs to go hospital for checkup."
Swati and Munna waves their hands and Pandit leaves. When they are about to turn to go, a hand hauled both of them and they get off. Swati ankle and Munna's ankle bleeds. Munna looks at the guy who is gigantic and almost their parents age he is. Munna stares at him where as Swati is terrified.
"Mama ji," says she. He hauls her hand and takes her to Swati's house followed by Munna. He breaks the things. Hearing the noise, Swati's mom Priyanka comes to the hall. "Uday, what happened? Why are you breaking things?," Priyanka asked him concernedly.
Uday – "Why are you asking me? Ask your invaluable daughter. She totally destroyed our name, fame and respect in our society. She is loving this guy". Saying this, he points his finger at Munna who is standing outside. Munna keep down his head in guilt. Swati is standing numb. Priyanka gets shocked to the core.
Uday – "Already your husband has kicked the bucket and now she will make us hang ourselves to death."
Priyanka wails.
Swati – "Enough mamaji, I didn't do any sin. I am just loving him to lead my life with him forever".
Priyanka slaps Swati.
Priyanka – "Just shut up. Its okay to love. Why can't you see his caste? He is upper-caste man and we are lower caste."
Swati – "Ma, please. We are not in olden days. Everything has changed. Caste and cost are not the barriers in love".
Priyanka – "What about honor-killing?"
Priyanka shouts and cries. She didn't heed to Swati's words. She pushed Swati and Uday and locked her room. Shocked by this, Munna; Swati; Uday banged the door. Through the window, Munna looks through the room and sees Priyanka is standing on the bed tying clothes on the fan. Munna shouts. Swati tapped the door strong but she couldn't break it. Finally, Uday used his strength and banged the door thus it breaks. The time she is about to hang herself matched with the time he banged the door. Uday saved Priyanka. Swati caressed her face. Munna stands outside.
Uday kneels down and cries – "Didi, don't take an wrong steps. It is not right to love in this age itself and she love an upper-caste. It is everything because of her friends. They are spoiling her. Even the previous month marks were less, its everything because of this scounderel (points Munna) and your spoilt friends. Just cut your friendship with them".
Swati defends – "I was not well last week Mama ji, thats why I couldn't perform well. Don't blame him or my friends".
Uday – "Shut up. Don't defend them. We know that they are spoiling from not studying well".
Swati – "Mama ji, why are bringing Naina and Preeti irrelevantly in this issue?"
Priyanka ignores their heated argument and goes to Munna who is standing sad. She folds her hands and kneels down. Priyanka – "Please, don't get away from my daughter. If someone else know this, not only she but your life also gets in stake".
Munna cries, kneels down and hold her hands – "Aunty, You are older than me. Please don't fold your hands to me."
Swati goes near him. Munna – "I could understand your situation, Swati. Don't worry. Everything will become alright." Swati – "Hoping the same, Munna".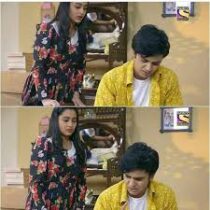 Munna looks at Swati. Her eyes twinkles. Munna wiped his tears and gets out of her house.
Swati: Its true na.. There are many people who are our so called relatives comes to our house only when we did something controversial or would ask our board exam percentile. They didn't even cared any sh*t about us in other cases. And our parents are easily manipulated by their words.
Naina: Yeah Swati… They are just pretending to care us. But our parents are emotional fools.
Naina's house,
Beena, Pooja and Bela are packing their things. Pooja(Preeti's didi) has come to their house for an important matter. Naresh relaxes himself reading newspaper. Rakesh has gone out for buying some essentials. Anand, Arjun and Prakash are doing yoga on the same room. Sonakshi makes lemon juice and serves to Naresh. Naina and Preeti are sitting together. Naina was dull as Swati didn't call her to inform whether she is coming to college tour or not. If Swati didn't come to tour, Naina too won't go. Preeti is gazing at everyone. Bela takes some clothes from her room and collides with Preeti while she was taking selfie with Naina.
Bela – "God must save the world! Do we lack rooms? It is too dungen. Yoga, newspaper, coffee, talking and colliding (looks at Preeti)… All here only…"
Preeti – "Ma, sorry, but take a selfie with me, please… Smile"
Bela smiles and she clicks the selfie.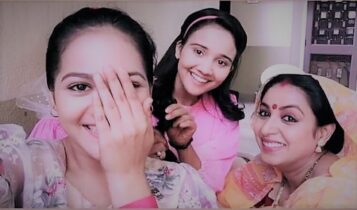 Naresh eyes at Bela saying, "Bela, Instead of taking selfies, you can also pack the things in bed room".
Naina, Preeti and Sonakshi giggles hearing her reply. Bela adjusts her pallu saying sugar-coatedly, "Bhai sahab, coffee might become cold. Drink it fast".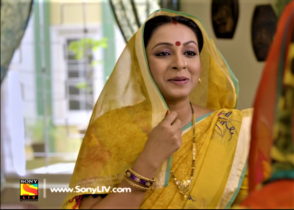 Arjun and Prakash gives a long breathe. Rakesh enters the house giving the vegetable bag to Beena.
Sonakshi – "Taiji, where are we going? Why are you packing things now in hurry burry..?"
Beena – "Are you in coma these much days? I was tired of explaining to you all where are we going. Shrinath ji must save me!"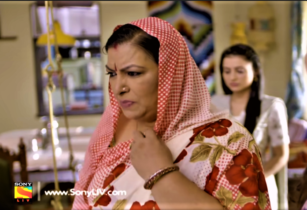 Beena's befitting reply made Sonaksi off.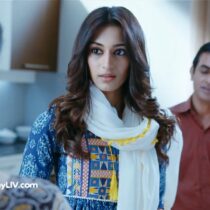 Naresh, Arjun and Prakash are about to laugh but they controls seeing Beena's stare. Bela hides her smile with her pallu. Anand looked at her piteously. Sonakshi turned to Naina and Preeti who gave her derisive look.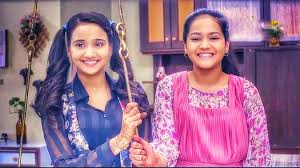 Naresh – "Sona beta, we are going to Chennai for Pooja's brother-in-law's marriage ceremony by tomorrow night,. Pooja has come to the house to get some of her dresses and to invite us. Till next month, we would stay at Chennai. Thats why, some ladies of our house are jumping through hoops."
Naresh gets into his newspaper wheras Beena and Bela stares at him. Sonakshi giggles.
Beena brings sweets from the kitchen saying, "Who want milk sweets now?" She smiles. Wheraas Pooja, Preeti, Naina and Bela run to her.
Naresh orders – "Let some sweet pieces for men also, kiddos."
Sonakshi stops them saying, "We should not eat much sweet as we might get prone to diseases. Also according to diet chart, we should not eat sweet after 7 p.m"
Naina – "What? Just throw your diet chart. See how beautiful the sweets are."
Sonakshi stares at her.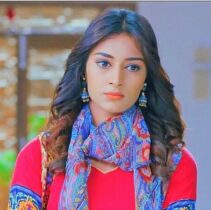 Sonakshi – "All that glitters is not gold, Naina".
Preeti – "Speaking doesn't work with Sonakshi"
Saying this, Preeti makes Sonakshi eat a piece of sweet and made her swallow it.
Sonakshi – "Preeti, This is so unfair. Chachi… Look at her".
Preeti – "You've eaten a piece. So, if we didn't eat, it must be unfair to us."
Sonakshi – "Thats right… Enjoy now. But only today is an exception and then from tomorrow, no sweets at morning and no sweets after 7 p.m"
Pooja murmurs into Naina's ears – "Her MIL is really pity…" Bela, Naina and Preeti giggles.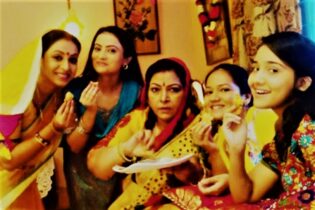 The Hours passed by and they go to sleep. Naina gets a call and it was Swati. Naina wonders and she attends the call.
Naina – "Say Swati… Why did you call me at this time?"
Swati – "Shouldn't I call you now? Are you too busy to attend my call?"
Naina – "Hey crazy! Just for fun…."
Swati snaps her – "Even I am just a fun-element in your life."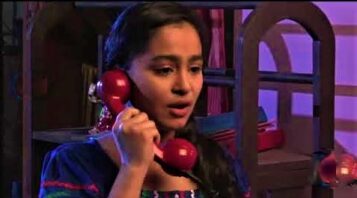 Naina gets serious hearing her serious tone – "Swati,Are you fine? What happened to you?"
Hearing this, Preeti wakes up.
Swati – "What hasn't happened to me? You are the best student in the class and you are first in everything and I am always second and moreover not recognized as I was always overshadowed by you. Today, Munna broke up with me because of you."
Naina – "Swati, what are you speaking? Doesn't my achievement become yours? You're the one who celebrated my victory like yours. Leave it… Why did Munna break up with you?"
Swati – "No, Naina. Your achievement is never mine. And Munna never comes back to me. Hereafter don't call me or speak to me as a friend. Our friendship has ended".
Swati cuts the call and looks at her mother who was keeping a knife to slit her wrist put down the knife on the table and look at her.
Meanwhile, Naina cries at her house. Even though Preeti tried to console her, she couldn't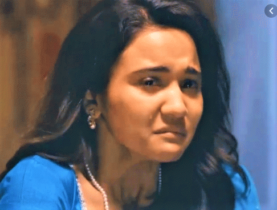 Swati: Mama ji manipulated my mother against you so easily. She just turned my supportive mom into my enemy. She believed that you are the reason why I am getting low marks and going in lovey dovey issues. Thats all, he didn't show up at future. These relatives are just pretending to care.
Priyanka: Pack all your things. We are going to Chennai and making you get married to my relative after three days.
Swati: Mom! I have to complete my studies. Please…
Priyanka: You don't want to do anything…
Priyanka goes and Swati's heart gets broken.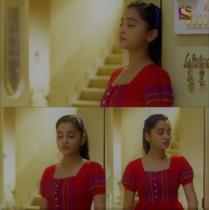 To be continued…