Walking Together through the Memory Lane – Episode 14 (Samaina FF)
[Past Conversation – Normal Font]
14. Carnival Wala Memories…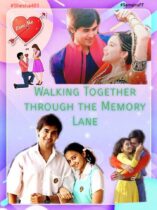 Swati: Yeah, Naina. I could remember him in the Science Exhibition who would be staring at you and asking you to explain the experiment several times.
Munna: Even Pandit and I were present at the exhibition.
Preeti: So, both have exchanged your facebook IDs and chatted without anyone's knowledge.
Swati: Is that the reason Naina had opened Facebook before our class boys opened?
Pandit: And Naina got scoldings from Vishaka aunty fifteen days ago.
Sonakshi: Then, they decide to part ways.
Naina: Yeah, Yeah, Yeah… How many times should I explain?
Swati and Preeti goes near her and pull her ears.
Swati – "Why haven't you informed about Sameer? See you are more updated than us."
Preeti – "Even you didn't share the exact reason for breakdown to me."
Sameer – "Ok, leave it guys. Let us enjoy the carnival. Let us celebrate this union."
Swati and Preeti agreed.
Sameer and Naina go to the cotton candy shop.
Naina: Sameer, this cotton candy from this shop of this carnival, has a special charm. The whole candy is pink in colour, that denotes love and sensibility. We believe that whenever we candy at this shop, it would soften your feeling and gives a special warmth to your heart. The candy's strands is as thin as a hair. So, many people would say that it is made from hair (Bun) of old grannies. But that's false. So, let us start our enjoyment by eating a candy.
Naina participated in the bubble shooter game to win a candy and she wins it.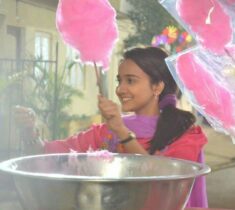 Naina takes the candy and gives it to Sameer.
Sameer: What about you? Shall we share the candy?
Naina: Eating cotton candy is always my cup of tea. Whenever I can eat that even in next day. But not you. Just consider this as a treat from my part.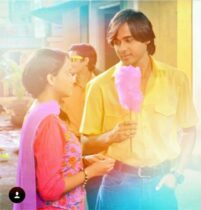 Sameer: Okay, thanks for the treat (smiles)
Naina: Your welcome, sameer.
Sameer eats the upper part and give it to Naina.
Sameer: Sharing is themost prominent part of friendship.How can reward be enjoyed without our friend!
Naina is surprised and she couldn't refuse what he said. She ate the lower part of the candy.
Pandit and Preeti: Enough of your romance. I have something important to say.
Sameer is shocked to hear the word romance from the mouth of Preeti and Pandit. Naina takes the easy. Preeti sighs Sameer, "I know everything from Pandit. Even Swati knows. All the best." Sameer is shocked but happy that Preeti didn't create any problems. Preeti winks and Sameer blushes.
Sonakshi: Guys, as Pandit, Swati, Preeti and Munna wished we shall enact a drama today night.  Happy?
Sameer: Thats great, di. What script?
Munna and Pandit: First of all let us register ourselves to the drama. Then we shall enact decide the script.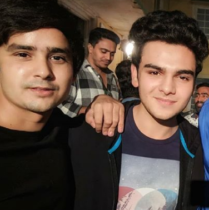 Naina: Okay, its already 7PM. When shall we go to house? Do Taiji and Chachiji not worry for us?
Sonakshi: Don't worry. The skit time is just 3 minutes also I informed Anand Uncle too. He would come at 10PM to pick us. So, just enjoys.
Preeti, Naina and Swati hugged Sonakshi. They have registered to the commitee.
Sameer: What skit shall we enact? Shall we do on romance?
Preeti :Yeah, jiju. It is your cup of tea.
Preeti bites her tongue as she mentioned Jiju. Sameer was embarrased. Swati, Pandit and Munna laughs silently. Preeti asks sorry symbolically.
Naina: What happened to you Preeti? You are saying Gubeer (she misheard Sameer as Gubeer 😜) as Jiju then will you address Beer as Sali saiba.
Naina laughs. Preeti too laughs by seeing her foolishness but she is relaxed.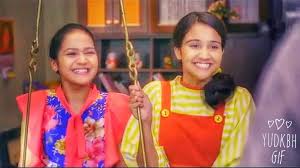 Naina: Let Sameer and Sonakshi di discuss about story. Let us go and select costumes for the skit.
Naina takes all except Sameer and Sonakshi to costumes room. Naina is walking forward meanwhile others in husky tone.
Swati: I think Naina's screw is also loosen, she can't hear anything properly. Now, without knowing script, she takes us to select costumes.
Pandit: Oh, Preeti. Just be careful. You're such a blabbermouth. What if she hears?
Preeti: Oh, sorry guys. But when did this love started? I am so excited that my sister have a boyfriend.
Munna: Ok, don't spill this things to Naina. If she knows, she would get angry. Already she was serious that uncle mentioned her as Sameer's lover. So, don't spoil us.
Preeti: Okay guys. I too join your clan. Secrets are always maintained.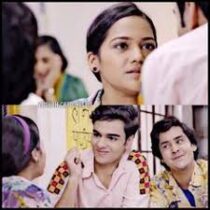 Swati, Munna and Pandit: Deal.
They have a Hi-fi. They reached the costume room.
Naina: Guys, I have brought you here. There are so many costumes. Let us try each one of the costume. When I was in 7th, I saw many different outfits like ancient outfits, weird outfits etc. I just wish to try something here. Let us have fun…
All were wondering why she was behaving weird but after entering the room, many of them are doing the same. The whole room was so enthusiastic. Some are fighting for dressing. Some are running behind someone for dresses. Some are dancing. On the top of that, many are playing dumbcharades.
They five got super excited and they took one dress for each.  Naina was dressed as Princess .
After seeing her attire,
Preeti whispers to Pandit: Its definite that my Jijaji would fall for her.
Swati whispers to Preeti: You're right, dear.
Swati and Munna were dressed as the people of foriegn countries.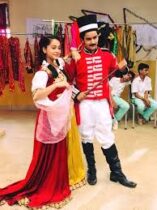 Preeti and Pandit are dressed in Punjabi attire.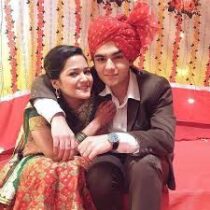 They are having fun among them.
Preeti: Munna, Its tough to identify you. Swati looks completely opposite. You both were absolutely funny. Its like you're going to a comedy show.
Pandit: You just conveyed what I think. Hifi…
Preeti: Hifi..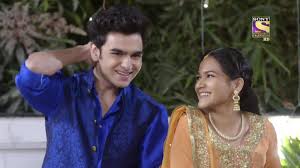 Munna and Swati: Both of you just shut up. You were jealous of my fashion sense.
Preeti: You're a joker, Swati.
Swati: No, you're. Even Munna and Pandit too are jokers.
Naina: No, all of you are jokers. (giggles and runs)
All follows Naina and they were too running behind each other like other kids.
Sameer and Sonakshi entered the room and shocked to see all were playing busy.
Sameer: Hello, what are you doing? Is this a Fancy Dress competition? All were dressed weirdly like the people of Foolistan.
Naina: Are you saying me fools?
Sameer: No, I mean not only you. Pandit, Preeti, Swati, Munna too looking weird.
Pandit: What???
Sonakshi laughs at them.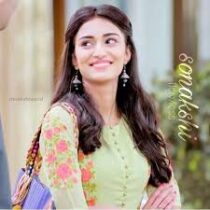 Naina: Okay guys, what about the skit?
Sameer: Yeah its ready. Its a school play with some comical elements.
Preeti whispers to Sameer: What about love story?
Sameer: Arey, please leave me. I'm so innocent. Its all about School galattas. No love stories.
Swati: Here are the costumes. Let us wear it.
Sameer: Hey, please hear the story first. (Everyone takes their dresses and ran without hearing him)
Sonakshi: No problem, Sameer. You too go and change.
Everyone change their dresses and come. Preeti gives her phone to Sameer and asks him to take a photo of them. Everyone gives different poses and he clicked a photo.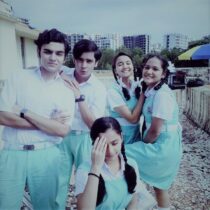 Sonakshi: Okay, the skit is all about Examination Scenario. I mean the atrocities you faced in the examination like Strict teacher, their effectless boring dialogues, Copying answers, helping etc..
Sonakshi narrated the story to the Samaina, Preedit and Swamun. They added some additional cast too. They reharsed the script too. Also, they had performed the skit in the stage. They come to costume room to change their dress.
Sameer: Naina, I have something to say to you.
Naina: Say Sameer.
Sameer: After the carnival, we couldn't speak right.
Naina becomes dull.
Naina: Yeah, Sameer. I too didn't think about that. (She thinks for sometime..) Sameer, there is someone called God. He would show us the path.
Sameer: Yeah, Naina. I won't forget this memories, Naina. The whole Carnival has made my life memorable. (tear glitters from eyes)
Naina wipes his tears but gets emotional.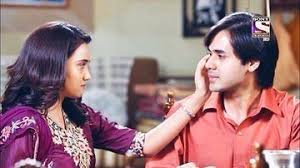 Swati: Guys, don't worry. Your friendship must not be finished. Even its not your last meeting. We can get some chances to meet. Sameer, you too. Even Munna and I too couldn't meet always. Its a long distance relationship whether it is friendship or love. Everything is probably difficult. Don't loose your hopes guys. Even I miss Munna. (glitters)
Munna and Swati too got emotional.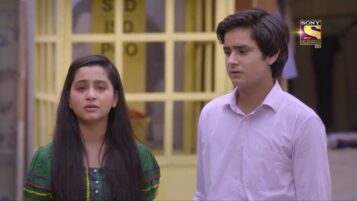 Preeti: Pandit, its been only hours we met but still I had the feeling that we are thick childhood friends. Always don't care about anything with our silly talks. Its so paining to bid farewell to you too.
Pandit nods.
Pandit and Preeti becomes dull.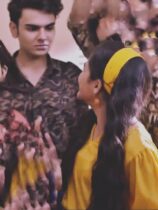 They bid an emotional farewell.
To be continued….
Author's note: Here is the end of the Carnival track. Hope you like these three episodes. Do comment about the pics in this episode. While writing this track episode, I am so happy and enthusiastic and felt bad while ending the track. I hope this track have made an effect in your lives too.