Walking together through the memory lane – Episdode 11 (Samaina FF)
[Past Conversation – Normal Font]
11. Let your disturbing thoughts out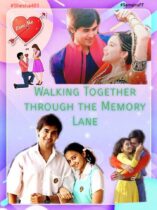 Sameer and Naina cut the call. Naina closed her door and she breaks down to miss her best friend. She tightly covers her mouth so that no one could hear her cries. On the other side, Sameer becomes null and he didn't express anything. He walked with Pandit like a robot and he reached his house. Vishaka and Vivek hoped that he becomes normal. He switch on the radio. He go to bathroom. He opens the tap and shower. He kneels down and the tears rolled out from his eyes like a fountain. He cries loud. He couldn't bear that he lost so soon. He got her number, continued their friendship for almost a year but when it was flourishing well, the whole friendship of love is snapped. Sameer don't know how he would live his life without her. He have seen some movies where the hero becomes devadas if his heroine is lost. But he knew that Naina never wished to see him in that condition. Still her words are in his mind, "I would feel very proud of what you are going to be. I would enjoy seeing you as a CE. More than you, I would be happy if you get success." Naina also erased those filmy thoughts from his mind. Sameer cries for some hours and he come out with a determination of becoming a CE to make his Naina proud. He thought of building his career and status.
After five days,
Everything becomes normal in Sameer's house. He goes to his college with enthusiasm. Vishaka and Vivek felt a little guilt of behaving rude but they are happy that Sameer is not depressed.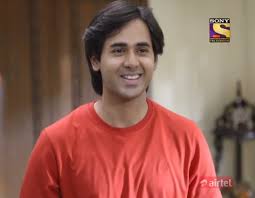 Agarwal's House,
Evening,
Its been ten days since Sonakshi came to Naina's house. Sonakshi does MBBS 2nd year in the medical college of Gujarat. Sonakshi is a talkative, sensitive and studious girl of nineteen who is thin and pale got admission in the best college of Gujarat in merit. Anand always proud to say Sonakshi is his daughter. No one knows how Anand knows Sonakshi, but everyone adore her because of her charm and all except Preeti and Naina consider her as their own blood. Preeti and Naina are quite jealous of her because they think that the family consider her more important than them and only she was the centre of attention. Whenever Sonakshi tries to interact with them, they both avoid her weirdly. Sonakshi too understand their immaturity but she decides to be a friend with them also.
Sonakshi: Naina, can you please come here? I have something to talk to you.
Naina reluctantly comes to Sonakshi. She takes her to the terrace of the colony. They both sit on Charpai.
Sonakshi: Naina, why are you depressed?
Naina was amazed by her question. She remembered Preeti too asked her the same question two days ago, but she managed to put up some stories and escaped. She thought of saying the same stories. But she doubts, "How could she come to know? Is it neccessary to answer her?"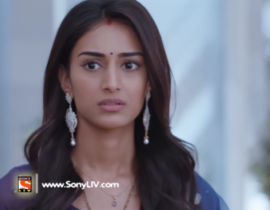 Naina: My mid-term marks are low, di. (silently)
Sonakshi: Naina, I know you were depressed but not because of marks or teachers' scoldings. I know you're a rank holder but you are carefree and easily forget those things. So, there is someother reason that made you depressed… So, tell me the truth.
Naina is shocked to hear what she said. "How could she know more about me?" – she doubts.
Naina: Why should I tell you? (with a low tone and anger)
Sonakshi: Naina, come on. I am like your sister…. Ok, leave it. Consider me as your friend. Keeping something inside your mind and crying is not a solution. I know you cried five days ago too. You closed the door but the window near the door was slightly opened.  Burying your feeling in your heart will make you even more depressing. Open to your dear ones, at least you would feel better after doing that.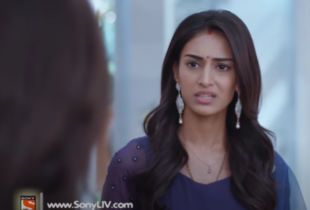 Naina remains silent.
Sonakshi: Ok, leave it. (Sonakshi takes a note, tears two papers annd give to Naina with a pen) See Naina, please write whatever you're thinking in mind in this paper. You write everything you think by now. After writing, tear the paper into pieces. You would feel better
Sonakshi leaves. Naina write all the thoughts in the paper like Vishaka's harsh words, parting Sameer, Vivek's misunderstood words, his silly flirts, her memories with Sameer and some more stuffs in the paper.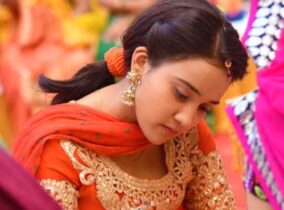 She completes. She feels like she ran a marathon. Then, she tear the paper into pieces. After leaving some drops of tears, she feels better and her mind is clean. She thanked Sonakshi in her heart for giving a thoughtful solution for her problems. She also feels guilty of speaking harsh to her.
The next day,
Arjun was about to leave from house to his college. He collides with Shefali who is also on her way to college. Shefali falls down.
Shefali: Where are you running like a horse? see my dress is untidy now.
Arjun: Oops sorry, darling.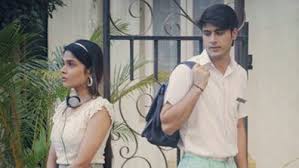 Shefali: Hey, mental. Beena aunty is in the house. What if she hears? She would peel all my self-respect like peeling carrot. You would escape as you are a good-boy.
Arjun (laughs): How did you get ideas to compare? By the way, If she hears, I would admit that I am loving you.
Shefali: First of all, you shut up. Let me change my dress. Then after going some distance, you continue your shayaris.
Arjun: Okay.
Shefali changes her dress and they walked some distance in opposite direction. After reassuring that no family member is there, Arjun goes to Shefali.
Shefali: Where is your cricket bat? You won't live without it, right?
Arjun: Yeah, but I have nor make myself used to live without it. Because its only impossible for me to live without you.
Shefali: Hey buffoon, you're becoming more filmier that me.
Arjun: Everything is your teaching, mam.
Arjun remembers how she and he gets the feeling of love for each other. They always meet while going to college. Shefali used to prank Arjun like shouting suddenly behind his ears like a ghost, making april fool pranks etc. Arjun day in college usually starts with Shefali's silly and naughty pranks.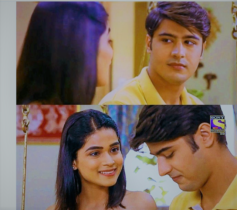 But still he was shy a lot. He knows that Shefali is a TOMBOY too. Sometimes, she creates silly fights with him. Shefali gets a ton of entertainment by making fun of Arjun and without knowing herself she develops feelings for Arjun. Arjun could not escape from her so easily, he shivers a bit, he also don't know how to interact with a girl as Rakesh strictly said to him that he should never talk to girls in school. Shefali found his feared or frightened face as cute one. Also, as he is a sportsmen, he had a huge popularity among girls. Many girls crushed him because of his innocent baby face.
He also remembered that one day he was upset as he lost the game. Shefali tries to talk with him to reduce his tension and made some jokes to make him laugh. But that irritates Arjun and lashed at Shefali. Then she didn't come to him for days. After everything got alright, he felt guilty of talking harsh to her and eventually he missed her immature talks and smiles. After few days, he understand that he loves Shefali. Then, he apologize her for his harsh behavior and kneels down and propose in a filmy way that she like.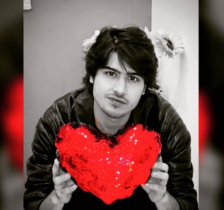 Shefali accepts and hugs him. Then gradually, Arjun's shyness towards girls is reduced because of Shefali.
Arjun: See, as per the plan, let us complete our studies and get settled, then if we speak to them, they would accept it whole-heartedly without any hesitation.
Shefali: Yeah ok, till that I would call you as whatever I wish.
Arjun: Oh, it seems like, you're going to call me as "Honorable Pati Dev (Husband)" after marriage. That's amazing.
Shefali: Haste thinking of yours is waste thinking. There are some chances that I would call you by your name after marriage otherwise I would call you like buffoon, monkey, donkey etc… Learn some strategy to control this TOMBOY after marriage. (giggles)
Arjun: Only Badboys could Tomboys…..(smirks)
He comes near her to kiss. Shefali push him giggling and runs.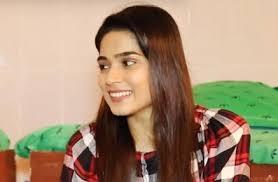 Arjun runs behind her….
To be continued…